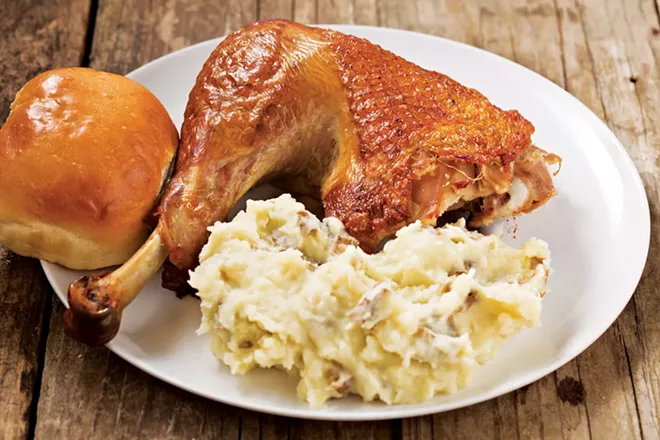 There's no getting around the fact that the 2020 holiday season is going to be weird. Norms and traditions are completely up in the air. For the first time my Thanksgiving menu planning is as much or more about creating connection and gratitude as it is about pulling off a spectacular feast. Like Marie Kondo (author of The Life-Changing Magic of Tidying Up) when she sets about decluttering a house, I've been constantly examining traditions and asking if they truly bring joy, or are they simply a matter of habit? Most of us will not be hosting or attending large family gatherings this year, and with the grief that accompanies that also comes a certain freedom to choose your own adventure.
Some will perhaps feel called to turn off the news, turn up the music and spend the holiday cooking up a storm, even if it's just for their immediate family. If you're in that camp I've put together some downsized recipes perfect for two or four. In addition to whole turkeys, Humphrey's Market in Springfield sells fresh turkey legs, thighs and breast portions perfect for an intimate harvest feast. Consider local farm stands like Suttill's Garden and Jefferies Orchard for your Thanksgiving produce shopping. There's still a gorgeous selection of cauliflower, Brussels sprouts, squash and greens available and both will close for the season on Nov. 26.
If a day in the kitchen is not what you're craving this year, then Springfield's locally owned restaurant community has your back. Maldaner's Restaurant is taking orders for complete individually portioned meals, including roast turkey breast with stuffing and gravy, candied sweet potatoes, green beans with pancetta, apple salad and dessert. Copper Pot Cooking studio is accepting orders for scratch-made side dishes like potato gratin, apple crisp and sage stuffing. Incredibly Delicious is taking orders for holiday desserts just as they've done for years, but this year they're offering Thanksgiving treat boxes featuring a selection of old and new favorites, perfect for a small spread. And many side dishes like collard greens and mac and cheese from your favorite mom and pop restaurant will reheat perfectly well if refrigerated quickly once home. Transfer to a ceramic dish, add a splash of milk or water as needed, cover and bake in a 350-degree oven until heated through.
For my part, I've promised my kids that I'll watch an entire movie marathon with them this Thanksgiving, so all the planning has been organized to that end. We'll order out a couple of sides and get the turkey all dressed up the night before so it's ready to pop in the oven, then settle in for low-key day focused on feasting and connecting.
Turkey thighs with wild rice dressing
This is an almost one-dish recipe that's filled with comforting flavors and also would work perfectly with roasted chicken or pork chops. It needs nothing more than a side salad of fresh greens, perhaps topped with sliced pears and blue cheese, but would also pair well with green beans, roasted root vegetables or a sweet potato purée.
½ cup wild rice
½ cup brown rice
1 tablespoon butter
4 cups broth
1 small onion, diced
1 stalk of celery, diced
1 carrot, diced
½ teaspoon dried thyme
1/3 cup dried cranberries
½ cup toasted pecans, (optional)
¼ cup chopped parsley
2 bone-in turkey thighs
Bring the broth to a boil in a medium saucepan and add the wild rice. Cook 15 minutes, then add the brown rice. Cook for 30-40 minutes until most of the broth has been absorbed and the rice is just tender but not mushy. Turn off heat and set aside.
Preheat the oven to 400 degrees.
Melt the butter in a large oven-proof skillet over medium high heat, then add the diced vegetables. Cook until just softened and starting to brown lightly. Season to taste with salt and pepper and add the dried thyme. Turn off the heat and add the cooked rice mixture to the skillet. Mix well and spread evenly in the bottom of the skillet.
Sprinkle salt and pepper all over the turkey thighs before arranging them on top of the rice mixture in the skillet. Place the skillet in the oven and bake at 400 degrees for 15 minutes before turning the heat down to 350 degrees for an additional 60-75 minutes. The internal temperature should read 175 degrees. Let rest for 20 minutes before serving.
Pumpkin Custards
Basically a pumpkin pie without the crust, these simple custards are a snap to prepare.
¾ cup brown sugar
1 ½ teaspoons pumpkin pie spice
½ teaspoons salt
1 can pumpkin purée (not pumpkin pie filling)
2 eggs
1 ½ cups half and half
Preheat the oven to 350 degrees and lightly butter six eight-ounce ramekins before arranging them on a baking sheet. Combine all the above ingredients and whisk thoroughly to combine before pouring into the buttered ramekins. Bake in the preheated oven for 45-50 minutes or until just set in the middle. Cool on a rack for two hours, then refrigerate until ready to serve. The baked custards can be prepared several days in advance, and the uncooked filling can be frozen for several weeks.