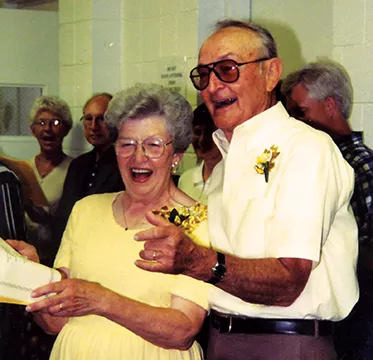 Mary Link was born with a song in her heart to parents Fred C. and Myra Fern (Garrett) Brown, both of Springfield, an expression of joy she carried with her all of her 90 years. She was a pianist, a music teacher, a quilter, a ceramics artist and a member of the Red Hat Society and the Silver Steppers dance organization.

But mostly she was a compassionate, giving neighbor who knew few strangers.

Mary's 20-year career as a music teacher in Springfield District 186 was a joy to her, but her life in Springfield's First Church of the Brethren sustained and inspired her.

There Mary played the piano and organ for more than 60 years, several of them at the piano beside her sister, Elizabeth Brown, on the organ. Mary's husband, Albert, her lifelong companion, traveled with her to all 50 states and beyond, and they raised five children together: Bill, Judy Hoffman (deceased), Jan Filicsky, Dave (deceased) and Tom. Although Albert passed away in 2010, Mary continued to accompany the congregation at the church and give others a reason to sing.

Mary's real gift was sustaining and promoting the church's Thanksgiving and Christmas meals to the elderly and sick. Every holiday season Mary would get the names of more than 100 individuals served by "Daily Bread" and other meal distribution programs, and others who might need a hot meal on the holidays. She would coordinate volunteers to give up some of their holiday time to make cookies and pies, and then invite everyone to the church on Christmas or Thanksgiving day to package the meals and deliver them to the homes of persons in need. The community volunteers included members of other churches, motorcycle clubs, friends and strangers, many who saw each other only once a year – at Mary's holiday celebration. As the volunteers prepared to deliver their meals, Mary would remind everyone to take time to visit with the meal recipients: "You might be the only person these people see all day long," she'd say, "So make it about love."

And that's what she did, with a song.

–William Furry, musician and member of First Church of the Brethren