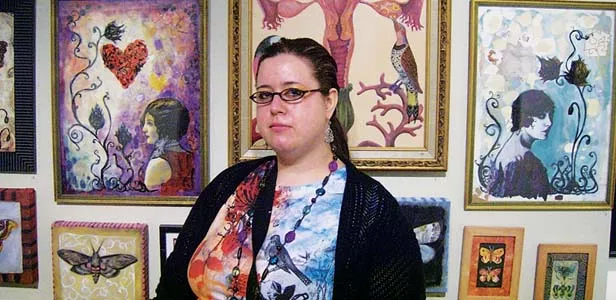 Being sedated in a darkness that is so disturbing and beautiful that it makes the viewer comatose is a unique experience.
Welcome to the complex mind of Felicia Olin.

Her creations will be showing at the Robert Morris Gallery until Sept. 4. Hours of operation for the gallery are Tues-Fri 10 a.m. to 2 p.m.

Olin's show, "Deviations," is a haunting collection of pensiveness and a wide range of emotion.

Olin studied at Springfield College, where she obtained her associate degree in 1997. Two years later, she earned a Bachelor of Fine Arts degree at Illinois State University. A Springfield native, Olin was a stranger to the superlative-type-celebrity preteens and stood out in her gothic/punk fashion, which today has a large influence on her style of work. She lives with her husband, Jim Edgecomb, her two cats, Baby Dirtbag and Bella Donna, and her dog, Sugar Bear.
Olin works in media such as glass, acrylic, gold leaf, glow in the dark, and oil, but to add texture to her pieces she incorporates torn book pages of faces and words and uses a variety of fabric.

"A lot of the pieces use book pages in them, which is deviant to begin with — to rip up books and glue them down," Olin said. "No one ever smiles but their eyes are intense and their faces tell a story."

"Deviations" includes cryptic and Tim Burton-esque images of feminine women. Olin's love of art from the Renaissance era is reflected in all of her pieces from the show, with a gothic twist of modern contemporary. Some of her inspiration comes from the work of other artists and other art itself.
"It's the most inspiring to see paintings," she said. "I'm always curious to see what other people are doing."

"Woman from Eastwick," a piece from "Deviations," includes earth tones of blackbird blue and brown, with a Victorian feel to the woman's posture and elegance. The work was inspired by the story The Witches of Eastwick, and is one of Olin's favorite pieces.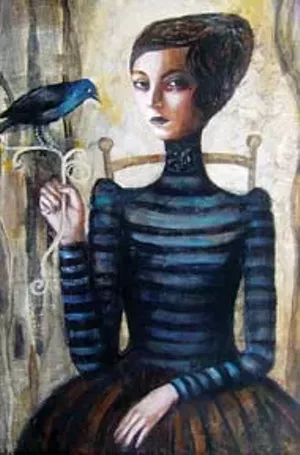 Olin's work usually comes to fruition when she is in a mellow state, as she feels it's the best emotional place to be in when creating. "I have found that my best work comes from a calm place," she said. "Any time I am frustrated there is no point in painting. A calm hand always leads to a fluid brushstroke."

Bad horror movies, sketch comedy, listening to local bands and cooking are just a few of Olin's simple pleasures outside of being an artist. She works full time in custom picture framing at Jeffrey Alan's. Somewhat of a hermit, Olin said she "leaves the house when necessary" and even in outings at restaurants, she makes chains out of straws.
"I think I may have OCD and fidget a lot so art-making could be a compulsive habit," she added.

A fan of felines, Olin expresses herself by purring when animated and hissing when angry. Even in a moment alone, she's known to sing the Meow Mix theme song.
"I have a fascination with old things and oddities like old black and white pictures of side show performers," Olin said. "I love period clothes from the late 1800s and early 1900s crossed with punk and Goth fashion."

Alice in Wonderland is another fascination of Olin's, and is shown fluidly though her representation of card suits. Her goal is to work on a larger scale. She feels she's ready for something bigger, literally.

For more information on Felicia Olin and to view her portfolio, visit www.feliciaolin.com.

Lyndsey Taylor of Springfield, a California native, won 10 statewide journalism awards while at Santa Barbara City College. Her goal is to graduate from a university in Illinois. Contact her at lyndseytaylorcreativity@gmail.com.