Ladda Tammy Duckworth's life is full of firsts.
The 53-year-old junior U.S. senator from Illinois is the first Thai American woman and the first person born in Thailand to be elected to Congress, and is the second of three Asian American women to serve in the U.S. Senate. Duckworth is the first senator to give birth while in office.
Retired Army National Guard Lieutenant Colonel Duckworth is also the first woman with a disability elected to Congress and the first female double amputee in the Senate, both due to an insurgent-fired rocket-propelled grenade (RPG) that nearly killed her while she was piloting a helicopter in Iraq.
"No one tries to be the first double amputee anywhere!" joked Duckworth as she was reminded of that list of firsts. "I was in the Army being a helicopter pilot and then trying to serve in Congress. I wasn't trying to be the first of anything. I just show up and do my duty every day."
Duckworth's story is chronicled in her new memoir, Every Day is a Gift, an unflinching look at the prejudice, poverty and military sacrifice that scarred her life, as well as the gifts of motherhood, citizenship and public service that also define who she is and how she views the world.
If readers think the book is really a love letter to the United States, Duckworth doesn't mind. And she doesn't shy away from discussing any topic from her past or present, or her hopes for the future.
"You have to choose one of these names"
Duckworth was a product of the Vietnam War at the time when the war was something that was not seen in a positive light. There was a lot of discrimination against Amerasian children across southeast Asia, especially children like her who were the offspring of American servicemen and local women.
"I was always seen as not quite Thai enough for my Thai relatives. My Thai mother was discriminated against," Duckworth said. "A lot of the American servicemen left, and they left those girlfriends and their children behind. But my dad stayed, he married my mom and raised us kids."
Raising Amerasian kids in Thailand wasn't easy. Even something so simple as naming their children proved to be a struggle for Duckworth's parents, who wanted to give her an American name.
"When my parents went to register my birth, the birth registrar's office refused to let them give me an American name. They said, 'You have to choose one of these names,' and my mother very quickly had to choose a name before somebody gave me a name," Duckworth said. "She chose 'Ladda,' even though they wanted to name me 'Tammy.' So Tammy is my middle name."
While in Congress and now in the U.S. Senate, Duckworth still receives mail from people in southeast Asia trying to find their American fathers decades after the Vietnam War ended.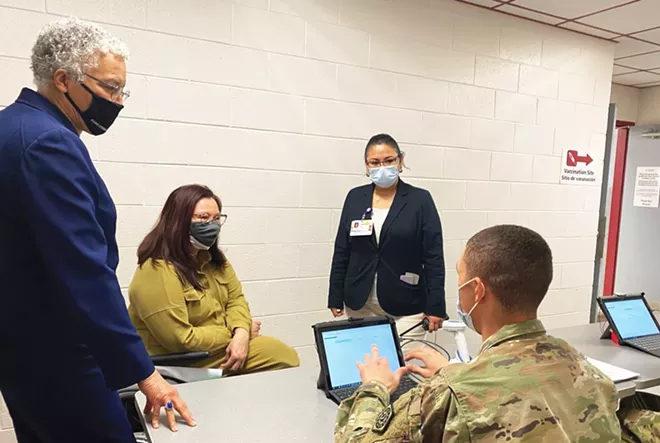 "I always knew how lucky I was, how it was just a flip of a coin, a twist of fate, that I had my dad and I was born an American," Duckworth said. "I didn't have to prove anything to anyone."
U.S. Senator Mazie Hirono of Hawaii is the first Asian American woman to serve in the U.S. Senate. Duckworth is the second, and Kamala Harris, former California senator and now vice president, was the third. While Asian American and Pacific Islanders (AAPI) make up approximately six percent of the U.S. population, they constituted just 0.9 percent of federal, state and local leadership in 2020, and 3.2 percent of Congress, according to a report from the Reflective Democracy Campaign.
Duckworth and Hirono are leading the charge to get more AAPI representation in appointed federal positions, and for a time threatened to block President Joe Biden's cabinet-level nominees over the issue.
"Our nation is made stronger when its government looks more like the people it represents," Duckworth said.
"So deeply in love with the Army"
Duckworth's father, Franklin, worked in Thailand for a large multinational corporation that maintained housing for expatriate communities. The company sold, the new owners told him they could find someone at half his salary and half his age, and Duckworth's father became unemployed for more than five years.
The family used all of the money they had left to move to Hawaii.
"It was the nearest U.S. soil that would have a public school where my brother and I could attend," Duckworth said. "We had maybe $200 to our name when we landed and we went through that in no time. We ended up literally hours from being homeless before a person at the local American Legion cut my dad a check so we could move into a long-term-stay motel."
Duckworth, by then a young teenager, had to find work to help the family make ends meet.
"Thank God for food stamps, school breakfast and lunch programs. I know from experience how hard the working poor work in this country," Duckworth said. "I reject this idea that if the poor just work hard enough they can pull themselves up by their bootstraps and they wouldn't be poor. Without those social safety nets I wouldn't be a U.S. senator today."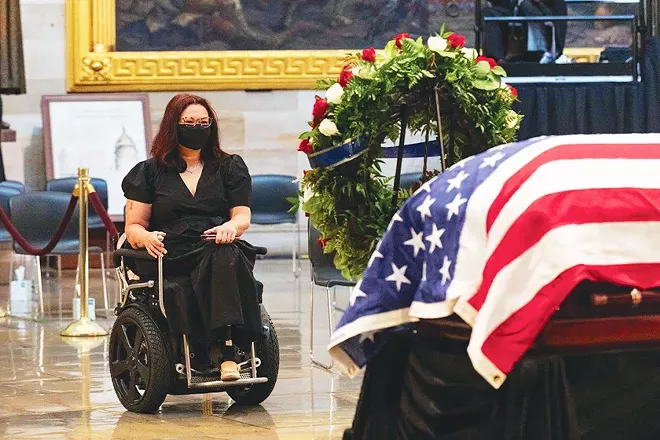 Duckworth graduated from high school and the University of Hawaii, and was seeking a master's degree in international affairs with the intention of taking the foreign service exam for a possible U.S. embassy career. Several military veterans in her class recommended that Duckworth take some Reserve Officer Training Corps (ROTC) classes to "make a little money and learn something about the military."
"I never expected that I would fall so deeply in love with the Army, the discipline, the meritocracy," Duckworth said. She enlisted shortly thereafter.
When it came time to pick the job for which she wanted to be trained in the military, Duckworth learned that women at the time weren't allowed to serve in certain direct combat roles like infantry or armor. But then she discovered that women were being accepted into Army aviation, and she aced the tests to become a helicopter pilot.
Duckworth was piloting a Black Hawk helicopter during a combat mission in Iraq on Nov. 12, 2004, when the copter was hit first by small-arms fire and then by an RPG (rocket-propelled grenade). The explosion blew off both of her legs and shredded her right arm, but miraculously Duckworth was able to crash-land the helicopter with no loss of life. The heroic evacuation and emergency efforts that saved Duckworth's life and the long, painful rehabilitation process that followed are covered at length in Duckworth's book.
"I don't have PTSD, although I certainly remember some of the events and I have relived some of them by talking to folks who I interviewed for the book," Duckworth said. "When I go to sleep at night, if I've been reading a book about Iraq or watching a movie like The Hurt Locker, I will dream that I am in Iraq. But it's not bad, I am actually flying a helicopter with my crew."
"They are actually pretty happy dreams for me, and then I wake up, and that's when reality sets in again," Duckworth said. She later obtained a medical waiver that allowed her to continue serving in the Illinois National Guard until she retired as a lieutenant colonel in 2014.
"Trying to be the mom I wanted to be"
Duckworth ran unsuccessfully for an Illinois congressional seat in 2006, and that same year began a three-year stint as director of the Illinois Department of Veterans Affairs. She was Assistant Secretary for Public and Intergovernmental Affairs at the U.S. Department of Veterans Affairs from 2009 to 2011.
"My time at both agencies brought me to a point where I decided I would run for Congress again," Duckworth said. "I realized that a lot of the fixes that needed to be made to help service men and women veterans had to be legislative, they just can't be fixed from within the system."
Duckworth, a Democrat, was elected to Congress from the Eighth District in northern Illinois in 2012 and served two terms. She then ran for U.S. Senate in 2016 and defeated incumbent Republican Mark Kirk in an expensive, acrimonious and personally challenging campaign. Kirk did not respond to a request for a comment to include in this story.
"I had a moment during the campaign where I felt like I was just being a terrible mother," Duckworth said. "I was doing what I needed to do on the campaign while I was trying to care for my newborn daughter."
"The rough and tumble of the campaign I can take, you can take potshots at me all day long, that stuff doesn't bother me," Duckworth said. "For me it was more about living up to my commitment as a candidate and my commitment to my daughter. That was really hard, the stress of trying to be the mom I wanted to be and the candidate that I wanted to be at the same time."
Duckworth lists Dick Durbin, the senior U.S. senator from Illinois, as being one of her biggest supporters and a valued mentor as she transitioned from the U.S. House of Representatives to the Senate.
"I am always on equal footing with Senator Durbin, he is incredibly generous," Duckworth said. "I have taken the lead on many issues and we really divide things out and we work as partners."
Senator Durbin is equally gracious when describing his junior colleague.
"Tammy Duckworth brings her life experiences to every issue before us in the Senate. Her unique childhood experiences, her service to our country, being a working mother to young children – all of that experience guides her work," Durbin said. "She knows what families are going through, and she wants to create real opportunities for economic growth and security for everyone, especially working families."
Duckworth has taken the lead on the Drinking Water and Wastewater Infrastructure Act, a $35 billion clean water bill that is aimed at repairing and upgrading the nation's water systems. The act passed unanimously out of committee and received more than 80 votes on the Senate floor.
"It is something our nation needs, whether you are living in Chicago with large volumes of lead pipe, or you're in Galesburg where we have already detected lead in the water supply," Duckworth said. "Anywhere across the state, drinking water and wastewater management is a critical issue. We took into account challenges that municipalities in rural areas face as well as those in urban areas."
Duckworth is the new chair of the Senate Armed Services Airland Subcommittee, which has jurisdiction over matters relating to certain Army and Air Force programs. She feels this is critical for Illinois, which is home to many defense industry component manufacturers and has key military installations.
"We have at Scott Air Force Base the Army's logistics transportation headquarters, and I'm going to fight for that mission that's vital to the ability for our armed forces to project anywhere in the world," Duckworth said. "And there are also thousands of good-paying jobs at Scott Air Force Base."
Duckworth is also the chair of the Environment and Public Works Subcommittee on Fisheries, Water and Wildlife, which deals with matters relating to water, water pollution, drinking water, wastewater, storm water and ocean dumping.
"I get to work on transportation infrastructure issues like inland waterways, locks and dams on the Mississippi and Asian carp," Duckworth said.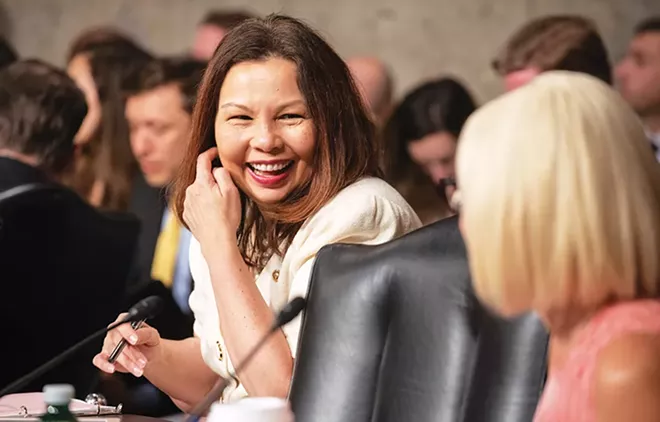 "They absolutely betrayed the oath"
Duckworth was in the tunnels on the way to the Senate floor on Jan. 6, 2021, as the Capitol insurrection was beginning. She was stopped by Capitol Police officers who told her, "You can make it to the floor and then you can be evacuated at the same time as the other senators, or you can stop now."
"I chose not to move forward because I knew that there were only limited wheelchair access and egress routes from the Capitol," Duckworth said. "There were two staff members with me, so we went and secured ourselves in my office. So we just hunkered down for a few hours and then the Capitol police came and got us."
"I could have made it to the floor, but I felt that I would have been more of an obstacle to them, even though I would have been united with the other senators," Duckworth said. "I knew I could take care of myself and I knew they would come and get me when they could."
Duckworth said she was never scared on the day that the insurrectionists stormed into the Capitol, but to this day she remains angry, frustrated and feels a sense of betrayal.
"I was watching the American flag, the same flag I wore on my uniform in combat, being used to desecrate our nation's Capitol, being used to beat on our heroic Capitol Police officers," Duckworth said. "Some of those people were veterans. I feel they absolutely betrayed the oath that they took to defend our Constitution. I was there that day to carry out my constitutional duty to verify the ballots, and frankly, they were trying to stop me from doing my job.
"These are people who wore the uniform of our country, many of whom I am sure were overseas helping other nations fight for democracy," Duckworth said. "And here they were, violating our own Constitution. To this day my emotion about it is just betrayal."
Duckworth's most high-profile work recently has involved drawing attention to the issue she remembers from her childhood, prejudice against Americans with Asian heritage.
"I'm really sad that in 2021 America we still have folks, especially people in government, that use terms like 'Kung Flu virus' that stoke racism and try to bring a divide between us," Duckworth said. "We are in the middle of a global pandemic, for goodness sake, we should all be pulling in the same direction. We shouldn't be dividing ourselves and attacking each other.
"When public officials do and say things that lead to racism, that's when I get upset," Duckworth said. "Asian-Americans have always been treated as an 'other' population. The Pacific Islander Americans are almost invisible as far as this pandemic is concerned. We don't even talk about what they are going through. We could do a lot better as a nation to recognize the diversity that exists."
These stances on diversity and inclusion and her outspokenness on a host of other issues mean that Duckworth is no stranger to criticism. But the nation's first female double amputee from the Iraq War, who has personally struggled with racism, poverty and disability, keeps it all in perspective.
"They have attacked my race both in the House and Senate races. My Americanness has been questioned, and they have tried to attack my military service," Duckworth said. "But let me tell you what, I've actually been shot at with a real RPG, so the verbal ones don't scare me."
David Blanchette is a freelance writer and photographer from Jacksonville, and is the board chairman of the Jacksonville Area Museum that is scheduled to open later this summer.