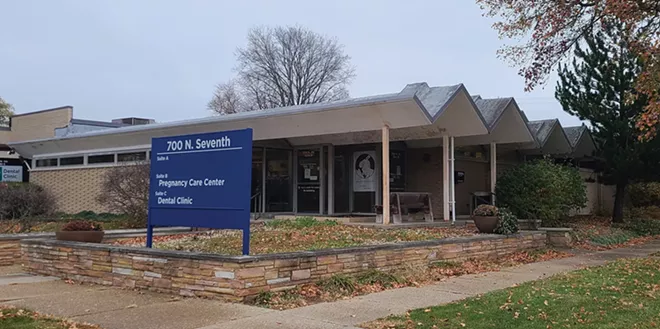 Safe Families for Children has a new building and a new director and the group, which provides short-term foster care, plans to expand to help more Springfield-area families.
Hospital Sisters Health System recently donated office space at 700 N. Seventh St. in Springfield to the nonprofit.
"They get the space rent-free. They don't pay utilities. So, they're able then to save their dollars for the families in crisis," said Kimberly Luz-Mobley, division director for community outreach.
Safe Families is utilizing 3,590 square feet of office space in a building at the corner of Seventh and Miller streets that also houses a low-income dental clinic and pregnancy care center.
"Many families lack a support system. So, when a crisis occurs, they need help," said Kasey Miller, executive director of the agency. "For example, I know of a mother who needed surgery but kept putting it off because she had no one to look after her kids. She eventually died without the surgery. That could have been avoided if a resource like Safe Families had been available."
Unlike Illinois Department of Children and Family Services' foster parents, those hosting children through Safe Families are not paid. The group recruits host families from area churches, which also provide financial support for the ministry. Typically, host families care for a child for no longer than six weeks, Miller said.
"Whenever you're dealing with DCFS, that's not a voluntary situation," she said. "They come in and then a lot of times they will take children away, remove them, and put them in what they deem as a safe place. In our situation, parents come to us and they say, 'I'm going through a state of crisis and I need support, and I need help.' That's the issue with a lot of families that have kids removed from them – they just don't have a support system. They don't have anyone that can come alongside them and say, 'I will give you rides. I will take care of your children while you deal with whatever the situation may be.'"
Joe Link and his wife, Brandy, have hosted several children through Safe Families after learning about the program while attending Hope Church. But their first experience stands out because they were asked to host a 4-year-old boy immediately after finishing the training.
"We said, 'Hey, give us a month and we'll be able to host a kid for you. And literally two days later it's like, 'Hey, we have a need. Do you think you could do it?' And it's like, well, not really. We kind of need some help, but if we could get that help, yeah, we can try," said Link. "And sure enough, everybody within the Safe Families community worked together and helped us get a room set up with bedding and clothes and toys. And all of that happened in 48 hours. It really was just a beautiful thing, seeing the community come together to help this family. And we hosted for about six weeks.
"The mom was going to jail and then into court-ordered (drug) rehab. And that kid was going to go into the system if we didn't come along. ... And his mom did her time and did her rehab and we were able to do the hosting and he went home."
Four years later, the Links continue to have a relationship with the boy.
"He calls me all the time – almost to the point of annoyance. But he is my buddy and we talk all the time. ... I think the reason he calls me is he is seeking a male role model," he said.
At any given time, Safe Families is serving about five families in the Springfield area. Miller said with the new facility provided by HSHS, the organization expects to expand.
Families in need are referred to Safe Families through a variety of avenues such as hospital social workers, schools, other social service agencies and sometimes DCFS.
Scott Reeder, a staff writer for Illinois Times, can be reached at sreeder@illinoistimes.com.