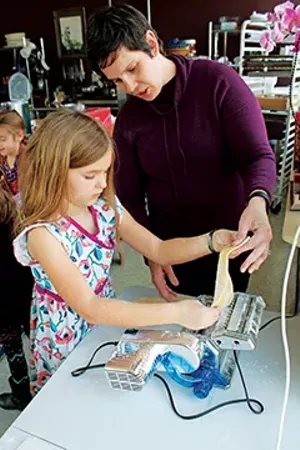 What's your family thankful for this holiday season? If the answer doesn't come easily, keep pondering. Research shows cultivating gratitude can positively affect health, relationships and happiness, for kids and adults alike. Sometimes life's most basic pleasures – like a meal prepared and served with care – can inspire the most thankfulness.

For instance, family dinners can leave a mark on us long after we've grown up. Denise Perry, chef and owner of Copper Pot Cooking Studio on Laurel Street, grew up in the Chicago suburbs, the youngest of four daughters. She fondly remembers her father's painstaking and labor-intensive process for making homemade ravioli. "It took the better part of two days," Denise says. "We'd clear off the dining room table to make room for laying out the pasta, and the sauce would be simmering all day long."

When her dad passed away in 2015, Denise and her family gave out recipe cards for his signature ravioli at his funeral. What seemed like a run-of-the mill family routine at the time – making pasta – has taken on huge emotional significance today.
Connecting over cooking
Part of what Denise offers at Copper Pot is the opportunity to slow down and savor the experience of creating meals, much like her dad's ravioli. By learning about the ingredients and how they interact and observing the sensory experience of cooking, we can deepen our appreciation of our food. Kids enjoy participating as much as adults and also reap benefits from time spent in the kitchen. Denise says it's all about opening the door to cooperative cooking.
"So often as parents we tend to do everything for our children," Denise says. "I get it when parents cringe at kids using a knife. But when kids get to a certain age – which isn't the same age for everyone – we can watch them and teach them the safe way to chop."
It's not the fastest way to put a meal on the table. Cooking with children is as much about the process of creating food – and growing our appreciation for it – as about eating the finished product. "Having kids involved in meal prep helps them understand the time it takes and feel a sense of ownership in the meal," Denise says.
Learning about the big picture
Feeling grateful for our food encompasses more than the pleasure of eating – it's also about the labor that went into creating it, all the way back to the farmers who grew it. When it comes to teaching kids about the somewhat complicated topic of sourcing food, Denise says small things can help them understand how food systems work.
Denise recommends heading to a farmers market or pumpkin patch for a hands-on lesson and discussing seasonality in relation to which fruits and veggies are currently available. She says gardening is another opportunity to learn: "Having even a small garden can show them how long it takes to grow a tomato. And then it tastes different, and they understand how good vine-ripened tomatoes taste."
Growing and cooking food together can help reframe the way families talk about meals, decreasing conflicts over choices. Denise recommends serving family style, passing a variety of healthy foods and letting kids choose what they want. She compares a kid being forced to eat a meal to an employee being given a complicated task. "Say you have a huge stack of papers on your desk. Think of how differently you might feel about it if instructions were forced on you, versus figuring out yourself how to tackle the large assignment."
Traditions in the kitchen
Improving our families' relationships with food and fostering gratitude in the process may sound like just the type of complicated task that needs to be broken down into manageable pieces. Denise says if you're not sure where to start, head to the library and check out some cookbooks to flip through as a family. She recommends keeping expectations at a reasonable level – not too much pressure – and enjoying the process.
Grandma Baldassari's Ravioli
One of Jim Hanson's Favorite Recipes
I have taken a little liberty with my dad's recipe as much of it was transcribed based on look and feel. This recipe makes many ravioli, and they freeze well. ~Denise
Dough
• 2 cups all-purpose flour
• 1/2 teaspoon fine sea salt
• Pinch of freshly grated nutmeg
• 3 extra-large eggs
• 1 tablespoon extra-virgin olive oil
Filling
In a food processor, pulse the flour with the salt and nutmeg. Add the eggs and pulse until incorporated. With the machine on, add the olive oil in a thin stream and process just until moistened crumbs form. Turn the crumbs out onto floured work surface and knead just until a smooth dough forms. Wrap the dough in plastic and let stand at room temperature for 30 minutes.
Cut the dough into 4 equal pieces and cover with plastic wrap. Work with one piece at a time: Flatten the dough into a 5-by-4-inch oval, about ½-inch thick. Dust lightly with flour. Roll the dough through a hand-cranked pasta machine at the widest setting. Fold the dough in thirds (like a letter), then run it through the machine at the same setting, folded edge first. Repeat the folding and rolling once more. Roll the dough through at successively narrower settings, two times per setting, until it is thin enough for you to see the outline of your hand through it. Lay the dough out on a work surface lightly dusted with flour.

Filling

Can be made a day ahead

• 1 pound ground beef
• 2 stalks celery, finely diced
• 1 medium onion, finely diced
• 1 bag chopped frozen spinach
• 1 teaspoon dried sage
• 2 cloves minced garlic
• 2 eggs
• ½ cup freshly grated Parmesan cheese
• 1 cup bread crumbs

Cook meat, celery, onion, spinach, sage and garlic slowly until it is done. Let cool and then add eggs, Parmesan and bread crumbs. Pulse in a food processor to chop and combine. Season to taste with salt and pepper. Brush top of dough with one egg mixed with 1 tablespoon of water. Place tablespoon-size balls of filling along one side of the dough sheet, leaving a ½-inch space between balls. Fold over dough sheet and push out any air. Cut between filling balls to make ravioli, and then crimp edges with a fork to seal.

Bring salted water to a boil. Cook ravioli in batches, 10 at a time, and boil 3-5 minutes until al dente. Serve with your favorite sauce.

Bring salted water to a boil. Cook ravioli in batches, 10 at a time, and boil 3-5 minutes until al dente. Serve with your favorite sauce.

Swedish Pancakes

Our neighbors gave us this recipe when I was small and quickly became our family pancake recipe. These pancakes are thin, similar to a crepe. ~Denise

• 2 eggs
• 1 ½ cup milk
• ¾ cup all purpose flour
• 2 tablespoons butter, melted
• 1 teaspoon sugar
• ¼ teaspoon salt
• 1 teaspoon baking powder

Beat eggs, milk and melted butter together. Mix together dry ingredients and add to egg mixture. Heat skillet over medium heat. Pour ¼-cup portions into buttered skillet and cook 1-2 minutes on each side. Serve with maple syrup and melted butter, lingonberries or fresh fruit.

Elizabeth Watson is a freelance media consultant working and raising children in Springfield.