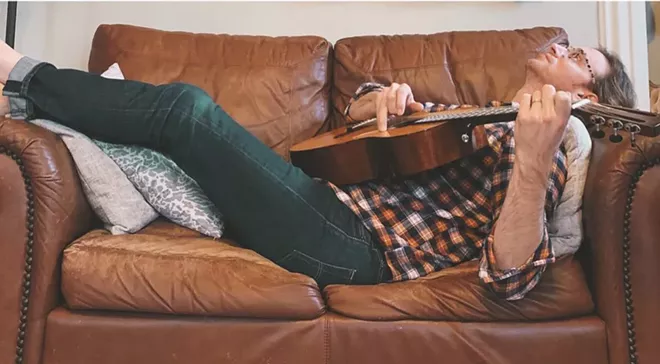 Greetings all, to week number four (I think) of our quarantined, social-distancing world of the present situation. First, before getting into any music talk, let's send solace to the grieving who have lost loved ones and our respects to those lost souls taken by this virus and all others who've recently departed this plane for whatever reasons. It's Easter time to those of the Christian faith, spring break for many kids already out of school and Passover week for those of the Jewish religion. Perhaps in this time of rebirth and renewal, we can find actual growth and true transcendence. Or maybe just go outside and lay down in the sun for a bit and think about it all.
If you hear bagpipes at sunset somewhere in town, that would likely be members of the St. Andrews Society of Central Illinois piping for you. They've been tagging each other on Facebook and taking turns, playing the pipes at sunset for a few weeks now. I don't know where to find a regular schedule online, but if someone is playing bagpipes near you, you will know it. Earlier this week, I ended up on the back deck practicing a few new songs when our neighbors Adam Kohlrus and Elizabeth Eckert came out on their deck with toddler Cobi to listen and dance. That was some fun, and to top it off, someone who happened to be traversing the alley at the same time lifted up a young girl above the fence to applaud. It felt good to be playing for my first live audience in weeks, and I'm pretty sure and fairly certain we all had a lively, good time with positive thoughts of what was and will be.
Let's now move forward into our current world of Now Playing, really only a virtual reality, sent through the ether onto devices of our choosing to watch each other online. We still aren't getting all the musicians out there posting about online shows to list in our (formerly live) music listings, but there are more than last week, so we'll take that. These things take time to adjust to, I guess, but it's just as simple as posting a live gig from previous days, so get on it folks and submit your gigs.
I see Silas Tockey continuing his 2 p.m. weekday shows as the dedicated artist that he is and will be. Stuart Smith posted a live stream coming at you as a Couch Concert this Friday at 7 p.m. from his living room, and he's even doing requests just to show you how much he misses playing live. The Enos Park Neighborhood Improvement Association hosts Friday Night Live (FNL) at 7 p.m. from now through May 29 featuring live music and other fun stuff. I'll be back online this weekend with Friday and Sunday evening shows. Cowboy Randy, who was doing this streaming stuff before the quarantine, does concerts about every other night and has a listing for this Saturday at 7 p.m. The one and only Joe Frew celebrates his 45th birthday on Saturday with performances that start whenever he does and go as long as he says, because it's his birthday and that's what he wants, but probably starting around 5 p.m. I've watched streams by Joel Honey and TrellBlazer and peeked in to some good live tunes. One advantage to this virtual online stuff, mostly on Facebook, is you can stop by, move on, come back and never leave the couch, for whatever consolation that is.
Here's to being well, getting along and moving through these times.