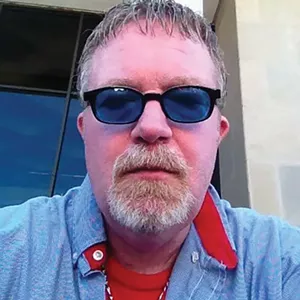 Even though we lost Mike Austin, often called Augie or Mikey, way too soon, no one who knew him would say he didn't get every bit out of his nearly 57 years on this earth. The "living life to its fullest" phrase fit him very well, and maybe he didn't express such a thing out loud, but he sure lived it every day. While growing up in his hometown of Pawnee, he got his first nickname of Augie and received a well-deserved reputation for having fun and making sure others did, too. Whatever it was that got young MIke going was evident from the beginning and he continued into adulthood with that passion for pranks, performance and perseverance as something that could not be denied.
After the fun times growing up in Pawnee and some jobs in retail, Mike landed on radio as a big personality among many on Ray Lytle's Morning Disaster show on local rock station WQLZ. Running from 1994-2006, Mikey was in the thick of it for a lot of it. The immense popularity and reach of the program came from the interplay between members of Ray's team and Mikey was certainly a notable part of the success, cutting up and cracking up on a daily basis, demonstrating his continued dedication to pulling pranks, witty comebacks and being good at having fun.
His influence on the music community was substantial, stemming from his two decades of running a self-designed and operated booking agency called Mikey's Entertainment. By keeping area bands and local bars supplied with live music, he again showed his passion for life and living it to the fullest. As the musicians were out there counting on the gigs, Mike was behind the scenes working so they could play, doing the basically thankless job of making sure bookings were fairly paid, organized correctly and continued to come in. You knew if you were his band, he had your back and was taking care of business.
He handled the live music for his hometown's Pawnee Prairie Days, as well as for several other area festivals and fairs. All this is based on trust, and Mikey had that from his clients on both sides of the stage. His last big organizational work was setting up the music for the 2021 International Route 66 Mother Road Festival in September. As usual, there was a snag and things got jumbled at the last minute, but Mike, not in good health and knowing he didn't have long to live, still made sure all was good and running fine when the day came for the music to happen.
A retrospect of Mike Austin's life would not be complete without mentioning his passion (there's that word again) for all things involved with the rock band KISS. Not only did this fanatical obsession start in 1975 just as the band was becoming a really big thing, it continued on throughout his lifetime. Mike reportedly attended some 80 KISS concerts, had an incredible collection of band merch and also hung out with the KISS guys themselves on several occasions. But hey, why wouldn't a lifelong prankster be a fan of a band who pulled off one of pop music history's biggest gags by painting their faces, doing over-the-top live shows and creating songs that literally defined the rock 'n' roll party rock star image, all while becoming one of the top-grossing acts of all time?
The pattern here is when Mike got into something, he dug in deep and stayed there for a lifetime. Other things he felt strongly about included the Pittsburgh Steelers NFL football team and the famous city of New Orleans. He hardly missed a Steelers game broadcast, attending several live games as well, and he visited the Crescent City many times over the last 20 years, most notably during the big party time of Mardi Gras.
But for all his attention and dedication to these things, his family meant the most. Especially toward the end of his life, visiting with loved ones including grandkids, children, nieces, nephews and the extended brood became his greatest, and most lasting, passion of all.
In later years, Mike took Jesus Christ as his savior and found great comfort in knowing he was going to see his maker as a Christian believer. So to this life so well-lived of fun, play, work and seriously doing stuff, let's just say, Mike went for it, found it and played it to the limit.
Tom Irwin had heard of Mike for several years before they finally ran into each other and hung out at a gig where he was there to support NCR, one of the bands he booked, and Tom was playing the afternoon slot at the same venue. Mike would always ask to have his groups featured in the Illinois Times Band Spotlight during summer festivals and fairs, getting his acts maximum exposure.