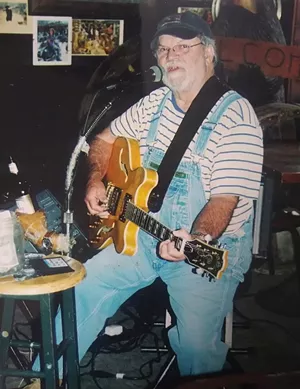 When Robert Emil Ramelow went on to his next big gig joining up with the everlasting band, the guy everyone knew simply as Butch left behind a striking and deep legacy of making music in central Illinois.
Born in Springfield to Robert L. and Gertrude P. (Guyett) Ramelow, no one seems to know exactly when the younger Robert began picking the guitar, but no one seems to remember when he didn't, either. From his early days of playing with the Stingrays as well as Johnny and the Impalas plus others in the 1960s, to a band called The Stone Creation in the early 1970s and on into his Butch's Back Street Band-era before becoming a one-man band solo show for the remaining years of his music career, Butch Ramelow just always played music on his guitar.
He played for weddings, parties and high school dances, in halls, bars, clubs and joints, with many different local musicians in various combos and as a solo act. Sometimes he played weekly gigs, like his long-running Sunday afternoon slot at the Buckhart Tavern and other times he took what he could book. As long as he was playing the guitar and singing, everything was OK.
After a stint in the U.S. Army right out of high school, Butch worked at Schnepp and Barnes Printing Company for 20 years, and always kept up the playing. After years of gigging with local bands, he made a push for something different and started a country group in the mid-70s called Butch's Back Street Band that included plenty of original material.
In a definite career highlight as an attempt to break into the music industry outside of Springfield, he booked time in a Nashville, Tennessee, recording studio in the late 1970s. The resulting music was produced by John "Bud" Logan, the same guy who did the huge hit, "Rose Colored Glasses" by John Conlee, and in the same studio, so Butch was going for top-shelf stuff there. Bandmates in the Back Street Band, Rocky Clevenger (bass), Larry Coffey (drums) and Robert "Slick" Sandidge (organ) joined in the recording, while Nashville-session heavyweight Buddy Emmons played pedal steel guitar. Everyone hoped big things would happen, but as they usually do, they didn't. Still, Butch had a fine-sounding single in "Country Morning Light" (written by Butch) and the 45rpm record appeared on many a jukebox around the bars in Springfield.
"Headed that Way," another well-produced and played song (written by Butch and Larry) is available to hear on YouTube, thanks to a posting by Nereida Littrell.
Sometimes when playing music so much and so often, musicians get cynical or feel under-appreciated, but if Butch did, he didn't show it. Many, many comments poured onto Facebook tribute pages to him when he passed and all basically said the same thing: Butch was a great guy and had the respect of all who knew him and heard him play.
No comment is more telling, or at least well-said from a perspective few had, than the statement from Robert "Slick" Sandidge, a longtime cohort, friend and fellow musician of Butch's who wrote, "I first met Butch in 1968 when I joined The Stoned Creation and rocked Shammy's in Thayer every Saturday night for two years solid. In the 70s, it was Butch's Backstreet Band. Hundreds of gigs, hundreds of songs and many years of great memories and a few bar fights, which Butch NEVER lost. You will be missed, my friend. You were one-of-a-kind."
As is the case with live music, nothing can really ever capture for posterity the vibrations in the air created by musicians playing, and nothing ever will. It's all about the instantaneous sounds a person with an instrument puts out there into a space and how the emotions and feelings caused by that sound reaches people. It's gone as soon as it's done in real time, but what lingers and stays is what is given by the musician and what is taken by the listener. That precious spot in time is what good guys like Butch selflessly gave through a lifetime dedicated to making music, and that's what he will be remembered for doing.
Tom Irwin only met Butch a few times in person, but remembers the first time he learned about him. It was in 1981 at a now-defunct bar on 11th Street, and a 45 record of Butch's Back Street Band was on the jukebox. Finding out that someone from the area actually made a record that landed on a local jukebox gave him the inspiration to make his own records. Butch led the way.