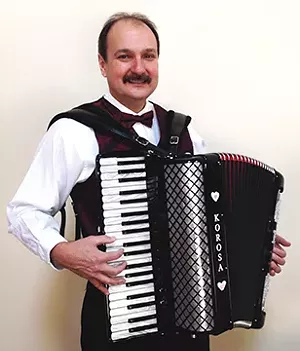 Now that we've made it through the summer of 2019 with Labor Day weekend behind us, the fall season of music fests begins. For me, it's really the best time weather-wise and music-wise, as the world slows down a bit, while we roll along toward the waiting wintertime.
What do I see while perusing the online Live Music listings on the Illinois Times website, but Frank Parker back with his Jambalaya Jam at Buzz Bomb this and every Thursday for the time being. Mr. Parker conducts the fun, while jazz jammers and all musicians are welcome to roll in to make music with Frank and his horn. The jam is considered a type of open mic, and I happen to observe two others happening on Thursday, too. The Crows Mill Pub open mic, up and running for awhile, gets good reviews as a cool place to be heard, I hear. Here comes a new kid on the open mic block as Tom Beverly kicks one off at the Lucky Moon Saloon near Chatham with a guest co-host each week. Casey Cantrall, fresh off his successful run as Huey (hockadoo, dude!) in Memphis:The Musical at the Hoogland, sits in with Tom this week, guiding guests through a night of jams.
Thornhill wowed the crowd at July's Downhome Music Festival with a blisteringly pleasant set of originals on Saturday evening. Here's a couple of upcoming chances to catch them again, including Thursday at the Curve Inn on Skippy's stage of wonders and at Anvil & Forge downtown for the venue's weekly Saturday show. To finish off your Thornhill experience, make a run to Lincoln on Sunday afternoon to catch Tina and Joel in a duo performance at the Spirited Republic Brewery.
Friday at the Butternut Hut, here comes Chickadee Sermon playing an opening set for Pinch Of Grace, a side project of Andy Hoff from Sunshine Daydream. Expect plenty of originals and some Jerry Garcia Band songs from Andy covering a more folksy and country side of the Grateful Dead deal, plus sweet harmonies, originals, GD tunes and acoustic sounds from the 'Dees.
Watch out for crazy times at George Ranks this weekend as the annual Palooza celebration of the Virgos occurs. We Haymakers (with Dooley) play late on Friday night as Larry Stevens covers the early evening spot. Then expect a fine and fearless performance on Saturday from the respectfully titled George Rank's Orchestra, doing some old time rock 'n' roll to celebrate the birthdays of Mark, Pete and Tammy.
The whole town is abuzz with excitement for the BoS Plaza performance on Friday of The Ultimate Queen Celebration featuring Marc Martel and opening act, local rockers Off the Wall. Martel, who looks fairly like the late Freddie Mercury and sounds uncannily like him, did some vocals for the Queen biopic, Bohemian Rhapsody, and was picked by Roger Taylor and Brian May to front the official Queen tribute back in 2012. It's truly an incredible show.
On Saturday night, the Knights of Columbus West hosts their third annual Charity Oktoberfest and the first "Okt-fest" of the autumn season. This party is fun for several reasons, but the genuine German music with the Heidelberg German Band out of Quincy and Chicago's world-renowned Eddie Korosa makes this as close as it gets to a real deal German Oktoberfest celebration, even if it is in September.
Upon looking at the listings, the list is truly incredible this week, so please take the time to ponder the venues and artists and respectfully get yourself out to experience an experience.