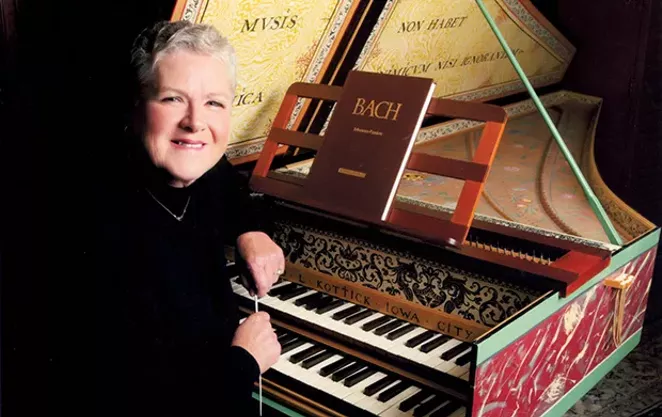 "One of the things I had said all my life was, I want my own chorus," said Marion van der Loo. "I wanted a chorus where I chose the music, I taught the music and I conducted the music."

In 2005, van der Loo got her wish when she was hired as director of the Springfield Choral Society, where she has remained since. This coming season will be her 13th as well as her last with the society as she plans to retire in May 2019 after 47 years as a professional musician.
She grew up in southern New Jersey, daughter of a Methodist minister. "He and my mother loved music, they both had beautiful voices," said van der Loo. "He thought about going into singing as a profession but he already had three children so he became a minister. Which was big money," she added with a laugh. One of her formative musical inspirations was a recording treasured by her father of Bach's "St. Matthew Passion." "It was three-and-a-half-hour work on LP, so it was five records. He would listen to it and I remember sitting next to him and he had the libretto in front of him and he would just weep." The recording was by the chorus of the Amsterdam orchestra, which her father's parents had sung with. The recording was made on Palm Sunday, 1939, not long before the Germans invaded Denmark and many of the chorus members did not live through the war. Van der Loo said that she used to consider this recording the most beautiful she had ever heard. Until she started professional musical training. "I listened to it years later and thought it was the absolute worst version you could possibly hear! But it was originally what gave me my love for choral music."
Before becoming a conductor, van der Loo had a highly successful career on the East Coast as a singer. "Growing up we listened to all kinds of music – my sisters and I had a trio and sang all kinds of gospel things together," she said. "I was getting to hear all different kinds of things, but we always had music going and I always loved singing. I didn't know you could make a living as a singer."
She received her bachelor's degree in opera performance from Temple University in Philadelphia, Pennsylvania, and auditioned for a renowned professional chorus called the Philadelphia Singers. "That was where my singing career started," she said, "I think I learned more about music from that conductor than I did from anyone else in my life. In the 1970s, various East Coast musical eminences heard her performing with the group and began offering her high-profile work in New York, Washington, D.C., and parts of upper Pennsylvania, singing lead parts in performances of large-scale pieces like Handel's "Messiah" and Mozart's "Requiem." "So it turns out you can make a living doing this!" she laughed.
Van der Loo credits her success with a combination of talent and diligence. "I have always been fortunate, blessed, however you want to put it, that I always worked very hard," she said. "I did not have one of the great voices, like Leontyne Price. I had a good voice but I worked very hard to make it the best it could be and to be the best musician I could be. People knew they could count on me to know the music or be able to read the music."
After receiving her master's degree in conducting from Temple, van der Loo began directing various choruses on the East Coast and eventually attended the University of Illinois Urbana-Champaign, where she earned her doctorate in conducting. Whether singing or conducting, van der Loo says that solitude is a major element of her musical success. "I spend a lot of time alone, whether as a singer or as a conductor – in the studio, in the practice room, at home, even in the car. As a conductor I spend hours and hours a day on my scores," she said. "When we did the Bach 'B Minor Mass,' I studied it for a year and a half even though I had sung it many times, both the choruses and the solos. To conduct it is very different. I have a friend who has a pilot's license and she said 'two thirds of what you learn when you're becoming a pilot is what to do when something goes wrong' and when you're on the podium it's the same thing. A live performance is not like a CD, if you practice conducting to a CD you're always right, everyone comes in right on cue."
Although van der Loo had intended for her stay in Illinois to be limited to the time it took to finish her doctoral residency, she instead wound up being hired in the early 1990s for concurrent jobs directing the choir at Springfield's First Presbyterian Church and the Illinois Symphony Chorus (then connected to the Illinois Symphony Orchestra) and in 2005 became full-time director of the Choral Society. That body of 65 voices has grown in reputation over the past 12 seasons, including undertaking five prestigious European tours between 2005 and 2018. A difference between the singing and conducting portions of van der Loo's career is reflected in the clothing required for the respective jobs."When I was a singer, every time I walked onstage, I'd be in my gown," she said. "I lived in evening gowns for all those years and now I refuse ever to put a dress on again for as long as I live."
Conducting a volunteer chorus made up of 60 singers or more and rehearsing at least two hours per week requires not only intensive musical training but a high level of interpersonal and managerial skill. "The members of the chorus need to leave feeling like they learned something, they accomplished something, they enjoyed themselves," van der Loo said. "There are some rehearsals where we break up laughing and it takes me five minutes to get the room back together. A lot of funny things happen. I have a reputation for losing control of the baton where it'll kind of go flying. One night, in the middle of rehearsal, a chorus member got out of his chair and walked up to the podium, took the baton out of my hand and he had this long shoestring with music notes printed all over it and he tied one end to the baton and looped the other around my wrist," she laughed.
"But at the same time, I work them very, very hard. They know what my standards are and I won't lower my standards. They may not reach the level of the Philadelphia Singers but if I didn't aim for that, they wouldn't even get to the level of some little Baptist church with 26 members."
Many members of the Choral Society have fond memories of working with van der Loo over the years. Society member Jamie Greenwald, a Springfield dentist, first met her in the symphony chorus and recalled how much of a stickler she is for language. "She was always very adamant that if we're going to sing a piece, we're going to sing it in the language it was written in." He specifically remembers some advice she gave when instructing the chorus in the art of singing in French. "She told us, 'When the French speak it is always as if they are ready to kiss – so lips forward and you'll probably come close,' he said. Greenwald also recalls with some awe the tour of France the society did in 2014, during which they performed Sunday mass at Notre Dame and sang on the beach at Normandy on the 70th anniversary of the famous World War II battle.
Marilyn Okon, president of the Choral Society, said of van der Loo that "music is her profession, her avocation, her hobby, her recreation and her life. To me she is a study in contrasts. On the one hand she is an expert in her field, a true maestra certain of her positions. Yet she is truly an emotional person, caring for the feelings of all, never wanting to disturb and melting at the sight and antics of her four pet cats."
"She has a great openness and flexibility with differing styles of people," said society member Gailyn Draper. "She is very accepting of people as they are, and yet she always finds a way to encourage and challenge individuals to go further. There have been times in her personal life when she has been dealing with weighty issues."
Winnie Tuthill was on the board of the Choral Society when Marion was interviewed for the director job in 2005. "It was a real highlight getting to talk to her and hiring her. The word 'brilliant' is overused but I do think it applies to her. She is enormously talented and driven and ambitious for [the society]," she said. "Marion doesn't let us get away with much. She is a fiend for things like pronunciation and diction, no matter what language we're singing in. It can be tiring sometimes but the results really pay off."
Jamie Greenwald has one very special memory of van der Loo. "You don't often get to hear directors sing," he said, "but in winter 2001, just a few months after 9/11, there was a candlelight concert at First Presbyterian with the ISO Chamber Orchestra. And Marion sang 'Bist du bei mir' by J.S. Bach, which translates roughly to, 'If thou be near I will fear nothing, even death.' It was gorgeous," he said. "If that concert didn't move you, I don't know what would."
"For my last season, I would love to have people who have sung with me in the past but had to drop out for one reason or another to come out and sing," van der Loo said. "Especially for my last concert, which will be a Haydn Mass with a big orchestra." She pauses. "Big orchestras are scary but it's just beautiful music."
Scott Faingold can be reached at sfaingold@illinoistimes.com.