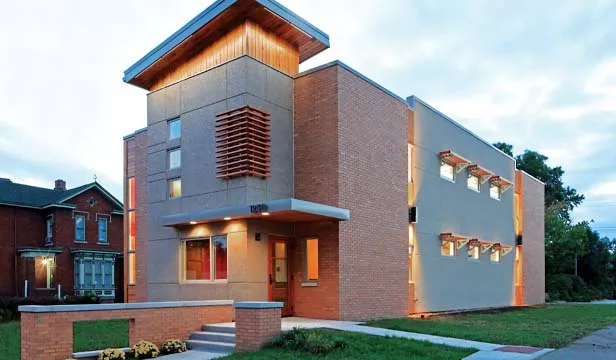 Architect John Shafer's new office building at 1230 S. Sixth St. in Springfield recently won an award for sustainable design from the Central Illinois Chapter of the American Institute of Architects. Not only is it a "green" building, it is also lovely to behold.

It may have caught your eye while under construction during the past year. With its clean lines, wood trim, and small south-facing windows with distinctive sun shades, it looks decidedly Scandinavian.

Shafer & Associates wanted to combine sustainability and optimum design for their new office. Inside, the office seems both energizing and calm, thanks to the beautiful natural light bouncing off the walls and the color palette of chartreuse, poppy red and golden yellow used as accents. It is a very nice place to spend the workday.

"My goal was to create a stimulating work environment," Shafer said. "I wanted it to be a happy place, so I picked interesting colors to go with the white loft feel. The cheapest interior decorating device is paint."

The firm's former office, a two-story home built about 1920 just a block west on South Fifth Street, had roughly the same space (1,800 sq. ft.), but Shafer predicts the new building will be 50 percent more energy efficient.


"The building orientation will have the most impact in saving energy," Shafer said. The idea is to minimize windows and walls on the east and west as summer light hits the eastern and western sides of buildings and is harder to control.

"There are two ways to spend energy on buildings – HVAC (heating, ventilation, and air conditioning) and plug load – anything that plugs into an electrical outlet," Shafer said. "Daylight is our biggest strategy to save on the plug load." On sunny days or overcast days, typically they don't turn the lights on until about 4 in the afternoon.

The drafting room, the central workspace in the building, has light from four sources, and the effect is very pleasing. "We used natural and artificial light in a balanced way. Light is huge when designing a building," Shafer said.

The drafting room has oversize windows on the north side of the building, which provide most of the daytime light. The double-paned Marvin windows are filled with Argon gas, making them highly insulated. The firm originally thought they'd put skylights in the building, but realized they didn't need to.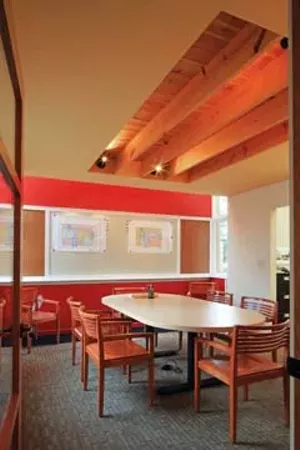 Shafer has been interested in energy efficiency since 1980 when he took a class on passive solar energy at Sangamon State University from Mark Heyman, who had been an apprentice to Frank Lloyd Wright. "Energy efficiency goes hand in hand with being an architect," Shafer said. "It's just the right thing to do."

For heating and cooling, the firm chose a geothermal system, with five wells buried 200 feet in the ground. Most current high efficiency furnaces are rated at 95-98 percent efficiency, Shafer said, but the geothermal system is rated at 400 percent efficiency. "You're not burning fuel at all, you're extracting it from the ground," Shafer explained.

The AIA committee that selected the building for its sustainability award commented, "Truly deep thought went into the building. They got into it and did not stop. Sustainability is deep on many levels."

Shafer & Associates made their own sun shades of Douglas fir to shade the south-facing windows. Selvaggio Steel made the supporting brackets. The effect is like a wooden awning, blocking sunlight during warm months, and letting the sun in as it orbits lower in the sky during the winter months.

The vestibules at the front and back of the building are highly functional, trapping air to keep the interior warm on a cold December day. The front vestibule features cherry wood doors adorned with handsome lever handles. And Western red cedar wainscoting combined with a bright poppy red wall make a very good first impression on a visitor.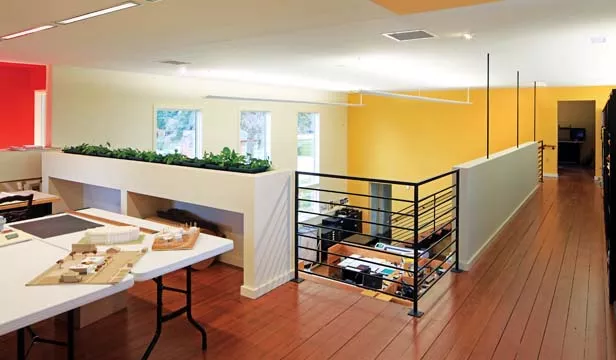 Shafer hates waste, so he and his team created a berm from dirt leftover from the excavation site to partially conceal the alley. They also built a dumpster screen out of leftover bricks and Douglas fir which was used for flooring.

Proper storm water management is incorporated too. Water runoff from the building goes into a rock bed, draining into the ground rather than flowing into the street and on into a storm sewer.

Artistic touches are throughout the building, including a decorative parquet wall treatment made of 4x4 reclaimed fence posts by Team Shafer's Josh Siterlet and an art wall on the second level. "I love energy efficiency," Shafer said, "but it's more important to me to make really nice spaces. And you can accomplish both. It just takes more thought."

Balancing sustainability and aesthetics, John Shafer & Associates have created one classy, harmonious work environment.

Contact Ginny Lee at berginger81@hotmail.com.