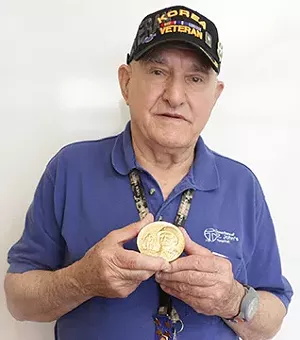 Ivan Maras of Rochester doesn't speak Spanish, so how did he become part of a Puerto Rican regiment of the U.S. Army during the Korean War? Through a twist of history, Maras last month joined his fellow service members from the 65th Infantry Regiment in Washington, D.C., to be honored with the Congressional Gold Medal, the highest national award for distinguished achievements and contributions.
Nicknamed the "Borinqueneers," the 65th was instrumental in holding the North Korean and Chinese forces above the 38th Parallel as the battle-worn 1st Marine Division evacuated during the Battle of Chosin Reservoir. At the time, the Borinqueneers were a segregated unit, but Maras and some other non-Puerto Rican soldiers were assigned to the unit. Maras, who was allowed to finish college in 1952 before fulfilling his draft duty in the Army, explains that many of the younger Puerto Rican draftees in the 65th were poorly trained because they had been rushed into the war effort. Many couldn't read or write, so they couldn't understand orders, Maras says. That led to the regiment being integrated and Maras' placement in the unit.
He wound up on the front lines at Inchon with the 65th, and he describes the constant explosions as being "like the Fourth of July every night." When they weren't fighting, Maras and others set up "tent schools" to teach the younger draftees how to read and write. After the war, Maras came back to Illinois and taught school for 47 years. Earlier this year, he received a letter in Spanish from the government – presumably written for Spanish-speaking Puerto Rican members of the 65th. After having it translated by a local Spanish teacher, Maras discovered his regiment was being honored by Congress for their valiant service during the Korean War. Maras is the only surviving member of the 65th from central Illinois. Check out a video of the April 13 ceremony at
youtu.be/o8QeaBGbQ_U
. The public law authorizing the Congressional Gold Medal for the 65th Infantry Regiment is available at
bcgmceremony.org
.