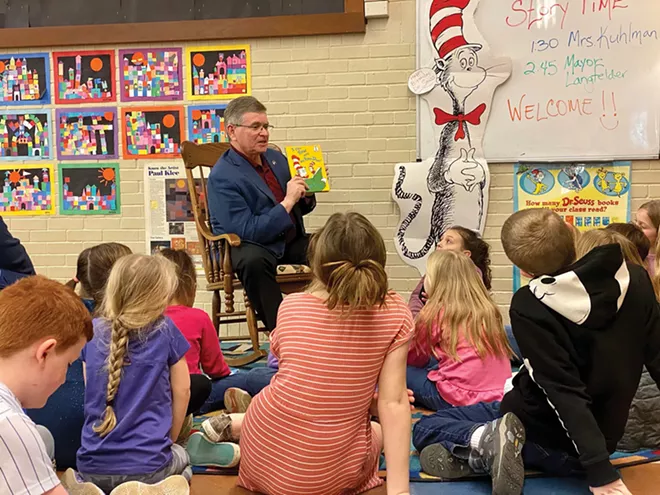 Billie Langfelder marvels at her husband's work ethic at a job that often calls for him to work in the office, preside at contentious Springfield City Council meetings, attend community events and then arrive home and eat dinner after 11 p.m.
After all of that, he often falls asleep in a recliner, then goes to bed for five or six hours before getting up and doing it all over again.
"It's a 24/7 job," the wife of Springfield Mayor Jim Langfelder said. "He works Saturday and Sundays. A short day for him is eight hours, and it can extend to 17 or 18 hours."
Regardless, Billie Langfelder said she enjoys watching her husband of 34 years enjoy being mayor, and she hopes voters elect him to a third four-year term April 4.
"He loves his job, absolutely loves it, and he wants to make a difference in the community," she said.
Jim Langfelder's opponent, City Treasurer Misty Buscher, portrays Langfelder's years in government and family ties as a negative. She says Springfield needs new leadership for the officially nonpartisan job of mayor, a position that pays $130,800 per year.
Langfelder has served as mayor for almost eight years. He worked 12 years before that as the elected city treasurer after serving four years on the Sangamon County Board. The 63-year-old Springfield native, a moderate Democrat, is the sixth of 13 children born to former two-term Mayor Oswald "Ossie" Langfelder and his wife, Midge. Jim Langfelder's younger brother, Josh, is the Sangamon County recorder.
Buscher has vastly outpaced Jim Langfelder in campaign fundraising, in large part because of donations from trade unions and unions representing the city's police officers and firefighters.
But Langfelder said his experience and dedication will be valuable to everyday Springfield residents if voters allow him to carry through on several major projects and initiatives he has been working on for years. He hopes the trust he has worked to cultivate yields a large voter turnout and success at the ballot box.
"I think Springfield has a savvy electorate, and that's really where the grassroots effort comes into play," he said. "I think they know our family. ... You wouldn't be around if people didn't trust you.
"One of the greatest things my father said is, 'We may not have much money, but we have our name.' And that means the world to us. ... I love the city, and when I look at issues, it's based on the information I have at hand, and I'm going to make the decision that I truly believe is in the best interest of the city as a whole."
Ossie Langfelder, a former engineer with a Jewish father who fled from Austria with his family to escape Nazi aggression, lost his own bid for a third term in 1995. It was then that a seed was planted in the mind of Jim Langfelder, who was 35 at the time and working as a banker.
When he shed tears with other family members after his father's loss on election night, his mother told him to compose himself.
"She goes, 'You need to straighten up. You're going to be mayor someday,'" Langfelder recalled. "I had never thought that before. And then when she said it, it kind of sunk in."
Langfelder, the father of three grown children and a grandfather to one son's daughter, earned a bachelor's degree in business management from University of Illinois Springfield – then Sangamon State University.
The mayor said he hopes voters grant him a third term for several reasons.
He said he has guided the city during the economic downturn of the COVID-19 pandemic without any layoffs of city staff and has helped stabilize the finances of the city-owned utility City Water, Light and Power.
"I'm a true believer that the city is on the right path forward," he said. "You just drive around and you see all the great work."
Springfield, Langfelder said, is "on the cusp" of "being that 'model city' everybody will point to. ... There are just a lot of great things happening."
Among those great things, he pointed to plans moving forward to redevelop the former Pillsbury factory site on the north end and the Wall Street Journal's recent ranking of Springfield as 17th among 300 U.S. communities for good quality of life and housing markets expected to provide a strong return on investment.
The mayor also pointed to the city's efforts to expand broadband Internet, enhance workforce development in high-poverty areas and the planned construction of three new fire stations.
After being turned down for zoning changes multiple times by a majority on the City Council, Langfelder could see his proposed $18.75 million in city tax incentives for Tower Capital Group approved April 5 by the council to pave the way for a $58 million renovation of the Wyndham City Centre into a Delta-by-Marriott-branded hotel.
A zoning change wouldn't be needed for the project, which would preserve 250 hotel rooms for conference-goers and other guests, plus create 200 market-rate, upscale apartments, convention space and a 30th floor steakhouse and lounge.
Langfelder said he also wants to continue working with Sangamon County and other governmental units on the Third Street rail consolidation to the 10th Street corridor, and on completion of The Hub, a central transportation complex in downtown Springfield. The projects, funded by the state, federal and local governments, carry a total price tag of $475 million.
Other projects the mayor wants to see to fruition include the addition of 136 market-rate downtown apartments as part of the $28.3 million Lofts on Madison at East Madison Street and North Fifth Street by Adirondack Community Development and the $38 million redevelopment of Poplar Place on the east side.
He also listed the planned construction of the Scheels Sports Complex at Legacy Pointe and completion of the University of Illinois Springfield Innovation Center at Fourth and Washington streets.
Langfelder wants to have a hand in the start of the multimillion-dollar redevelopment of the Third Street corridor for business, residential, recreational and pedestrian use after the railroad tracks are removed, potentially in 2026.
Those plans are being integrated with a master plan for downtown and the Mid-Illinois Medical District that's expected to be completed this year.
The mayor is a supporter of a proposed second lake that is being studied by the Army Corps of Engineers as a backup water supply to Lake Springfield in case of severe drought.
He also is urging residents to vote "yes" on an April 4 advisory referendum soliciting support for the elimination of townships within city limits and transferring their responsibilities to the city to provide tax relief.
The race recently saw its first overtly negative video campaign ad, paid for by the political action committee controlled by Buscher supporter Frank Vala, a Springfield businessman and critic of the mayor.
The ad asks what Langfelder is doing with "crime getting worse, downtown dying – missed opportunities, jobs leaving, homelessness – no leadership, families moving away. So what's the mayor doing? Not enough."
Langfelder said the ad makes false claims and "paints a false narrative. It's just not true. That's what brings Springfield down. We're trying to bring Springfield up. The direction we're going in is a good one." Langfelder has said there's been a 50% drop in shootings over the past year and a 36% decrease in homicides.
Langfelder's supporters remain steadfast.
Julia Carmody Wort, 56, a Springfield resident and a Microsoft senior strategic client director who owns metal fabrication and tool and dye plants in the Metro East area with her husband, grew up near the Langfelder family home.
When Wort got her first job at age 16 at the former Esquire Theatre in the 1300 block of South MacArthur Boulevard, Langfelder was a manager there. She still considers him a good friend and is supporting his reelection bid.
"I just feel he conducts himself in an exceptional manner," Wort said. "He listens to opposing views. His focus is unwavering in what's best for the community. I'm going to vote for the best person. I'm not going to vote by gender. When someone's been in office for a longer term, they don't please everyone all the time. People can promise anything. There's still a tremendous amount of support for Jim."
Springfield resident Susan Shea, a former Sangamon County Democratic Party president and retired teacher and former aeronautics director for the Illinois Department of Transportation, also is in Langfelder's corner.
"He is the person we need to stay the course and get us through another four years," said Shea, whom Langfelder appointed to the all-volunteer Springfield Airport Authority Board. "He's friendly. He's approachable – just a genuine, nice guy. Public service runs through his veins. He lives, eats and sleeps this stuff."
Ward 3 Ald. Roy Williams Jr. said he is supporting Langfelder and appreciates the mayor's interest and actions to boost economic development and improve infrastructure on the east side.
"I think it has been woefully neglected over the years," Williams said. "I think he realizes the importance of being fair to everyone."
Dean Olsen is a senior staff writer at Illinois Times. He can be reached at dolsen@illinoistimes.com, 217-679-7810 or twitter.com/DeanOlsenIT.