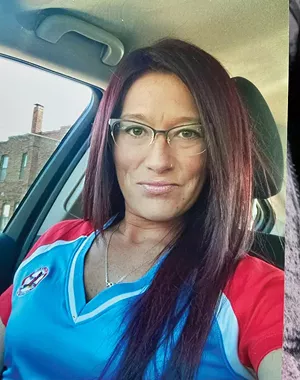 The body of a 36-year-old nurse remained in a Springfield hotel room for more than two days after her fatal overdose.
During that time, the woman's boyfriend, Loren Letz, 40, who admitted to taking drugs with her on Jan. 18, used her car and debit card to make more than $500 in withdrawals from her bank account, according to Springfield police reports.
Letz, a Springfield resident, eventually was charged with the rare offense of concealment of a death, a Class 4 felony, and with two other more serious crimes, possession of a stolen car and theft.
The maximum penalty Letz could face after the death of Bobbi Brittany Graves is 14 years in prison, although the amount of time served could be cut in half for good behavior.
But Graves' mother, Roberta Hoffstadt Hahn, wants a much longer prison sentence for Letz.
She is upset that police and prosecutors told her they don't have enough evidence to charge Letz with drug-induced homicide in the death of her daughter, a single mother of three who was four months' pregnant. Drug-induced homicide is a Class X felony, carrying a potential prison sentence of up to 30 years, 75% of which must be served.
"I am so not satisfied with them," Hahn, a 61-year-old Springfield resident, told Illinois Times. "From the very beginning, they wanted to sweep it under the rug. I want justice."
Letz is being held at the Sangamon County Jail on $350,000 bond. He has pleaded not guilty to the three charges, and a trial could begin as soon as late May.
Letz and his attorneys, Victoria Kerr and Michael Harmon, declined to speak about his case. Sangamon County State's Attorney Dan Wright also declined comment.
Joshua Stuenkel, assistant chief of the Springfield Police Department, said the department "empathizes with the family in this devastating tragedy. The investigations division conducted a full and complete investigation, which was provided to the Sangamon County State's Attorney's Office for appropriate charging, based on the evidence."
The case is an example of the challenges in holding people accountable after fatal overdoses, even as Illinois experiences an increase in overdoses during the COVID-19 pandemic. Allegations of drug-induced homicide are "very difficult to prove," DuPage County State's Attorney Robert Berlin said.
There were more than 130 fatal drug overdoses in DuPage County in 2021, and only 19 drug-induced homicide charges have been filed in the county since 2014, he said. To gain a conviction, prosecutors must be able to prove an offender "unlawfully delivered" drugs to the victim and that the drugs delivered were the ones that caused the victim's death, Berlin said.
It would be hard to gain a conviction for drug-induced homicide if a person who used drugs alongside the victim didn't sell the drugs or otherwise "deliver" the drugs to the victim, he said.
Wright told Illinois Times in 2019: "My job is to enforce the law, advance justice and ensure public safety. When there's evidence to support drug-induced homicide beyond a reasonable doubt, I'll prosecute."
Graves, a licensed practical nurse, struggled with drug addiction since she was in her 20s, her mother said. Graves declined inpatient treatment but was under the care of a doctor and receiving the anti-addiction drug Suboxone at the time of her death, Hahn said.
Graves, whose children ranged in age from 5 to 20, were in the custody of relatives when she was dating Letz for the past year, Hahn said. Graves was unemployed and living with her mother at the time of her death, but had interviews scheduled for two jobs at long-term care facilities, according to Hahn.
Hahn said she feared for her daughter's safety. "She told me, 'Someday, he's going to kill me,'" Hahn said. Letz also sent threatening texts to her daughter, Hahn said.
Police reports said text messages between Letz and Graves "seem to indicate a volatile relationship that oscillates between affection for each other, to anger and threatening messages being sent from both sides."
Hahn told police Graves left Hahn's home Jan. 18 without taking any of her medication and told her mother in a text message that she was going to "take all of the heroin that was needed" to kill herself.

Hahn told police her daughter said she was "overwhelmed with everything she had going on in her life at the time." Hahn also told police Graves was 16 weeks pregnant and "not sure who the father was."
Letz told police he was responsible for Graves' pregnancy.
Police said Graves' credit card was used to pay for a hotel room at the Ramada by Wyndham Springfield North, 3281 Northfield Drive, the night of Jan. 18. Letz purchased the room for Jan. 19 and Jan. 20, police said. Letz also tried to reserve the room for Jan. 21 but was told the room wasn't available, according to police reports.
Hahn said her daughter's debit card was charged for all three nights at the hotel.
Letz told police that he and Graves, whom he had dated off and on for several years, "made plans to get drugs and hang out at a motel for several days" because he was planning to check himself in to a drug treatment center "to get clean from an addiction to heroin and methamphetamines."
Before the couple went to the Ramada, Letz said Graves brought heroin to a mobile home where he was staying, and they both took heroin there, according to Letz's statement to police.
Graves started "passing out" and received the overdose reversal drug Narcan at the home, Letz told police.
Once at the hotel, the couple took more heroin the night of Jan. 18, police said.
According to police reports: "Letz said that Graves was injecting herself with the drugs and said she was also using methamphetamine that she also got from the same drug dealer. He said that most of the time he was so out of it because of the drugs he was using so he does not remember all the details."
Police said Letz told them he noticed Graves was dead the next day and "freaked out."
"He knew she was dead but decided not to call anyone and kept paying for the room to stay in the room with her," reports said. "He said that he left in her car because he was out of his mind and grieving."
It's unclear how much time Letz spent in the room after Graves' death before he was spotted leaving the hotel for good on Jan. 21.
Housekeepers who entered the room to clean it about 1:15 p.m. Jan. 21 found Graves' body lying face-down in bed, covered by a thick white blanket, according to reports.
Police found the thermostat for the room set at 67 degrees, and they found an oscillating fan plugged in with white tissue paper in it that smelled of perfume.
Letz turned himself in to police on Jan. 24. He was charged after his arrest with concealment of a death, and in mid-March was charged with theft and possession of a stolen car through a grand jury indictment.
An autopsy and toxicology tests determined that Graves died from a fatal combination of fentanyl, buprenorphine, xyalzine and methamphetamine. Buprenorphine is a component in Suboxone but can be toxic when taken with other narcotics, Sangamon County Coroner Jim Allmon said.
No heroin was found in Graves' system, but Narcan was found. Narcan is an ingredient in Suboxone and could have been in Graves' system because of her use of Suboxone or if she had received Narcan separately to reverse an overdose, Allmon said.

He ruled Graves' death an accidental overdose and not a suicide.
Allmon said many people in search of injectable heroin from dealers end up being sold only fentanyl, without their knowledge. Fentanyl is a synthetic opioid that is cheaper but 50 times stronger than heroin and responsible for many overdoses, he said.
Xylazine is a veterinary sedative for cattle and other large animals that often is mixed in with fentanyl and heroin by dealers, Allmon said.
Families sometimes are disappointed when relatives and prosecutors suspect a drug-induced homicide may have occurred but evidence is too vague to justify the charge, said Berlin, the DuPage County state's attorney.
"They're just upset because there's no justice," he said. "But that's the nature of the criminal-justice system."
Dean Olsen is a senior staff writer for Illinois Times. He can be reached at dolsen@illinoistimes.com or 217-679-7810.