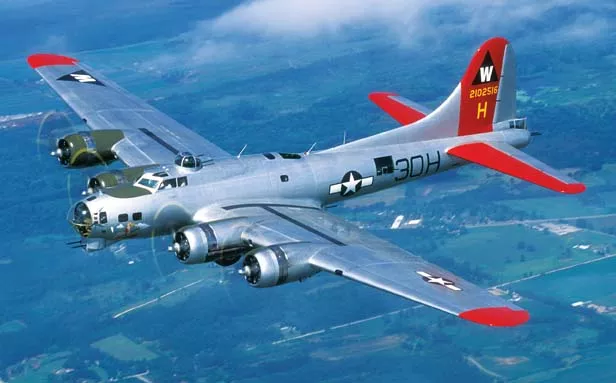 The Boeing B-17 was the world's first long-range, strategic heavy bomber, deployed to England in 1942 to help retake western Europe from the German war machine that had invaded in 1940. Before the war a newspaper reporter, commenting about machine guns protruding from almost everywhere on an early version, described it as an impregnable "flying fortress." The moniker became its official name.

A restored B-17G Flying Fortress, maintained by the Experimental Aircraft Association (E.A.A.) headquartered in Oshkosh, Wis., will arrive at Springfield's Abraham Lincoln Capital Airport's Landmark Aviation facility at about noon June 30 and will be open to the public July 1–3. Visitors may view the airplane on the ramp for no charge, take tours of the restored-to-wartime interior for $5 (donation) a person; children under age 8 are free and a family rate for $15 (includes adults and children under 18). Flights are available for $465 (non-EAA members) and $425 (EAA members). Available "E-Z Pay" arrangements break the cost into four equal payments.

The appearance is sponsored by Springfield E.A.A. Chapter 770.

Before production ended in 1945, 12,732 Flying Fortresses had been built. E.A.A.'s aircraft, today nicknamed "Aluminum Overcast," was one of the last, rolling out of the factory May 18 of that year, too late to deliver lethal cargo. During most of their combat service, B-17s were crewed by 10 men. The final production version B-17G bristled with 13 machine guns and on typical missions could carry 8,000 pounds of bombs. Maximum speed at combat altitude of 30,000 feet was about 300 mph. "Aluminum Overcast" is painted in the markings of the 398th Bomb Group which was formed stateside in 1943, went to war from England in May 1944 and flew its last combat mission April 25, 1945, 13 days before Germany surrendered.

In 1981, the airplane was donated to E.A.A. with the understanding it would be restored as a flying museum. "Overcast" rolled out of the restoration shop 13 years later and made its first national tour in 1994.

The visit to Springfield is made possible by E.A.A. Chapter 770 and Jacksonville Chapter 137. Members are taking days off from employers and retirement to help answer visitors' questions and offer light refreshments for purchase when the airplane is open for tours. Springfield Chapter 770 Vice President John Salz especially wants to talk with former B-17 crew members who are willing to share their stories about flying aboard the "forts" during their years in the U.S. Army Air Forces. All who agree to be interviewed will be invited to fly aboard "Aluminum Overcast" for no charge. Current active duty and retired military from all services are welcome to tour the airplane on the ground for no charge. Children under age 18 may fly aboard the aircraft at the regular price when accompanied by a parent or guardian.

Most E.A.A. members are pilots who are interested in aircraft constructed from plans and large factory-supplied kits in their basements and garages. "Homebuilt" aircraft are typically smaller and less costly to own than mass-produced "spam cans" cranked out by major aircraft manufacturers.

Included in the Chapter 770 roster are an aeronautical engineer who lived near the Cessna plant in Wichita, Kan., for decades before retiring to Springfield and a number of professional pilots. Many will be present during "Overcast's" visit to answer questions about the local chapter and the classic American warplane.

The next meeting of Springfield Chapter 770 will take place July 21 at MCL Cafeteria, Springfield, starting at 6:30. Everyone is welcome.

For more information about signing up for a flight, call 800-359-6217 or visit www.b17.org

Job Conger is a founder of the AeroKnow Museum, a freelance writer/photographer, author of Springfield Aviation from Arcadia Publishing and Springfield's oldest living folksinger.