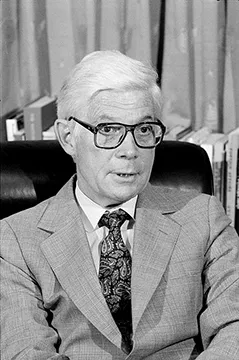 An old boss of mine died earlier this month. Former Representative John B. Anderson was really more political mentor than boss. I am glad and proud to say that.

John B, as he was commonly known around the 16th Congressional District of northern Illinois, was a Republican. So was the house where I grew up. So was I. His death at age 95 makes a good time to recollect what defined the GOP while he served his 10 terms in the House before running for president in 1980.

In Adam Clymer's long and lauding New York Times obituary, Anderson's considerable skill as a public speaker is chronicled in this telling sentence: "Mr. Anderson was an effective orator in the days when speeches on the House floor could still change votes." (Ah, those were the days.)

Rockford's congressman was a leader in House passage of 1968's major civil rights bill calling for open housing. Anderson's words stirred Congress in that fight. "We seek to do that which we believe in our heart is right and just," he told his colleagues. "I legislate today not out of fear, but out of a deep concern for the America I love. We do stand at a crossroad. We can [fail] or we can begin the slow and painful ascent toward that yet-distant goal of equality of opportunity for all Americans, regardless of race or color."

As an environmental pioneer in 1972, Anderson worked with Democrat Morris Udall to create national parks in Alaska and protect 100 million acres.

There was no world-shaking event from my time working in the congressman's office on Capitol Hill during the summer of 1966. However, I can vouch for tributes paid to him as a politician of high quality and clarity. He let me slip antiwar passages into constituent letters. He heard me out on issues he understood much better than I. And I don't even hold it against him that the one time in my life I was ushered into the House chamber during a floor session climaxed with his suggesting I get a haircut.

We summer interns were afforded exclusive meetings with political heavyweights on a weekly basis. The theme of one of these events moved me to send the presenter a poem I had pretty much memorized. To this day prominently displayed in my home is the partially handwritten note from Senator Robert F. Kennedy saying John Donne's "No Man Is an Island" had long been a favorite of his.

As for Anderson, our first memorable encounter happened at the 1964 Republican National Convention just outside San Francisco. My friend Steve's dad and granddad owned the weekly newspaper in Rockton, Illinois. We were juniors at Hononegah High School there. We drove (and coasted) Steve's iffy 56 Chevy to California so we could cover a presidential nomination. We were the only reporters who mailed in their stories. Anderson helped sneak us into convention sessions at the famed Cow Palace. He was supporting Senator Barry Goldwater, a pretty pure right-winger and the party's choice to face incumbent Lyndon Johnson.

Life began for Anderson in Rockford as the son of Swedish immigrants. He worked in his father's grocery, got a college and a law degree from the University of Illinois and a further law degree from Harvard in 1949. In the midst of his education, he did Army service in Europe during World War II. In 1961 he went to Congress as a staunch conservative. Anderson's life after government marks more where his political arc stretched. He taught international law at Florida's Nova Southeastern University and he served as president of the progressive World Federalist Association through the 1990s.

Back when Anderson was in mid-shift from right to left, he became wary of a conservative tide in his own party. His 1977 observation seems prescient: "Extremist fringe elements seek to expel the rest of us from the GOP."

By 1979 he was ready to run for the Republican presidential nomination, thinking Jimmy Carter could be defeated. Early among a field of six he polled well, often above 20 percent, and he attracted young supporters. His hometown paper, the Rockford Register Star, recently recounted how one of its young editors left his job to become Anderson's personal aide. But his party popularity dropped in the primary season when he promoted gun control and a hefty gas tax. Ronald Reagan soon gained the top spot, especially after tapping his chief rival, George H. W. Bush, as his choice for a running mate.

In April of 1980 Anderson launched his independent campaign for the White House. He came out strong for the Equal Rights Amendment and reminded voters of his 20 years of civil rights promotion as well as his work on environmental issues. He ended up with 6.6 percent of the vote, including my mother's. We ended up with eight years of Reagan.

However, Anderson's legal battles to get on ballots in 50 states is still considered a bulwark of independent candidacy. And his legacy is just as large in reminding us of a less tribal time when more leaders led with more open eyes and ears and minds.

Doug Kamholz spent a dozen years as co-founder and executive director of Springfield's Heartland Peace Center. He now writes weekly essays entitled "Wednesday Moorings with Moxie" and may be contacted at kamholzmarvels@ameritech.net.