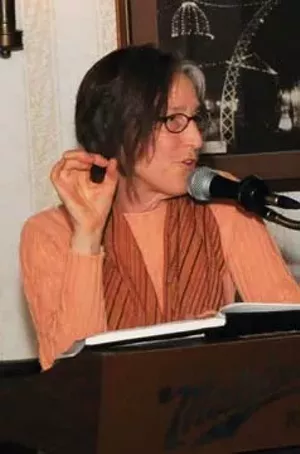 The spirit of Vachel Lindsay was alive and well in Springfield Nov. 5 in the form of his granddaughter, Louisa Lindsay-Sprouse. She was visiting from Eugene, Ore., to promote creative writing in Springfield schools and to celebrate her grandfather's 132nd birthday with the Vachel Lindsay Association at Maldaner's Restaurant.
Her grandfather's expressive poetry readings seemed to echo down the decades in her exuberant address at the restaurant. His style, which she called "proclaiming poetry," incorporated singing and music to heighten the experience. Lindsay scholar Larry W. Moore, who traveled to the event from Kentucky where he is publisher of Broadstone Books, said Vachel Lindsay was the first performance artist and a forerunner of today's rap and spoken word artists.
Following a speaker who recited a Vachel Lindsay poem, Lindsay-Sprouse told the group, "What a wonderful gift to hear my grandfather's poetry and remember how much I like the guy. And it's a pleasure to meet other people who preach the gospel of beauty in community."
Lindsay coined the phrase "preaching the gospel of beauty," she explained in an interview with IT, because "he wanted us to keep in mind what it was to make a beautiful place to live as we build our towns, our cities and our lives." He believed it could be done in any small town, not just New York or other big cities. She said he loved Springfield and considered it the center of his universe.
A founder of the Young Writers Association in Eugene, Lindsay-Sprouse is preaching her own gospel of beauty in her community's schools. "I think it is so important for our young people to meet professionals working in arts disciplines and to have the space to experiment in those disciplines," she said. "We're all artists. We all have that dimension to us."
During her visit she spent a day in each of three Springfield schools, including the Vachel Lindsay Elementary School, working with various classes to spark their creativity in writing poems. As part of the program, she recited her grandfather's poetry.
Her father, Nicholas Lindsay was four years old when Vachel died in Springfield on Dec. 5, 1931. Afterward his widow moved with their two children to California, and Nicholas eventually settled with his wife in South Carolina, where he wrote poetry and built boats. They had 10 children – seven daughters in a row followed by three boys. Louisa, the sixth daughter, said their father read and sang to them after dinner for two hours. "Every evening it was an amazing ritual," she recalled. "We'd all clamber into bed. There was a big chair upstairs and he would come up with his old battered guitar and whatever book he was reading to us." It might be Mark Twain or the Iliad or his father's poems.
In their "books alive" home, Lindsay-Sprouse said, "all the walls were bookcases." Today all 10 children are involved in the arts in some way. One sister in Australia is a tightrope walker, a flamenco dancer and a writer. "None of us are interested in being a big face anywhere, but we stir it up where we are."
When Louisa was in third grade, the family stopped at the Lindsay home in Springfield on their way to San Francisco. She especially liked seeing Vachel's bedroom because her father had fond memories of going in with his older sister in the early morning and pulling down books from the shelves behind his parents in bed to wake them up, with all of them laughing. After showing them through the house, the curator noticed Nick Lindsay's signature in the guest book, Lindsay-Sprouse said, and "sparks flew from her eyes," as she realized she'd been talking to Vachel's son. The guide then "opened everything up and took out the treasures and showed us inside the dark places."
Lindsay-Sprouse said she is impressed with the Lindsay association's work in preserving her grandfather's home and legacy. "I always leave Illinois with very busy dreams," she said. In one dream, she noticed a trunk under her bed that she hadn't realized was there. When she pulled it out, it opened, "and there was grandfather, unfolding himself and stretching!"
Karen Fitzgerald of Pleasant Plains is a freelance writer who can be reached at kmfitz3@juno.com.