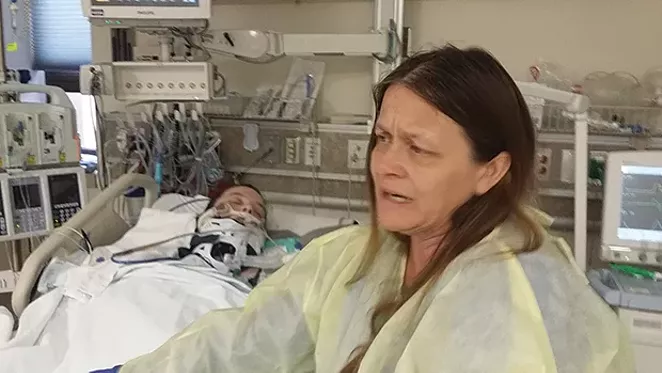 Tiffany Ann Rusher could be a handful. She was nonetheless loved.
In Rusher's final days, relatives gathered at St. John's Hospital. Her mother, Kelli Andrews, rubbed Rusher's stomach and feet in the intensive care unit, hoping to evoke a response, if only a twitch, from a daughter on life support whose last of many suicide attempts would ultimately prove successful.
She didn't come close to finishing high school, but Rusher made friends quickly and could, almost instantaneously, invent rap rhymes that would put you in stitches. Her brothers remember her as a sister who took no sass. If someone said something that Rusher didn't like, she didn't hold back. As a seventh-grader, her brothers say, she once responded to an insult by pushing a classmate down steps. When she was a toddler, her brothers once set her hair on fire.
"She could scrap," Andrews says. "She was a force to be reckoned with. We taught her how to fight at an early age."
Rusher grew up in Clinton, where life didn't get easier as she got older. There were several brushes with the law, and Rusher's combative demeanor didn't serve her well in jail, where she landed for such offenses as underage drinking, battery, disorderly conduct and forgery. At 18, she smacked a fellow inmate in the DeWitt County jail, then began jumping into a closed door, which she also kicked. For her own safety, guards strapped her down in a restraint chair.
By her late teens, her family says, Rusher was addicted to crack, making frequent trips to Decatur to get drugs and sell herself to pay for them. Somewhere along the line, she became HIV positive, her mother says. In 2011, she ended up in prison and on the state sex offender registry after performing oral sex on three boys, ages 12, 14 and 15. Police reports aren't clear on how much the boys paid – it was somewhere between $10 and $30. Sentenced to five years, she was 21 years old, and things went from bad to worse.
While in prison, Rusher attempted suicide, and it wasn't the first time, according to her family. She was diagnosed with schizoaffective disorder and bipolar disorder, according to her family and her lawyer, Alan Mills. With the Illinois Department of Corrections lacking means to properly care for mentally ill inmates, she spent months in an isolation cell, Mills says. A guard was stationed outside her cell 24/7 to prevent another suicide attempt, Mills said, and when Rusher wanted to read, the guard would hold a book up outside her cell, turning pages when she indicated.
Rusher became a potential witness in a lawsuit against the Department of Corrections filed by Mills and other Chicago attorneys who argued that the lack of mental health care for inmates was unconstitutional. Her family remembers that Rusher was determined to force the state to improve care for mentally ill prisoners. "I'm going to own this bitch," her brothers and mother recall her saying. It never got that far. The state settled the case and Rusher finished her sentence last May. But she never would be free.
"Probably not the best place for them"
Rusher's case underscores what sheriffs across Illinois say about mentally ill people who end up in the criminal justice system. Jails aren't equipped to handle inmates with serious mental illness, sheriffs say, but are nevertheless repositories for troubled people with nowhere else to go. Typically, they're accused of relatively minor crimes: trespassing, damage to property, shoplifting, assault or battery without serious injuries. And they can languish in jail for months while the system figures out what to do with them.
Rusher ended up in the Sangamon County jail after a fight at McFarland Mental Health Center, where she was committed last spring following her release from prison. After months in a prison cell with scant treatment for her mental illness, Rusher was hardly prepared for the street. If all went well, McFarland would serve as a transition of sorts, a place where Rusher could receive treatment and prepare for life on the outside.
At McFarland, phone calls were easier than in prison. Rusher could also visit more freely and frequently with her family, who brought her clothing and food that she could only dream about in prison. McDonalds was her first request. Her grandmother also delivered a feast from Golden Corral.
But Rusher reverted to old ways. On Dec. 8, she took offense at something a fellow patient said, according to a state police report. "They probably called her crazy," her mother speculates. "She would have said 'You want to see crazy? Come here – I'll show you crazy.'" Whatever it was, Rusher attacked, and hard. She had a broken leg at the time – it's not clear how the fracture occurred – and used her cast as a battering ram against the patient who had offended her, state police reported. Two McFarland employees also were injured, one seriously enough that she lost consciousness and was taken to Memorial Medical Center. When another patient tried to hold Rusher back, she bit his arm and drew blood.
"Rusher stated that she hurt multiple people and will continue to hurt people because she doesn't want to be at McFarland Mental Health Center," a state police officer wrote in his report.
Rusher got her wish. Mills called a week or so after Rusher was booked into the Sangamon County jail. Tiffany's in solitary confinement, doped up on Thorazine, Mills told me. The county jail, he said, isn't the right place for her.
The Sangamon County sheriff's office doesn't necessarily disagree.
"We're seeing a huge increase in crimes committed by the mentally ill," says Chief Deputy Joe Roesch of the Sangamon County Sheriff's Office. "Jail is not a good place to treat the mentally ill, but once they have a charge against them, we can't release them."
Roesch said he doesn't have precise statistics on just how many inmates in the jail have mental health issues, but the percentage of inmates who receive psychotropic drugs serves as a rough barometer. In 2014, Roesch said, 10 percent of the jail's inmates were prescribed psychotropic drugs. In 2015, the percentage shot to 22 percent. The department is still compiling numbers for 2016, Roesch said, but through the first six months of last year, 12 percent of inmates were given drugs intended to treat such maladies as anxiety, depression, bipolar disorder and schizophrenia. On Feb. 10, a day picked at random by Illinois Times, 55 inmates, or 15 percent, were taking psychotropic drugs ranging from Thorazine to lithium to Prozac in the Sangamon County jail, with as many as five different psychotropic drugs prescribed to a single inmate, according to records provided by the jail.
Sangamon County isn't alone.
In Pike County, Sheriff Paul Petty says that four or five inmates at any given time are mentally ill in jail, where as many as eight inmates can share a single cell. The jail in Pittsfield lacks an outdoor recreation yard – inmates can remain locked up for months without any chance for fresh air. "They do a lot of pacing," says jail administrator Jordan Gerard when asked how inmates get exercise. Petty acknowledges the quarters are tight. "If you think the walls are close in, think of it after 10 days," the sheriff says. "The reality of it is, you can go ape-shit crazy in there."
The Pike County jail has one cell designed to prevent suicides, and Petty says that he might add a second. Psychotropic drugs are a last resort. So is the jail's restraint chair.
"In a chair, strapped down, is probably not the best place for them," Petty allows.
But Petty sees little choice for inmates who have lost control to the point that they pose a threat to themselves or others. Putting inmates on suicide watch in an isolation cell, where they're supposed to be checked at least once every 15 minutes, only goes so far, he says.
"That doesn't help with the screaming, the yelling, the seeing things," Petty says. "That's when we start bringing in pastors."
On April 15, the day after I visited the Pike County jail, Lafayette Scoggins, 20, hanged himself in the cell designed to prevent suicides. Booked on suspicion of domestic battery the day before he died, Scoggins was in the isolation cell because he'd told jailers that he'd tried to kill himself two days earlier by swallowing a bottle of pills, Petty said. Guards found him hanging by his shirt, which he'd torn up and tied to an air grate, the sheriff said. He'd been to jail before. "He was, absolutely, a kid we knew," Petty says. Guards called him Tad, short for Tadpole. He was on parole for a theft conviction, and the Illinois Department of Corrections had issued a warrant to return him to prison. The sheriff figures he didn't want to go. Illinois State Police are investigating the death, Petty says. Meanwhile, the sheriff's office is contemplating ways to make the isolation cell more resistant to suicides. "That's the question we're asking ourselves," Petty said. "Is there a foolproof scenario?"
While jails may not be the best place for mentally ill people, sheriffs are nonetheless responsible for their safety. Last month, U.S. District Court Judge Richard Mills ruled in favor of the family of Dennis E. Adams, who hanged himself in the Christian County jail in Taylorville six years ago. Adams was arrested after a standoff that began when he shot his estranged wife in the shoulder, then pointed the gun at his own head. Before he was booked into jail, a mental health professional diagnosed Adams with a depression disorder and a doctor recommended that the jail take measures to prevent suicide and provide treatment for mental health issues.
Adams was put in a padded cell designed to prevent suicides, and a mental health professional who evaluated him a week later recommended that he stay there. Dr. Terry Killian, a psychiatrist retained by the court to determine whether Adams was mentally fit to stand trial, recommended that he be transferred from jail to a mental health facility for evaluation and treatment. During a deposition, Killian testified that he believed Adams was suicidal. Despite Killian's report recommending a transfer to a mental health facility, Adams stayed in jail.
Instead of remaining in the padded cell, Adams was transferred to an isolation cell, and then to general population. On Nov. 4, 2011, hours before he was due in court for a proceeding in a divorce case filed by his wife, Adams hanged himself. He had spent 78 days in jail, at least two physicians considered him at risk for suicide, yet Adams received no treatment for mental illness while in jail, even after a psychiatrist recommended that he be sent to a mental health center, according to Judge Mills' March ruling in a lawsuit filed by Adams' kin.
In court documents, the sheriff's office says it has limited resources and competing priorities. The jail had just one padded suicide cell, according to court records, and that cell went to a woman who was arrested after Adams, who had to be moved to make room for her. The woman had a documented history of mental illness and had told jailers that she'd attempted suicide three times in the three months before her arrest. Still, the padded cell was empty when Adams killed himself.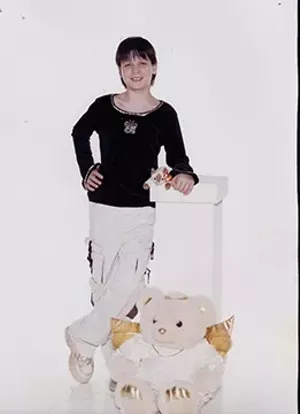 In a memo to Christian County Sheriff Bruce Kettelkamp written a month after the tragedy, jail administrator Andrew Nelson wrote that jailers decide who should be housed in the padded cell based on "immediate need." That didn't impress Judge Mills, who ruled last month that the sheriff's office fell short in its responsibility to keep Adams safe, and it's up to a jury to decide the amount of damages.
"The 'immediate need' as defined in their policy is determined by correctional officers, the jail administrator and the chief deputy," Mills wrote in his decision. "No one in the Christian County Correctional Center was a trained mental health professional. … The written policy did not address most of the basic components of a suicide prevention policy."
Court documents indicate that settlement discussions are underway. Neither Kettelkamp nor other Christian County sheriff's officials could be reached for comment.
Delays in treatment
Given Rusher's background, it wasn't surprising that Sangamon County Circuit Court Judge John Madonia in January ordered a psychiatric evaluation to determine whether she was fit to stand trial. At that point, Rusher had been in the Sangamon County jail for nearly three weeks, charged with battery for attacking patients and staff at McFarland.
Rusher said nothing during two court appearances in February. Both times, she was dressed in a suicide smock, known as a turtle suit by jailers. Lacking sleeves or legs, a turtle suit is little more than a padded blanket with a hole cut in the center for the inmate's head. Rusher's hands were shackled to a thick leather belt that cinched the turtle suit around her waist. Reports on the results of fitness examinations are supposed to be complete within 30 days of judges ordering mental evaluations. The report on Rusher, which should have been finished by Feb. 5, was late. On Feb 16, Judge Madonia granted a one-week continuance after being told that the report from Dr. Killian wasn't ready. One week later, the report still wasn't ready.
"Is she in the custody of DHS (the state Department of Human Services) or the sheriff?" Madonia asked during a Feb. 23 hearing that lasted less than two minutes. Told that Rusher was in jail, not a state mental health facility, Madonia murmured, "That's unfortunate."
During the past three years, Roesch says that it has taken an average of six weeks to find beds outside the jail for inmates who require inpatient mental health care. In the meantime, employees of Advanced Correctional Healthcare, which holds the contract to provide health care for Sangamon County inmates, do their best to help mentally ill inmates cope. Mental health professionals visit the jail four times a week. It's as much talking as anything else, according to Lydia Hicks, regional mental health manager for Advanced Correctional Healthcare. For example, inmates who ask for sleeping pills often are told to lay off coffee and daytime naps. Mental illness is often intertwined with addiction, Hicks says, and figuring out which inmates truly need psychotropics and which prisoners simply want pills to help dull the experience of being in jail can be tricky.
"I think functioning is what we want to keep people doing," Hicks says.
Many small jails in central and southern Illinois have no formal contracts with experts to provide mental health care. And small jails are as prone as any other to suicide attempts and other issues with mentally ill inmates. The 53-bed McDonough County jail in Macomb, for instance, has had 16 suicide attempts since 2012, none successful. McDonough County Sheriff Rick VanBrooker recalls times when half the inmates in his jail have been on psychotopic drugs.
"It's a real problem," VanBrooker says. "We do the best we can with what we have."
Economies of scale were evident during an April 6 hearing before the State House of Representatives Mental Health Committee. Nneka Jones Tapia, a psychologist who is the director of the Cook County jail, told legislators that her facility provides therapy and psychiatrists for more than 2,000 inmates who are locked up at any given time. The Cook County jail has also opened a post-release clinic in hopes of keeping former inmates out of jail. There is even a gardening program that gets mentally ill prisoners out of cells and into the community. In McLean County, where as many as 30 percent of the inmates in the 225-bed jail in Bloomington are mentally ill, the sheriff's office is working on a 32-bed expansion project that will create space for mentally ill inmates.
"We're not equipped for mental health," McLean County Sheriff Jon Sandage told legislators at the hearing. "Right now, we have them housed in our booking area. Our booking area is loud, the lights are bright. It's not conducive for someone who's having a mental health crisis to get better."
Wayne County Sheriff Mike Everett and Richland County Sheriff Andrew Hires told lawmakers the situation is worse in smaller counties.
"It's a struggle all across southern Illinois," Hires said.
The 32-bed Wayne County jail in Fairfield is two hours from the nearest psychiatrist, and Everett told lawmakers that his staff has neither the training nor the room for mentally ill inmates. It can take more than six months to find beds in mental health facilities after it becomes clear that prisoners need help that the jail can't provide, Everett testified. In one recent case, he said, a mentally ill man arrested on July 13 of last year didn't get transferred to a state mental health facility until Feb. 27. A case from 2012 so affected the sheriff that he called the inmate by his first name.
"We weren't sure what to do with Paul," Everett testified. "He was an extremely low-functioning individual."
Paul got arrested after striking another resident in the group home where both men lived. He was evaluated for mental issues six days after his arrest, then spent the next seven months in jail before the sheriff's office, with the help of a mental health advocacy group, found a bed in a hospital. "We had to put him in medical isolation for his own safety and the safety of some of the other inmates," Everett said. "The poor guy, I felt so sorry for him, because he did not need to be with us. He was not a criminal. He needed help."
Within 30 days of a judge finding that a defendant is unfit to stand trial or is not guilty by reason of insanity, the state Department of Human Services is supposed to take custody of inmates. But DHS often blows the deadline. According to a 2013 DHS report, the agency missed the deadline 305 times in a single year for 558 inmates who were deemed unfit to stand trial. The department has 1,200 forensic beds, the same number it had in 2013, Sharon Coleman, deputy director for forensic services for the DHS division of mental health, told lawmakers at the April 6 hearing. The department, Coleman told lawmakers, is under "enormous pressure."
"Over the years, our forensic population has increased, and the number of inpatient beds hasn't increased," Coleman testified. "It doesn't necessarily always meet the need for the number of referrals we have coming in. We work very hard to get people admitted within a timely manner. We triage folks, particularly if they're deteriorating in the county jails."
The final days
Rusher's case in Sangamon County languished not through any fault of the state. Rather, delays in writing up the results of a court-ordered psychiatric examination postponed proceedings – if Rusher was a priority for the system, it wasn't apparent. On March 2, the report that had been due nearly a month earlier was filed. Rusher, Dr. Killian found, was fit to stand trial, meaning that she was able to understand the charges and capable of assisting in her defense.
But that didn't mean that Rusher, who had voluntarily committed herself to McFarland, wasn't mentally ill. With the jail not eager to house mentally ill inmates and DHS not obligated to take Rusher in, the question became what to do with her.
Robert Scherschligt, the county public defender, told prosecutors that Rusher would plead guilty in exchange for probation. According to a memo placed in Rusher's file at the state's attorney's office, John Morse, an assistant state's attorney in charge of the case, wanted to be sure that Rusher had a stable residence before prosecutors let her out of jail. Owing to her status as a sex offender, she couldn't stay with relatives in Clinton because they lived near a school. On March 15 she gave prosecutors a name. Richard Lenchner, Rusher said, will take me in.
Old enough to be her grandfather, Lenchner, who was once a small-town police officer, knows Rusher's story as well as anyone.
When Rusher, exhausted from crack binges and hours of prostituting herself, needed a ride home to Clinton from Decatur, she would call Lenchner. When she tried to kill herself by cutting her wrists or swallowing a ballpoint pen, she told Lenchner about it – he remembers four or five attempts. He remained her friend even when she and one of her brothers hid a firecracker in a cigarette that blew up in his face. He visited her in prison. When she needed money, he'd open his wallet, even though the cash would probably end up with a drug dealer.
"Did I enable her? Yeah. Did I want to? No," Lenchner says. "I thought the world of Tiffany. I really did. My dad dropped dead in front of me when I was eight years old. I've seen the hard side of life. My whole damn family is gone. Tiffany, if you could have ever known her, had a lot of good in her. She brought a lot of joy into my life. If you were around her for 10 minutes, she was infectious. She would win you over. She had that manner about her."
And so Lenchner agreed to give Rusher a room in his house. He didn't know what her future held, but he knew that she was in a deep hole, a registered sex offender with serious mental illness who didn't have a high school diploma or GED or work history. He says that he talked with the Clinton police chief before deciding to take Rusher in. "He said, 'It's not going to be easy,'" Lenchner recalls. "And I said 'I know that.' There's no way I could have promised a positive outcome at the end. But I would have given it a try."
On March 17, the state's attorney's office agreed to the plan. Rusher's lawyer contacted the prosecutor: Instead of waiting for a scheduled March 29 hearing, let's move things up and get her out of jail on March 20. The hearing never happened. On March 18, Rusher was found hanging in her cell and rushed to St. John's Hospital. She died on March 30, shortly after she was removed from life support.
Lenchner doesn't have good words for the system. A crack addict who sells her body for drug money isn't a true sex offender, even if the johns are underage, he says. In prison, the Department of Corrections made things worse by putting her in isolation instead of treating her mental illness.
"With her, they just slammed her ass in a cage and closed the lid – they didn't want to deal with her," Lenchner says. "This thing could have been handled so damn differently. It was one hell of a nightmare, for a long time."

Contact Bruce Rushton at brushton@illinoistimes.com.