After a year of struggling through the pandemic, it couldn't be a better time for a community-wide, uplifting initiative. Get ready for the Big Read. Lab Girl, a compelling memoir by scientist Hope Jahren, is the book selected for the Big Read Sangamon County.
Reading, nature, science, art and discovery will all come alive through a plethora of virtual and in-person events during March and April. The many programs are inspired by the themes in the book. Reading the book is highly encouraged, although that is not essential in order to participate in the engaging offerings.
For the first time since 2009, the Sangamon County area will participate in a Big Read, thanks to the leadership of volunteers from Lincoln Land Community College's Academy of Lifelong Learning in partnership with Lincoln Library. the Big Read is an initiative of the National Endowment for the Arts (NEA) that encourages citizens of a participating community to read the same book and hold discussions while engaging community organizations to present programs inspired by the issues and themes of the book. The Academy of Lifelong Learning received a $15,000 grant for this initiative from NEA. Since 2006, NEA has funded more than 1,600 NEA Big Read programs, providing more than $22 million to organizations nationwide.
The overarching purpose is to spark curiosity, encourage lifelong learning and promote the importance of reading. Area libraries are natural partners – including Lincoln Library, Brookens Library at UIS and the Illinois State Library. Many libraries in surrounding communities are also involved. And that's just the beginning. There are more than 50 community partners, representing the arts, environment, business, history, culture, museums, medicine and academia. They will present more than 80 programs during March and April.
Speakers, interactive programs, nature walks, art activities, performances, book discussions, tours, self-guided activities and lectures are on the docket. Take a virtual tour of a laboratory at SIU School of Medicine. Learn from women scientists about their passions and journeys to careers in STEM. Try your hand at botanical drawing and nature journaling. Discover how museums use plants in modern-day research. Find out how sap from maple trees is tapped to make maple syrup. Get tips for starting a pollinator garden. Discover stories about the historic trees of New Salem. Walk through an old-growth forest at Carpenter Park. Learn about African American leaders in science who have served central Illinois. Discover insights about ethnicity and character traits of Norwegian-Americans and others. Hear about climate inequality, the pathways to resolving it and trees for a changing climate.
All of these programs are prompted by the themes of the book Lab Girl – a memoir by Hope Jahren, who is an American geochemist, geobiologist and professor. The book is masterfully written and reveals both the nature of science and the science of nature. From spending time in her father's community college laboratory in rural Minnesota as a child, Jahren was inspired to a career in science. Her love of plants, in particular trees, led to the focus of her research. The inner workings of a research laboratory, ongoing urgency of securing funding, personal struggles with bipolar disorder, realities of being a female scientist in a male-dominated world and an uncommon relationship with a man who was her indispensable lab partner are the stories interwoven in this insightful book.
NEA offers a list of suggestions, but the local organizing committee selects the book for the community to read. Lab Girl was chosen for many reasons. It is a tool to build awareness of the need for more people, especially females, to consider careers in science. It provides an opportunity to highlight the challenges women encounter working in traditionally male professions. The book helps to highlight nature's wonders and the positive impact that nature can have during challenging times, such as managing through a pandemic. Jahren's writing style lends itself to artistic presentations focused on nature. Programs related to the arts and nature will attract additional audiences and allow those who have not read the book to be exposed to the book's themes. Jahren also writes about soil in relationship to her studies of plants. This is another important theme to explore, given the importance of agriculture to Illinois. With Springfield's strong medical community, there are opportunities to introduce citizens to other forms of science.
Of the 84 communities with NEA grants for the Big Read this year, 13 communities are reading Lab Girl. Seven pooled their resources to secure author Hope Jahren for a virtual keynote address – Springfield, Chillicothe and Morton in Illinois; Vail, Colorado; Owings Mills, Maryland; and Miami and Orlando, Florida. Her speech will be presented live from Oslo, Norway.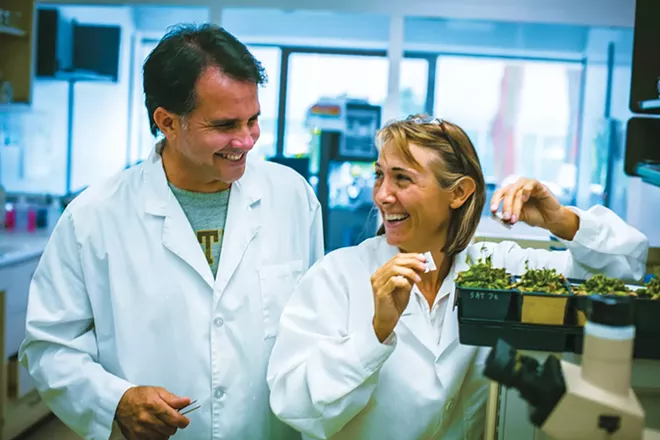 Rochelle Hartman, director of Lincoln Library, has been involved in Big Reads at other libraries. She is enthusiastic about Springfield's participation and says it is an excellent way to build connections among local organizations. "Anything that can unify a community is so vitally important," says Hartman. "The notion that science and facts are important is relevant for any community at this time." She says there are so many elements – STEM education, mental illness, family relationships, science and nature – that make the book accessible and appealing to people with diverse interests. "Lab Girl is beautifully written and very poetic," says Hartman. This sentence from the book provides a glimpse into Jahren's writing style: "I looked forward to my analyses with the same happy anticipation one brings to a baseball game: anything might happen, but it will probably take a long time."
Judy Wagenblast, immediate past president of the Academy of Lifelong Learning, is chair of the Big Read steering committee. After a year of hard work by the many community partners, she is optimistic their excitement will be contagious and the impact extend beyond April 30. "The hope is that these engaging programs will encourage ongoing curiosity, lifelong learning, interest in the importance of science and in the need to encourage our youth, especially women, to pursue careers in science, technology, engineering and math," said Wagenblast.
Karen Ackerman Witter of Springfield found a lot to relate to in Lab Girl. She has a master's degree in ecology from the University College of North Wales and owns a native hill prairie nature preserve in Menard County. She began her career at the Department of Conservation where she had few female professional colleagues. As director of the Illinois Department of Energy and Natural Resources, she oversaw the Illinois State Scientific Surveys and their extensive team of Ph.D. research scientists. She retired from the Illinois State Museum after serving in Illinois state government for 35 years. She enjoys reading, writing, science and nature and looks forward to attending many of the Big Read programs in March and April.