"We are tired. We are tired of being beaten by policemen. We are tired of seeing our people locked in jail over and over again. And then you holler, 'Be patient.' How long can we be patient? We want our freedom and we want it now." – John Lewis speaking at the March on Washington, Aug. 28, 1963

These stirring words, uttered more than 50 years ago, still ring true today. While the struggle for civil rights in the United States has seen a staggering amount of progress since the early 1960s, incidents of racially motivated violence and discrimination are still part of life in America in the 21st century. A recent study published by the Guardian distressingly indicated that African-Americans are "more than twice as likely to be unarmed when killed during encounters with police as white people." Names such as Eric Garner, Michael Brown and Trayvon Martin have become associated with the public's most recent realization that there is still much work to do in our country's struggle against racism.
This week sees a flurry of activity in Springfield relating to the history – and pre-history – of the civil rights movement. On Oct. 7, James A. Lewis, U.S. attorney for the Central District of Illinois, spoke at Lincoln Library about his days as a freedom rider and civil rights lawyer in the 1960s. On Thursday, Oct. 15, at 7 p.m. the 2015 Lincoln Legacy lecture series will present multiple speakers on the subject of "Lincoln and voting rights." Perhaps most impressively, on Monday, Oct. 19, Congressman John Lewis (no relation to James) will be appearing, along with his artistic collaborators, at Sangamon Auditorium as part of the university's "One Book, One UIS" series to discuss the ongoing multivolume memoir MARCH, co-written by Lewis and Andrew Aydin and illustrated by Nate Powell. The book details, in graphic novel form, Presidential Medal of Freedom recipient Lewis's experiences as a young man at the forefront of the 1960s nonviolent civil rights protests alongside Dr. Martin Luther King. Book one of MARCH was published in 2013, book two came out earlier this year and a third volume is forthcoming.
The two available volumes of MARCH are beautifully executed and emotionally affecting in ways a straight memoir might have difficulty achieving. At one time, using the graphic novel format to tackle serious historical and journalistic subject matter may have seemed like a novelty, but more than 20 years after Art Spiegelman's holocaust remembrance Maus won the Pulitzer prize for literature, it isn't so strange. The late Harvey Pekar's American Splendor series and Our Cancer Year medical memoir long ago proved that "comic books" can be a powerful means of autobiographical reflection, while Joe Sacco's many dispatches from war zones in Bosnia and the Middle East have taken graphic storytelling to new heights of reportage. The two extant volumes of MARCH stand comfortably in this company.
The book brings into sharp, vibrant focus the life experiences of Congressman Lewis – an iconic figure in the civil rights movement who worked closely with Dr. Martin Luther King and has served as U.S. Representative for Georgia's fifth congressional district since 1987. The narrative bounces back and forth in time between the 2009 inauguration of President Barack Obama to Lewis's experiences in the civil rights movement in the late 1950s and early 1960s. Early scenes of his childhood as the son of sharecroppers in Alabama, including an extended sequence depicting his relationship to the chickens he was tasked with raising, seem to bring the reader into the narrator's mind, seeing what he saw and feeling what he felt. Later in the narrative, as Lewis takes increasing risks in sit-ins, is fumigated at a Southern lunch counter or held captive on a bus with fellow Freedom Riders, the tension and sense of danger is palpable to the reader.
The already considerable power of Lewis's remembrances are amplified in MARCH by the expressive and arresting visuals of artist Nate Powell, who brings these historically and culturally weighted anecdotes to life. "This material definitely had some unique challenges," Powell says of taking on the project, noting that it had much higher stakes than his previous work in terms of the accurate and responsible representation of recognizable historical figures. "There was a sense of shared responsibility to pass on this part of history and to be faithful to the humanity behind it. One of my first tryout pages was one where young John Lewis meets Dr. King for the first time. I realized right away that in rendering the likeness of Dr. King – one of the most recognizable people on earth – a stray line on his face could change the nature of recognition and pull the reader out of the drama."
Powell describes the work on MARCH as a true collaboration, one that is ongoing as the team continues to work together on book three. Lewis and his assistant and co-writer Aydin had been writing and researching the script for years before Powell came on board, but they soon found a rhythm together. One of his tasks as an artist was to intuit the emotions between the lines of the script. "There are moments of anxiety or dread that can't really be described in the prose and I rely on my own powers and experience as a writer and artist to capture those highly subjective moments."
Touring the country with the celebrated congressman to spread the word about the book has been a gratifying and sometimes surreal experience, according to Powell. "There are unreal moments where we're getting to be on 'Rachel Maddow' or having breakfast with Al Gore – these are moments which are mindblowing," he says. "In the process of drawing these books I'm meeting some of these figures. And we're reaching a threshold of history in which a lot of these folks are passing away even as I'm rendering them in the book."
Powell has found public reaction to the book, which reached number one on both the New York Times and Washington Post bestseller lists, extremely gratifying. "I knew this book was going to be a little bigger than anything I'd been a part of previously. But I think none of us had any idea of the potential scope or scale of the project, just the level of passion and intensity, especially from teachers, librarians and parents, bringing classes or their entire family to come meet Congressman Lewis."
The experiences and perspective of U.S. Attorney James Lewis, along with the historical analysis provided by the Lincoln Legacy speakers, (see article p13) provide insight into and illumination of a struggle that stretches back centuries and continues today. When added to the appearance by the creators of MARCH on Monday, this may be one of the most significant weeks Springfield has yet seen for education in the vital issues of the right to vote and of civil rights in general.
John Lewis speaking at the March on Washington, Aug. 28, 1963: "My friends, let us not forget that we are involved in a serious social revolution. By and large, American politics is dominated by politicians who build their careers on immoral compromises and ally themselves with open forms of political, economic and social exploitation. There are exceptions of course. We salute those. But what political leader can stand up and say 'my party is the party of principles'?"
James A. Lewis, Civil rights worker
James A. Lewis is U.S. attorney for the Central District of Illinois and was a civil rights lawyer in Mississippi in the early part of his legal career. At Lincoln Library last week he spoke at length about his experiences. "I went to southwest Mississippi in early 1965 and spent a year as a civil rights worker, working with young people, working with the community, working on voting rights," he recalls. Lewis was arrested three times during direct action confrontations during this period. After finishing law school in 1966 he represented civil rights workers, worked on voting rights and eventually ran a legal services program in Oxford, Mississippi, as well as helping to desegregate schools, staying in Mississippi for several years working on issues of social justice, economic justice and constitutional law.
James Lewis is vehement that there is still much work to do. As for solutions, he recommends looking at the issue from multiple angles. "We can look at [the state of race relations in the U.S.] as a question of education: are we really providing equal education opportunities to the students who really need it? We can look at it as a question of employment, which very often follows on what is your educational base: are we really opening up employment as we should be? And we can look at it as a question of criminal justice – which is what I am involved in for a living: Have we not over-criminalized certain things and do we have sufficient opportunities for people after they have been held accountable and completed their sentence and it is time for them to reenter society? Do we help them reenter so that they become productive or do we fence them off so that we, perhaps unintentionally, increase the chance that they will fail and return to prison?
"We have been struggling in this country since the beginning of slavery in 1619," he asserts. "The nature of the struggle changes but we are still struggling."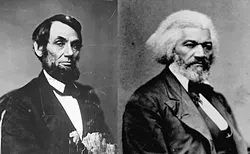 Lincoln and voting rights
Also this week, the 2015 Lincoln Legacy Lecture Series digs a little further back in the historic struggle for civil rights with a presentation on Thursday, Oct. 15, on the subject of "Lincoln and Voting Rights." The presentation coincides with the 50th anniversary of the U.S. Voting Rights Act and will consist of a lecture by Dr. Michael Vorenberg, associate professor of history at Brown University, entitled "Voting Rights and the Meaning of Freedom: The View from the Civil War Era." According to a synopsis provided by UIS, the lecture includes discussion of how the 16th president came to know and admire articulate black leaders like Frederick Douglass.
Later in the program, Dr. Ronald Keith Gaddie, department chair of political science at the University of Oklahoma, will speak on "Citizenship and Voting Rights in the Modern Era," including discussion of current attempts at voter suppression such as voter identification laws, voter caging practices and efforts to engage in intimidation and coercion of voters.
The 13th Annual Lincoln Legacy Lectures series, "Lincoln and Voting Rights" takes place at Brookens Auditorium, UIS, 7 p.m. Thursday, Oct. 15.
Contact Scott Faingold at sfaingold@illinoistimes.com.