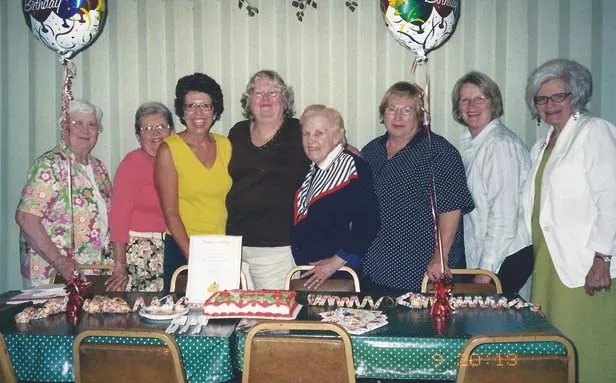 Good works and camaraderie build relationships that last a lifetime. Just ask the sisters of Springfield's Kappa Chapter of the Phi Beta Psi sorority. As she reflects on a recent photo of her sorority sisters, Audrey Roesch recalls, "I've made a lot of good friends over the years that I never would have known. It's been a fun time and sometimes it was a lot of work." The local chapter is 100 years old this month.

In its heyday, Kappa Chapter boasted up to 25 members, all engaged in local charity work and fundraising for national projects. Kappa sisters sold Christmas cards, candy, nuts, geraniums and Bergner Days coupons. They held ice cream socials, bake sales, card parties and garage sales. Until 1941, the proceeds of their sales went to local charities and to help Phi Beta Psi fund a traveling lung for people stricken with polio. When the polio vaccine helped eradicate polio, the sorority turned its attention to cancer research. Over the past 60 years, Phi Beta Psi has given more than $7 million in grants to doctors working in the field of cancer research.

But it's not the work that sorority sisters want to talk about. It's the relationships developed through sorority membership. Roesch recalls that the sorority's national conventions were a working vacation for the women. When the convention was in Louisville, the women took a little time to see the sites in Kentucky. When they needed to get to Atlantic City, Wilma Hofferkamp handed the keys to her family station wagon over to Roesch and, along with a third sorority sister, off they drove to New Jersey. Hofferkamp's daughter, Sally Petrone, a second-generation Kappa, says, "My mother lived for those conventions."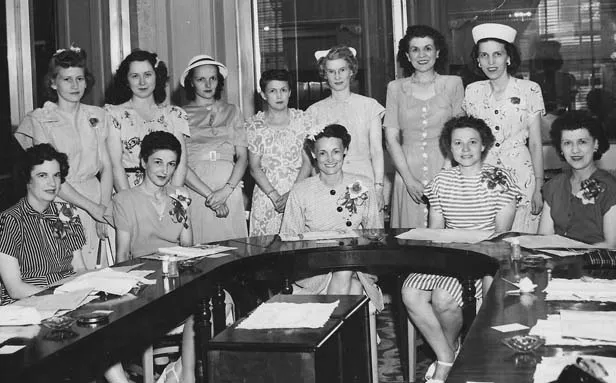 In 1947, when Phi Beta Psi decided it needed a national song, Kappa Chapter got to work. Kappa members wrote the lyrics to "Hail, Phi Betes" and engaged local pianist Ruth Gaudlitz to put the song to music. Several chapters presented songs, but when the voting was over, "Hail, Phi Betes" became the sorority's national song.

In the 1950s Kappa Chapter was widely known for the "Continental Ball," held in January each year. A formal dance with a live band, each ball had a theme and decorations based on a different nation. For example, the Continental Ball marked the coronation of Queen Elizabeth with a British theme and tiaras for each of the women in attendance. As the band began to play, the Springfield mayor and his wife opened the dance floor with the first dance.

On Sunday, May 6, Kappa members will gather to celebrate the 100th anniversary of their chapter. Kappa Chapter, organized through the efforts of Edith Ellen Wolf, met for the first time on May 9, 1912. Wolf, one of the founding members of the Phi Beta Psi sorority, was one of several members who graduated from high school, moved to new communities and formed new chapters of the sorority.

Over the past 40 years, opportunities for women in American society have changed. Many women work outside the home, maintain primary responsibility for housekeeping and are occupied with shuttling children to extracurricular activities. One of the casualties of women's new roles has been the civic sorority. There are simply too many competing demands on most women's time for them to become involved in a program that requires an ongoing commitment to volunteer work with local organizations and fundraising for both local and national projects. Those who are interested in volunteering have opportunities to join the Jaycees, Rotary International and other service organizations once closed to women. At one time, Illinois had Phi Beta Psi chapters in Springfield, Jerseyville, Rockford, Decatur, Joliet and Peoria. Springfield's Kappa Chapter has declined to eight active members, most of them more than 70 years of age. Over the past several months, Kappa members have discussed becoming an associate chapter, a move that would decrease the number of meetings the chapter must hold each year and lighten some of the expectations for fundraising and charity work.

When active and inactive Kappas gather to celebrate the chapter's anniversary this weekend, it will be to remember both the importance of their good works and the value of lifetime friendship. For more information on Kappa Chapter, contact membership coordinator Virginia Wells at 217-546-5461.

Contact Grace Sweatt at writtenbygrace@yahoo.com.