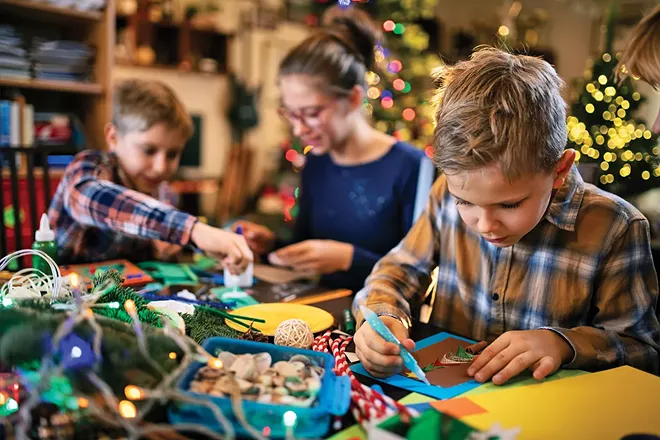 Twinkling lights, heartfelt cards, delicious cookies, singing together – Christmas can mean so much to us. Some celebrate Christmas as a religious holiday, commemorating the birth of Jesus, while others celebrate Christmas as a secular holiday, rejoicing in togetherness and the spirit of giving.
In times such as these, when we are living with daily circumstances that often seem beyond our control, having a tradition with familiar rituals can put us back in our comfort zone. Though much emphasis is placed on shopping and purchasing trendy gifts, there are many activities families can enjoy which do not involve being immersed in commercialism.
Handmade Christmas cards can be a joy of the season. Children may draw one card to be copied, or may enjoy drawing an individual card for each person on the list. Stickers, paint, yarn, collage, stamps – all can be utilized for fantastic cards that will be treasured by those who receive them. However, the postal service notes that glitter can disable postage sorting machines, so use with care.
A variety of Christmas tree decorations can be made from strings of beads, decorated pinecones, Legos, painted salt dough, felt, chenille sticks and origami. The sky's the limit. These ornaments age with our children to become priceless heirloom mementos. Traditional holiday tree decorations such as popcorn or cranberries strung on string can be hung on a Christmas tree for our viewing pleasure, or outdoors for treats for wildlife.
Cutting paper snowflakes can make for a fun afternoon for the whole family. While some prefer to freestyle their snowflakes, templates are available for traditional snowflake patterns while pop culture patterns from Frozen or Star Wars, or even shapes of Nobel Prize-winning physicists such as Marie Curie or Albert Einstein appeal to the quirkier among us. Don't forget to listen to and sing along with your favorite Christmas songs to put you in the mood.
Watching holiday movies is a tradition many of us share, though it is debatable whether movie theaters will be open this Christmas. Fortunately, at-home movie viewing has become the norm through the COVID-19 era. With comfort treats and drinks, snuggling up for an afternoon of watching classics and holiday favorites such as It's A Wonderful Life, Home Alone, A Christmas Story, Miracle on 34th Street, Elf, The Nightmare Before Christmas and Rudolph the Red-Nosed Reindeer can be a fun shared holiday event for the family.
Baking cookies is a tradition for many families, whether sharing them with our own family or with our extended family, friends, neighbors and coworkers. Kids love to help cut out sugar cookies, decorate gingerbread people, sprinkle candy confetti, and press a Hershey's kiss into a snickerdoodle. Cookies are fun to make and a delight to share.
Common cookie gifts may include a cookie mix in a jar or a holiday cookie variety plate, but there are many other options for homemade food gifts. Spiced nuts, holiday Chex mix or Rice Krispie treats, peanut or cashew brittle, white and dark chocolate pretzels, various comestibles on a stick, fudge and peppermint or almond bark are all incredible edibles that are a joy to make, give, and receive.
Christmas gifts can be tangible or intangible, with services given in the form of gift certificates to be redeemed later. For older kids, this may be lawn-mowing or other yard work, folding laundry or other chores, breakfast in bed or technical assistance to grandparents. For younger kids, gift certificates for unlimited hugs are always welcome.
Tangible gifts usually make up the bulk of what we give and receive. Soaps, scrubs and bath bombs are a cinch for older children to make, while artwork, bookmarks and key chains are usually easy to make with items found around the house. Fabric markers make personalized tote bags, T-shirts and pillowcases easy. Modern homemade gifts like coffee cup holders can be given alongside more traditional gifts like handmade trivets and potholders.
And let's not forget the handmade gifts parents can make for their children. Whether you are skilled enough to make a dollhouse, tool bench or play kitchen from creatively reused furniture, or operate more on the level of making educational or baby toys from items you already have, your children will appreciate these thoughtful homemade gifts for years to come.
In times of COVID, we can also create new traditions of our own. To get us out of the house in a safe way, create a winter scavenger hunt in your neighborhood. Distribute painted rocks in your neighborhood or local parks while keeping your eyes open for ones already hidden. Don't forget to go on a walk or drive to see all the Christmas lights and decorations.
A handmade Christmas is not only a delight to experience, it is a delight to create, warming our hearts on cold winter days and creating memories that will long outlast a pandemic.