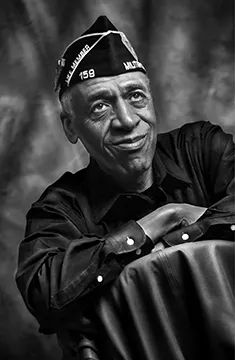 Thomas R. Jones dedicated his life to serving his country and his fellow man. He spent eight years in the U.S. Navy, which included a 13-month tour of duty in Vietnam, followed by a long and distinguished career in public service. Having experienced firsthand the horrors of war and the difficulties of adjusting to civilian life, Tom was especially devoted to the service of veterans. He leaves behind a legacy of countless lives enriched by his presence.

Tom served as a Senior Hospital Corpsman assigned to the 3rd Recon Battalion, 3rd Marine Division (the "Valley Dogs") during the Vietnam War. He was awarded the Purple Heart, Presidential Unit Citation, Combat Action Ribbon, Vietnam Campaign Medal and the Vietnam Services Medal.

As a civilian, Tom was the architect of a 16-county trauma program based at St. Francis Hospital in Peoria and later worked at the Illinois Department of Public Health as a liaison to Washington, D. C. He was appointed by the president of the United States and confirmed by the U.S. Senate to the National Institute of Health, where he served on the Heart, Lung, Blood Advisory Council, the National Task Force on Childhood Diseases, and the National Emergency Medical Services Coordinating Committee.

Even though he had a professional resume that would give any man reason to boast, Tom was known by all as a gentle, thoughtful, warmhearted individual who went out of his way to connect with people around him.
His service in the military affected him deeply. In 2006 he published Lost Survivor, a fictionalized account of his combat experience and subsequent struggle to adjust to civilian life.

He was also a tireless champion of veterans' causes. He served as assistant director of the Illinois Department of Veterans' Affairs under Gov. Jim Thompson and was also a member of several local veterans' organizations. Through his work as chapter commander of the Hayes-Krell Memorial Chapter 159 of the Military Order of the Purple Heart, Tom was instrumental in getting the Purple Heart Memorial placed in Oak Ridge Cemetery. This granite memorial, which stands more than eight feet tall at its center, honors all Illinois recipients of the Purple Heart, which is awarded to military personnel who are wounded in action.

P.J. Staab of Staab Funeral Homes worked with Tom on the lengthy process of creating and negotiating placement of the memorial. He recalls Tom's patience, humor and willingness to consider both sides of every issue.

"Tom used to say, 'It's always a good day as long as you know it. It's even a better day when no one is shooting at you,'" Staab recalled.

Staab also worked closely with Tom on creation of the replica funeral hearse used during the 2015 sesquicentennial reenactment of Lincoln's funeral in Springfield.

The hearse was reverse engineered from a historical photograph and built by U.S. veterans to honor Abraham Lincoln's military service during the Black Hawk War.

"Tom was very instrumental in being a strong beacon of light to other veterans to focus on the meaning of why we embarked on the creation of the AL hearse. He brought a whole new perspective to it," said Staab.

The hearse became known as an "Icon of Freedom" to the veterans who participated in it. Tom encouraged veterans to see the hearse project as a worthy cause for another worthy veteran (Lincoln) martyred for the cause of freedom, and as an avenue for them to make a meaningful contribution to this nation as civilians.

Tom understood that many veterans return from combat with emotional scars that few people can understand, often with few resources to help with the transition to civilian life. He championed the veterans' work on the hearse as a way to work through that emotional trauma towards an end that both honored a fellow veteran and made a meaningful contribution to America's heritage.

Tom traveled the hearse's entire route from its build site in Eureka, California, all the way back to Springfield. Along the way he connected with the veterans who had worked to build it.

"He felt that, being a veteran himself, he could talk the talk and walk the walk. He was wounded in combat. Veterans are held captive in the bondage of emotional trauma. He was able to connect with many veterans and bring them to an understanding that they are worthy," said Staab.

Jack Feather of Tombstone, Arizona, was the lead builder and finishing craftsman of the hearse's third phase of construction. A combat veteran himself, he recalled that Tom radiated peace. "He always had a smile and an aura about him that drew people. It was almost like he looked into your soul sometimes. He was a joy to be around."

Indeed, everyone who knew Tom remarked on his kindness, his thoughtfulness, and his humor. He will be remembered as a remarkable man, and his legacy will live on in the countless lives he touched.

Erika Holst is the Curator of Decorative Arts and History at the Illinois State Museum and the proud daughter of a Vietnam veteran.