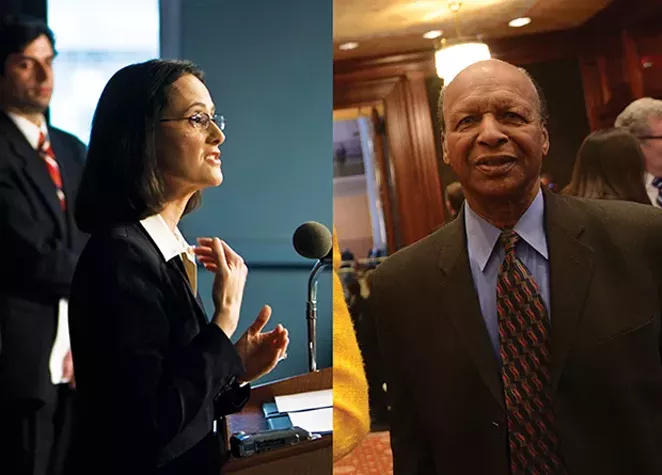 Remember Candace Wanzo?

She's the secretary of state employee who was escorted from her office last May and remains both under investigation and on the payroll at the rate of $7,278 per month while she sits at home.

It's not clear what prompted Wanzo to be sent home on paid leave last spring, but the inspector general's office has launched a probe. Inspectors general don't move at the speed of light, or even tortoises. If history is any guide, any findings won't be made public until after Secretary of State Jesse White faces voters next spring in the Democratic primary. Indeed, it's a long shot that, absent criminal charges, we'll know what got Wanzo in trouble before next year's general election. But what Wanzo did isn't the most important question.
How did Wanzo land a job, given that she'd pleaded guilty in 1991 to embezzling more than $233,000 while working as a cashier at Southern Illinois University? What did the secretary of state know when he hired her in 1999, and when did he know it?

At McDonald's, they ask job applicants if they've ever been in trouble with the law. It would be nice if voters could know whether White asked the same of Wanzo before putting her on the payroll. It would also be good if voters could know what, if any, steps White took to check Wanzo's background before hiring her. Heck, it would be nice to know what qualifications Wanzo had that merited giving her a state job. It also would be good to know what, if anything, happened to Wanzo, or her supervisors, when the auditor general in 2004 found that she'd been using a state car to commute between her home near St. Louis and her Springfield office.

None of this is the public's business, according to White's staff. We can't talk about personnel matters, a spokesman said last spring when asked whether White knew about Wanzo's criminal past when he gave her a job. And so Illinois Times asked for a copy of Wanzo's personnel file. That's none of your business, either, White's staff said.

White's refusal to disclose Wanzo's personnel file is curious. We've gotten such files from the Department of Corrections, Central Management Services, Springfield School District 186 and lots of other public agencies, but this marked the first time since the Freedom of Information Act was supposedly fixed in 2010 that we've been denied a personnel file of a government employee in Illinois. And so we sought help from Attorney General Lisa "The Enabler" Madigan, who is supposed to pry loose public records.

We filed a formal request on June 2. More than two months later, we asked why this was taking so long. A spokeswoman said that White's office had come up with an excuse that the AG hadn't heard before. "(W)e are conducting a detailed review of the issue," the spokeswoman wrote in an Aug. 18 email. On Oct. 25, we asked again: When can we expect an answer? We got promises that someone would contact us with an update, but no one did. We're still waiting.

Salaries alone in the public access counselor's office, which Madigan created to shake loose public records, are costing taxpayers more than $1.1 million a year. Lawyers fresh out of law school are being paid nearly $60,000 a year to issue rulings, when rulings are issued at all (the PAC last year issued just 15 rulings that weren't advisory). By contrast, fresh lawyers in the Sangamon County state's attorney's office, which gets results, start out at $40,000.

Agencies that ignore Madigan's orders to produce records suffer no consequences, and so there's no reason to believe that White, even if told that Wanzo's personnel file is a public record, would actually turn it over. Like White, Madigan is a Democrat. We're just sayin'.

Some agencies don't bother responding to queries from the public access counselor's office when someone complains. Still, Madigan defends a bureaucracy that gives paper tigers a bad name. "I created a public access counselor in my office to give people the ability to receive information they are entitled to and shine a light on government," Madigan recently told the Daily Herald, a suburban Chicago newspaper.

The excuse always has been the same: We're behind on our work because we get so many requests for help, and both the public and government agencies are still learning about the law. Sisyphus had excuses, too, but the bottom line is this: The public access counselor's office isn't working.

Don't bet on change. We emailed the eight candidates for attorney general asking for opinions of FOIA and the public access counselor's office. We got three responses, all from Democrats. Pat Quinn and Nancy Rotering praised FOIA and the public access counselor's office. Rotering said more resources are needed. Without giving specifics, Quinn said that stronger penalties are needed.

Writing that Madigan is slow to act, Renato Mariotti cited the case of Laquan McDonald, whose killing was captured by a Chicago police video. Police refused to cooperate with Madigan after the Wall Street Journal asked for help in the spring of 2015. Months after the Journal contacted the attorney general, her office issued an advisory opinion, saying that the video should be made public. One day later, a judge forced the issue, ruling in an unrelated lawsuit that the video must be released. In short, going to Madigan proved a waste of time.

"Ultimately, the attorney general's office issued an advisory opinion that the tape should be released, but it was a miscarriage of justice that it took as long as it did," Mariotti writes in an email. He also said that he would review the work of the public access counselor and propose legislative fixes to improve FOIA compliance. "I believe the public counselor's office can be more efficient with the resources it is given and will analyze current staffing levels to determine how to further increase the office's efficiency."
It's hard to argue with that.

Contact Bruce Rushton at brushton@illinoistimes.com