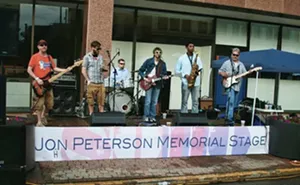 I'm not sure if you can stretch a blue moon, like the one this Friday, the only one in 2015, into an entire weekend, but if you're willing to go along with this cockamamie idea, so am I.

Most folks accept that a blue moon is considered the second full moon in a calendar month. While Googling "blue moon folklore," I ran across a good article by Philip Hiscock, in Sky & Telescope magazine about the origins of this blue moon notion. He talks about several other older uses of the term, but "blue moon," as used in this context, is surprisingly recent, as in decades, not centuries, as one might be led to believe. So with all that information I'm even more inclined to designate this a blue moon weekend for no other reason that it sounds like fun.
What better way to celebrate this event than with Deep Lunar Blue out at Trails End Saloon in Curran? The band is good, the bar is cool and the name fits so well. Out at Weebles on Peoria Road, The MojoCats stir the pot with some fine-feeling blues. A truly delightful band, these guys hop it up and keep it going. They do the early beer garden thing from 6 to 10 p.m.
Boondocks hosts a pair of up-and-coming, big time acts this weekend, straight from the Nashville country music making industry with both shows advertised as being for all ages. Friday features The Cadillac Three, a trio of long-haired, Southern rockin' fellers that don't particularly look like they've been responsible for number one hits by Keith Urban and Tim McGraw or that they hang out with Dierks Bentley on a regular basis. TC3 is making the waves work for them right now as they are climbing the music machine ladder very well. On Saturday, the duo of Dan + Shay are making the same musical mountain climb from a different side. The handsome, clean-cut and poppy sounding guys are opening for Blake Shelton this summer were nominated for an Academy of Country Music award and are receiving considerable radio and video airplay. It's interesting to see and hear the very different ways artists reach an audience and how the same goals are achieved in varying modes. Must be the blue moon weekend effect, don't you think so?
On Saturday night Third Base Sports Bar (maybe it's time to change the name to Music Bar?) hosts a very cool and accomplished band, Kicked to the Curb, with Southside Jonny. I've heard lots of good things about these guys and they can play the blues like nobody's business. Over at the Forty Niner, check out our pals in Alter Ego. Talk about a band that covers; watch and listen as they take you through an incredible experience in song selection, genre-hopping through decades of popular music like a walk in the park. Jukehouse plays some fun, old-style jump blues from the origins of rock 'n' roll at Lime Street Cafe on Friday and Saturday night. Bring your dancing shoes and be prepared to use them.
Surely one of the finest things ever invented by McDonald's is the Ronald McDonald House. Encourage the multinational corporation's good choices by supporting Rock the House, a benefit featuring several bands and contributing 100 percent of the proceeds to the RMH organization. Hosted by Homespun Republic, music starts at 6:30 with The Groove Daddies, then continues with Taylor June, Rob Juice and the Badboys and Allison Lovdahl and Shepherd's Pie. McDonald's is also good for clean restrooms and decent Wi-Fi.
The blue moon weekend is on.
Contact Tom Irwin at tirwin@illinoistimes.com.