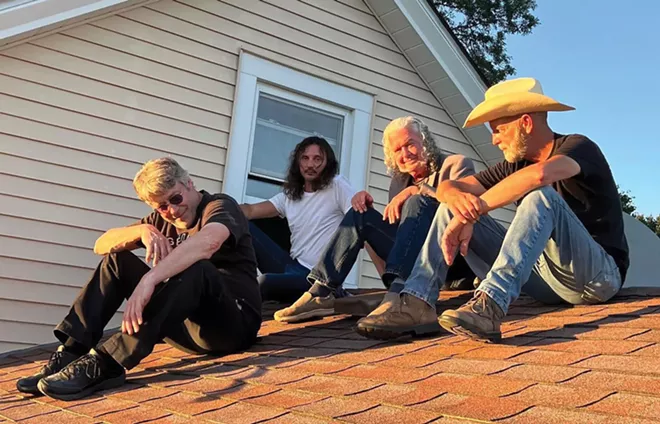 Here we are rolling along with lots to see and do and hear as the music-makers are busy this time of year like I've never quite seen before. I'm going with the theory we're making up for the lost last few years by doing more music than ever before. Let's take a look and see what's shaking, shall we?
Before getting into the live music, I'd like to mention that there have been more than a few albums and otherwise self-penned releases in the last year on our scene, and I know several acts working on new records right now, including me. Folks writing their own songs and playing them in public is a thing always near and dear to my heart, partly because that's what I have done most of my life and mostly because creativity makes the world go 'round. Now here's some news about artists that I'm proud to call friends who just put out new, all-original music this past weekend. If you know of any more upcoming releases from local performers, please let me know and I'll do all I can to get the word out.
The Wolf Crick Boys, led by Greg "Lucky" Patterson with bandmates Patrick Miller, Keith "Tiger" Ramey and Tom "Dooley" Woolsey (you know it's a real band when a majority of the players have nicknames, an old wise guy who called himself Raoul once told me) released All Quiet on the Western Front last Sunday during a gig at the Sandbar Tavern. The Boys will be back at it at the Backroom Lounge in Riverton on Wednesday with the new CD, T-shirts and yes, even WCB fly swatters in tow.
Ben Bedford dropped Valley of the Stars, his sixth record, on Jan. 27, and he's getting good reviews already, especially in the UK. Bedford is currently on a run through Texas, Alabama and Florida and will be back in town next week. Both these artists are on digital platforms and have physical CDs plus merch for sale online and in-person.
In another local creative endeavor, the UIS Performing Arts Center presents one more episode of the continuing narrative of Black Futurez: Mixtape on Friday and Saturday at the UIS Studio Theatre. Self-described as "a compilation of ideas and emotions from Black youth living through current times" and featuring creator and performer Reggie Guyton accompanied by artists and musicians, the show is about "weaving mythical lore, parable and personal experience" as part of the university's Our Stage/Our Voices program "in which the voices of historically underrepresented communities in the performing arts are amplified, with a goal of achieving diversity and inclusion," and don't you know it, we could sure use more of this thought process now and always.
Off we go to experience my friend and yours, Jose Gobbo, leading a quartet at the Friday Night Jazz series at Boones. Usually the ubiquitous and busy Brazil native is performing with others, but here's a chance to hear the immensely talented and well-studied jazz guitarist with his own choice of material and musicians.
For more original music this Friday night, Chicago Farmer cultivates the upstairs of the Broadgauge restaurant in Petersburg for a sit-down-and-listen concert by the popular, traveling singer-songwriter from Illinois. Opening the show is Pawnee native Avery Kern, who, as I wrote this last Monday, was playing on the rooftop at AJ's (stands for Alan Jackson) Good Time Bar on Broadway in Nashville, Tennessee. How about that!
Be sure to look at our music listings for all the other good stuff going on this week.