Confess, Fletch an entertaining lark
Sometimes an actor is cast in a role so perfect for them, it's hard to imagine anyone else playing that part. Such is the case with Jon Hamm in Confess, Fletch, an adaptation of the Gregory McDonald novel that reboots the truncated franchise that starred Chevy Chase in two features in the 1980s. Hamm's laid-back, wiseacre vibe is a perfect fit for the titular investigative reporter who, while visiting Boston, is framed for murder. That he never met the victim and that she was already dead in the Airbnb his girlfriend, Angela (Lorena Izzo), rented is of no concern to Detective Monroe (Roy Wood Jr.), who's convinced he's the perp.
The film is filled with a roster of eccentrics whose interactions with Fletch result in a series of wry, comic moments. Horan, a germophobic art dealer (Kyle MacLachlan), the oversexed Countess (Marcia Gay Hardin) and in-a-perpetual-haze neighbor Eve (Annie Mumolo) all provide necessary clues Fletch needs to solve the case, but not before he must navigate their odd behavior, moments that had me laughing out loud consistently. Director Greg Mottola keeps the tone breezy and the pace taut, while Hamm amuses throughout, so much so I'm hoping he'll tackle a few more of McDonald's novels. Available through Video-on-Demand.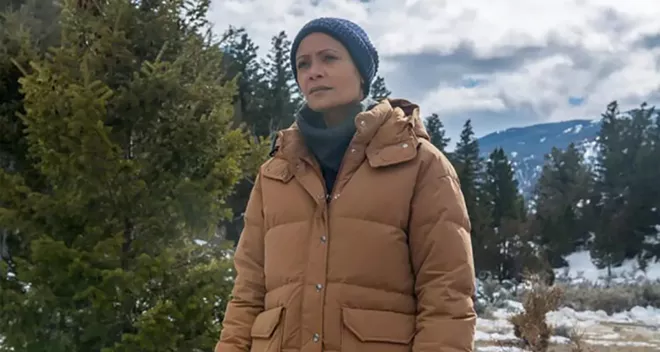 Slow-burn Country rewards patience
The very definition of a slow burn, Julian Higgins' God's Country is a sly meditation on the long-term effects of racism and marginalization that wisely takes its time in examining one woman's simmering rage and the tragic emotional storm that results. Thandiwe Newton delivers a controlled performance as Sandra, a college professor living in Montana with a dark past. The recent death of her mother seems to have increased the emotional burden she carries, and she gives vent to her feelings in increasingly unhealthy ways. When two hunters park on her land to enter the nearby forest, she takes exception and tells them not to do so anymore.
This is just the first in a series of encounters that rapidly spin out of control, until Sandra finds herself threatened on all sides and begins lashing out in public and the workplace. As the film progresses, more is revealed about her past, and it becomes clear that her increasingly violent responses have very little to do with the trespass on her property. The subject of micro-aggressions and blatant instances of racism and sexism, this is a portrait of a woman who's reached her limit and feels there is no way to stand up for herself but in a manner she abhors. Hard to shake, Country proves to be an uncommonly smart and gripping piece of social criticism. In theaters and available through Video-On-Demand.
Confused Twins a botched biopic
There's an intriguing story at the center of director Agnieszka Smoczynska's The Silent Twins, a biopic of cult authors and mute twins June and Jennifer Gibbons. However, some questionable choices from the filmmaker produce a muddled movie, rather than the gripping drama she was striving to produce. Born in 1963, the sisters adopted self-mutism and refused to talk to anyone but themselves, these conversations occurring only when they were alone. Together, they would express themselves through radio dramas they would perform and record and later through writing, their stories often focusing on characters exhibiting anti-social behaviors.
As they reached their teen years while living in Wales, they committed a number of petty crimes that culminated in arson. They were then committed to England's Broadmoor Mental Hospital where they spent 11 years. What proves so maddening about the film is that it lacks context. Smoczynska drops the viewer into the middle of the story with little explanation regarding the sisters' circumstances, which leads to confusion. Also, the lack of time spent delving into their parents' lives leaves far too many questions unanswered. In presenting the world from the Gibbons' perspective, the director alienates the viewer rather than drawing them into their unique world and perspective. In theaters.