It was an odd theft and even odder punishment.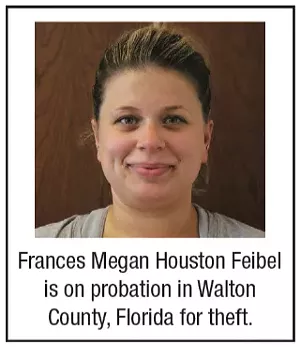 After the wife of a Springfield orthopedic surgeon stole a $273 set of pajamas from a boutique while on vacation in Florida and was arrested for retail theft, a Florida judge came up with a unique punishment: publication of her photo, along with the offense she is on probation for, in her hometown newspaper.
Francis Megan Houston Feibel, 31, pleaded "no contest" to the charges, was placed on probation, fined $220, sentenced to 24 hours of community service and ordered to buy an ad in Illinois Times.
"When a judge does something like this, it often is because he doesn't think the defendant is sufficiently remorseful," said Mark Osler, a law professor at St. Thomas University in Minneapolis and an expert in alternative sentencing.
These types of humiliation punishments are nothing new, he added.
"In colonial times, those convicted of crimes were put in stocks and people were expected to throw horse dung at them. We've gotten away from humiliation punishments for the most part, but you do see it cropping up now and then," he said. "Sometimes people will be required to wear a sign board that says: 'I'm a thief' and walk around the front of a store."
Osler said since the theft occurred while Feibel was on vacation in Florida, the judge likely ordered her to purchase the ad in Springfield as a means of maximizing her shame. She is now reportedly in the process of moving to Louisiana with her husband, Ben, and their young daughter.
Rachel Moran, who also teaches at St. Thomas Law School, said the aim of such punishments is to deter the person from reoffending. But she questions whether it accomplishes its purpose.
"The Scarlet Letter is a great comparison. They are requiring someone to basically label themselves as a criminal. ... People steal for a variety of reasons. Assuming she's guilty, maybe she's just doing this for fun and there's no hardship at all, but unless there's a history of crimes in Illinois, what is this accomplishing? ... It just strikes me as it's meant to embarrass and that's it."
The Florida police report indicated that Feibel purchased a sweatshirt from Cabana Seaside Style but attempted to leave without paying for the pajamas. The report added that the deputy responding to the incident found her to be "supportive" and "remorseful."
Feibel declined an interview request from Illinois Times.
Scott Reeder, a staff writer for Illinois Times, can be reached at sreeder@illinoistimes.com.