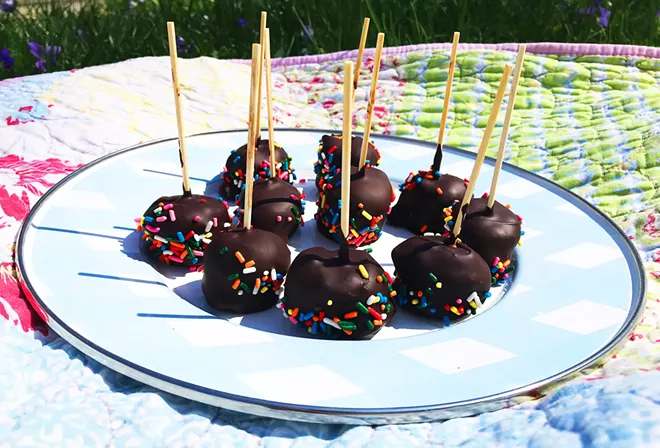 If the ice cream truck never seems to come down your street, look no further. These lighthearted frozen sweets require no cooking or special equipment, making them perfect for whipping up with your littles on a hot summer day. No-churn ice cream relies on light whipped cream to keep the texture light. Make it your own by using a mixture of different types of chocolate or even swirling in some raspberry jam.
Fruit ripens fast in the summer heat, so make good use of it with tasty frozen chunky monkey banana bites or a super-simple strawberry banana sorbet. For an even simpler treat, freeze seedless grapes flat on a tray, then transfer to a zip-top bag for longer storage. Delicious on their own, frozen grapes and other berries are a fun way to jazz up a glass of water and a yummy way to reduce food waste.
No-churn ice cream with hot fudge sauce
For the ice cream
½ cup sweetened condensed milk
½ cup white or bittersweet chocolate chips
1/3 cup unsweetened Greek yogurt (whole milk)
2 teaspoons vanilla extract
A small pinch of salt
1 ½ cups cold whipping cream
For the fudge sauce
1 cup heavy cream
1 stick butter
½ cup sugar
¼ cup light corn syrup
½ cup cocoa powder
½ cup semi-sweet chocolate chips
Combine the condensed milk and chocolate chips in a microwave-safe bowl and microwave on high for 30 seconds, then stir. Repeat, stirring each time until the chips are melted and the mixture is smooth. Set aside for five minutes to cool, then stir in the yogurt, vanilla, and salt.
In a larger mixing bowl, beat the cream until soft peaks form. Gently stir in about a third of the whipped cream into the condensed milk mixture and loosen it. Add the rest of the whipped cream to the lightened milk mixture, folding it in very gently so as not to deflate it. Do this by scooping the spatula up under the mixture along the bottom of the bowl, then folding the mixture over itself with the spatula.
Transfer the mixture to an airtight container, then smooth plastic wrap or waxed paper over the top before placing in the freezer. Freeze for at least eight hours or overnight.
To make the fudge sauce, combine the cream, butter, corn syrup and a pinch of salt in a sauce pan. Bring the mixture to a simmer, stirring continuously. Cook for one minute, then remove the pan from the heat and stir in the chocolate chips, stirring until smooth. Serve warm or cool completely and refrigerate for up to two weeks.
Chunky monkey bites
1 cup chunky peanut butter
4-5 bananas
10 ounces dark chocolate chips
1 tablespoon vegetable oil (olive oil works fine, too)
Toppings such as chopped peanuts or dried fruit, sprinkles or cookie crumbs
Toothpicks
Line a baking sheet with waxed paper. Slice bananas into 1-inch rounds and place on the baking sheet. Use two spoons to place a dollop of peanut butter onto each slice. Insert a toothpick into the middle of each piece, then transfer to the freezer and freeze for at least four hours overnight.
Prepare a second baking sheet with waxed paper. Combine the chocolate chips and oil in a microwave safe bowl. Microwave in 30-second intervals, stirring each time, until the chocolate is melted and smooth. Be careful not to burn the chocolate.
Working quickly, dip the banana pieces in chocolate, using a spoon to drizzle the chocolate over it then place on the waxed paper lined sheet (it's best to work in batches, taking just three or four banana pieces out of the freezer at a time so they don't soften before being dipped). Sprinkle with toppings, then return to the freezer to set, about one hour.
Strawberry banana sorbet
5 ripe bananas, sliced and frozen
4 cups strawberries sliced and frozen
Combine the bananas and strawberries in the bowl of a food processor (preferred) or a blender. Process until smooth, then serve or transfer to an airtight container and freeze.
Ashley Meyer is a chef, freelance writer and mom who lives in Springfield.