The day after the U.S. Supreme Court overturned Roe v. Wade, former President Donald Trump was taking credit – and endorsing candidates.
The 45th president of the United States was campaigning for U.S. Rep. Mary Miller who is running against U.S. Rep. Rodney Davis in the Republican primary. The incumbent-on-incumbent line up is a result of redistricting. The state lost one Congressional District in the 2020 Census, and this pitted the pair against one another.
"I think this is going to be a very close race," said Mike Lawrence, former director of the Paul Simon Public Policy Institute and a longtime Illinois political observer. "I think it is significant that Trump came and campaigned for her. I've said all along that could make the difference."
Thousands of people gathered at the Adams County Fairgrounds in Mendon, a village 12 miles from Quincy. While the crowd was impressive, many who attended live in Missouri, Iowa and in portions of Illinois outside the 15th Congressional District. Miller is one of those people living outside the district. The U.S. Constitution only requires congressional candidates to be residents of the state they are running in, not the district. So, while Miller can ask others to vote for her, she won't be able to vote for herself.
"The polling is pretty clear on this. If Republican voters know that Donald Trump has endorsed her, the race favors Mary Miller. But if they don't know, it favors Rodney Davis," said Patrick Pfingsten, a GOP political consultant. "To do this right, they need to have social media ads and TV ads showing the Trump endorsement. But with the rally only 72 hours before election day, they won't have time to do that."
Further complicating the situation was that Trump gave his speech to the "Make America Great Again," or MAGA, crowd after the print deadlines of daily newspapers within the district.
One recent poll shows Davis one percentage point ahead. Lawrence said he is skeptical of all polling done in primaries. He added Republican primary voters tend to be much more conservative than those who vote in general elections. This makes it difficult for pollsters to develop an accurate sample of those who will actually request a partisan ballot.
Davis is conservative but has avoided confrontational far-right politics. Whether it's taxes, guns, abortion or any of the other GOP litmus tests, Davis has consistently voted in a conservative manner.
But that didn't keep Miller from branding Davis a RINO – Republican in Name Only.
The term is a long-used one hurled against Republicans seen as not part of the conservative wing of the party. But since the political emergence of Trump, it has taken on a new meaning: anyone who is not a staunch Trump defender or is not an election denier or not a likely backer of his comeback 2024 presidential bid.
An apparent verbal flub on Miller's part caught national headlines when she made this attack on Davis: "President Trump, on behalf of all the MAGA patriots in America, I want to thank you for the historic victory for white life in the Supreme Court yesterday. Our victories for life and the Second Amendment would have (never) been possible if the never-Trump RINOs had gotten their way. I'm running against a RINO named Rodney Davis who betrayed conservatives."
Following the speech, a Miller spokesman told NBC news the congresswoman misread her notes and meant to say "right to life" rather than "white life."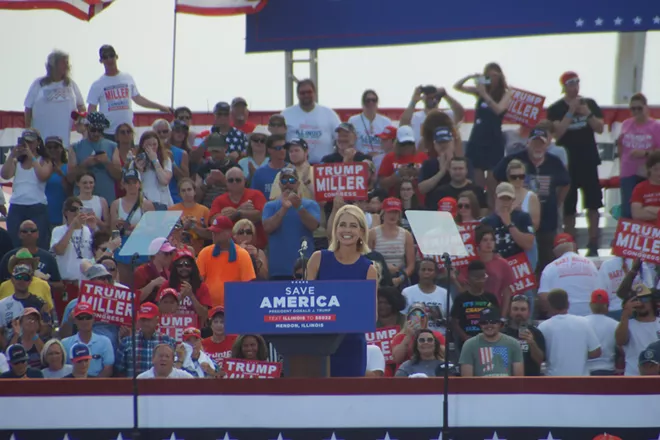 This isn't the first time Miller, whose district includes one-third of Illinois counties, including part of Sangamon, has stirred controversy with her words. She made a remark in a 2021 speech that appeared to praise Adolf Hitler. She later apologized for that comment.
On Sunday, Rodney Davis issued this statement, "Mary Miller's comments yesterday are just another part in a disturbing pattern of behavior she's displayed since coming to Congress. This is why she uses the Biden basement strategy and refuses to answer questions or hold public events. Whether it's catering to the extremes, praising Adolf Hitler, having a convicted child sex offender serve as her personal driver, and now these comments, Miller has demonstrated she is not fit for public office. This is why it's so important to vote in our Republican primary on Tuesday and show the country Miller's behavior is unacceptable." Republican consultant Pfingsten, a vocal critic of Miller, said she obviously misspoke Saturday. But because she has fostered a hostile relationship with the press, reporters covering the event were less likely to give her a break. He added her association with the House Freedom Caucus, whose members are known to make outrageous claims, further complicates the narrative. Among Miller's allies in the caucus are Marjorie Taylor Greene, a Georgian who suggested in a Facebook post that wildfires in California were not natural.
"Forests don't just catch fire, you know. Rather, the blazes had been started by (Pacific Gas and Electric,) in conjunction with the Rothschilds, using a space laser, in order to clear room for a high-speed rail project," the post read.
The Rothschild family has been featured in anti-Semitic conspiracy theories since at least the 19th century. Greene is said to have urged Trump to endorse Miller.
Lauren Boebert, the congresswoman from Colorado who falsely accused a Muslim member of Congress of being a terrorist, also is a member of the Freedom Caucus and spoke at the Trump event Saturday.
"Again, it comes back to these people being members of the 'Kook Klux Klan.'" Pfingsten said. "They are much more interested in being celebrities than being effective in office."
During his speech, Trump attacked his successor and continued his unsubstantiated claims that he was cheated out of reelection.
"Joe Biden is the worst president in the history of our country. He's turning out to be a combination of Jimmy Carter and Herbert Hoover. That's what's happening. The election was rigged and stolen and now our country is being systematically destroyed. Elections, as you know, have consequences. I ran twice, I won twice, and I did much better the second time than I did the first, getting millions and millions more votes than in 2016."