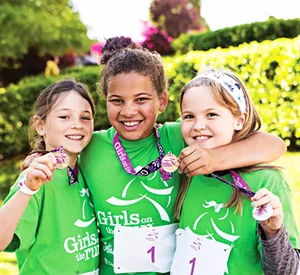 Everyone was a winner on Saturday, May 14, as 440 girls in 3rd-5th grades completed the Girls on the Run (GOTR) 5K at Lincoln Land Community College. Joining them were 150 coaches, 300 community and family members and 100 boys with YMCA STRIDE. The 5K race is a celebration and culmination of a 10-week program that combines physical activity with lessons to build healthy habits for life.
GOTR inspires girls to be joyful, healthy and confident. That was on full display Saturday. Girls gathered with their teammates and coaches, wearing GOTR T-shirts, race bibs with the number 1 and other embellishments such as tutus. They delighted in getting their hair sprayed a rainbow of colors at the Happy Hair station and selecting other adornments at the Star Power station. Smiles were abundant and excitement rampant.
Then they were off, running and/or walking the 3.1-mile out-and-back course with their coaches and family members. Volunteers cheered them on, ensuring no girl finished alone or last. With the heat and some hills, it was a challenge, and a significant accomplishment. Everyone received a medal at the finish.
There were 32 teams from public and private schools and community organizations throughout central Illinois. It was the inaugural year for teams of boys. STRIDE (Success, Teamwork, Respect, Inspiration, Determination = Excellence in Character) is a national program for boys, similar to GOTR. Andy Smith brought STRIDE to the YMCA Springfield. The program launched this year at Feitshans Elementary, Farmingdale Elementary and Blessed Sacrament schools.
Jennifer Sublett has been executive director of GOTR for a decade. She volunteered at the first 5K in 2004 and was inspired by seeing the faces of the girls as they cross the finish line. She deeply appreciates the hundreds of volunteers who make this event happen. To get involved, go to https://www.gotrcentralillinois.org/.