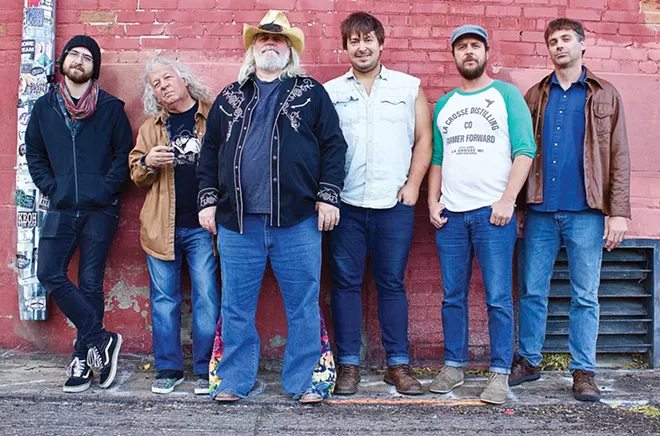 We have festivals and flings, gigs and gatherings, blues and more blues, along with a bunch of other exciting things going on this weekend in Springfield's music entertainment scene. Come along with me to see what we can find to do with ourselves this lovely May weekend in 2022.
Let's kick it off with a Thursday night escapade when our older, but still young friend, Zack Fedor, returns home with his Chicago cohorts, The Sunflower Headlights, to shine on at the Curve Inn. They describe themselves as "a motley band of wayward Chicago musicians" that started as a collaboration between singer-songwriter Ross Krakow and bassist-engineer Emil Sueck, then grew to include our Springfield connection Zack, plus drummer Joe Klaff, woodwind player Jared Hochberg and harmony vocalists Ted Dayton and Maddie Sachs. Zack is scheduled to start the concert by his lonesome, then the band takes over with a variety of tunes, including a pile of originals, all soaked in a 60-70s folk-rock flavoring that starts at groovy and keeps the grooves grooving.
This weekend, we welcome the debut of the Let it Grow Music Festival held out at The Promised Land Kampground and Music Park off of Mechanicsburg Road just a shade east of Springfield. After lots of hard work on the grounds and the facilities, plus all the organizational doings to make a thing like this happen, the dream becomes a reality with a full-blown, all-weekend event. The festival features the High Hawks, Mr. Blotto and many other music acts of renown, including after-hours shenanigans with the Elderbeard Orchestra Late Night Acoustic Jam Sessions filling up the blessed moments with good times and fine tunes. As festival-goers partake in the food trucks and various vendors, camping opportunities on the 20-some acres and what looks to be nice weather for the music, we wish those involved in getting this thing moving at Elderbeard MusicWerks all the best in what looks to be years of fun and festive festival happenings ahead upon the grounds.
I hardly ever get past our particularly busy Fridays, so this week I'm counting on you to look at all the crazy good stuff happening that day, while I bustle off to Saturday to see what I can see. In a very nice pairing (to use fancy wine talk), Buzz Bomb and MCG Presents present a Party in the Street with the David Lumsden Blues + Band featuring Kylan Davis, along with the Joel Gragg Trio, starting at 7 on Saturday night. Not only do you get a double dose of good rockin' tonight, both gents are sporting albums released in the last few months, with David's Rooted in the Blues and Joel's Promise of Light available for purchase as a CD or through online streaming and downloads.
Sunday delivers some interesting music events, starting with Grammy-award winning blues musician Paul Nelson (he worked with Johnny Winter and other blues greats) dropping into Danenberger's for an early afternoon performance. From 2 to 4, the Corkscrew on Chatham Road hosts the Jay Larson Band at a fundraiser for the Share the Spirit Foundation, a group "providing new shoes and socks to children in the greatest need since 2003" with tickets available online or at the door. I'll be outside from 2 to 6 at Jubilee Farm on Old Jacksonville Road providing musical entertainment as the Dominican Sisters host a Spring Fling (rescheduled from April 30) where you can purchase plant seedlings and other home-grown, homemade items and are welcomed to wander the delightful farm grounds.
Please check our listings for all the other goodies going on.