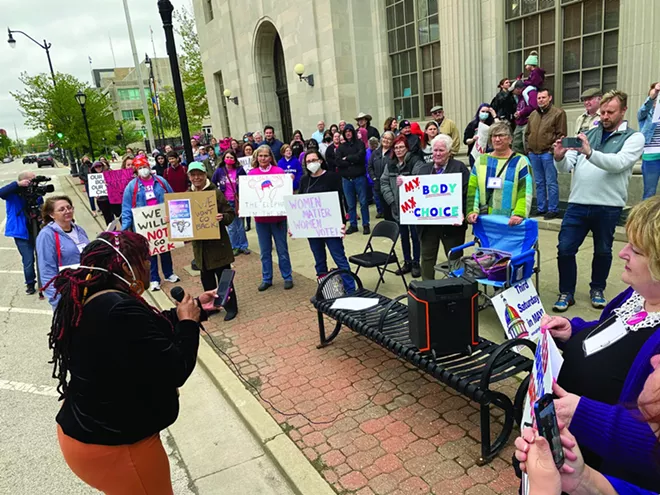 Planned Parenthood of Illinois expanded the number of days surgical abortions were offered in Springfield in March as part of an ongoing effort to prepare for the U.S. Supreme Court overturning its landmark Roe v. Wade decision.
After taking that step and others to increase capacity statewide in recent years, Planned Parenthood officials said they were disappointed but not surprised by the May 2 leak of a preliminary draft decision by the court striking down the 1973 decision making abortion a constitutional right and legal nationwide.
"I've been expecting for Roe to be overturned since the former president put three arch-conservatives on the Supreme Court, so we've been anticipating this for some time," Jennifer Welch, PPIL's president and chief executive officer, told Illinois Times.
Planned Parenthood's Springfield health center at 601 Bruns Lane had been offering what are known as "in-clinic" abortions one day per week. An additional day for surgical abortions every other week was added in mid-March, Welch said.
Meanwhile, reaction to the draft decision has been swift and strong across the country and in Springfield.
Pro-choice advocates were angry that the court is poised to overturn almost 50 years of what they thought was settled law. Abortion opponents were upset about the leak but delighted that what they considered decades of judicial overreach may be corrected.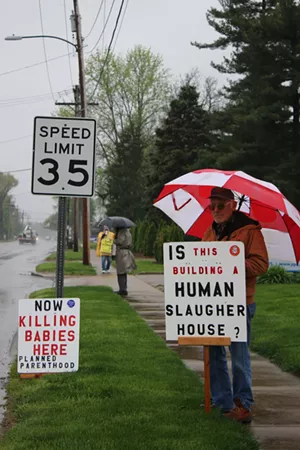 "Generations of Americans have worked to reverse Roe, and here it is," said Tim Moore, president of Springfield Right to Life.
With former President Donald Trump's addition of justices Neil Gorsuch in 2017, Brett Kavanaugh in 2018 and Amy Coney Barrett in 2000, Welch said it's likely that the Supreme Court will finalize and officially release a ruling overturning Roe in the next month or two.
A Washington Post-ABC News poll in April indicated 58% of Americans believe abortion should be legal in most or all cases, and 54% want to see Roe upheld.
When the pregnancy was caused by rape or incest, the poll said 79% think abortion should be legal. And when a woman can't afford to have a child, 48% think abortion should be legal, 45% think an abortion shouldn't be available, and 7% have no opinion.
Planned Parenthood officials said the ruling is expected to result in half of the 50 states – including in all the states touching Illinois, a state with almost no abortion restrictions – immediately banning most abortions. As a result, Illinois could see 20,000 to 30,000 more people from other states traveling to Illinois for abortions annually, Welch said.
About 9,700 out-of-state patients got abortions in Illinois in 2020. That number represented a tripling in such travelers since 2014.
The expected influx would mean out-of-state patients would quickly double or triple, and the overall number of abortions conducted in Illinois – which stood at about 46,200 in 2020 – could rise by 43%.
Justice Samuel Alito, an appointee of Republican President George W. Bush, wrote the Supreme Court's draft option, which is reportedly supported by Republican-appointed justices Gorsuch, Kavenaugh, Barrett and Clarence Thomas.
Alito said the right to an abortion should be determined by each state, though abortion opponents in Congress are considering a nationwide ban if the U.S. House and Senate become controlled by Republicans after the November general election.
Welch and other critics of the draft decision say it signals the court's willingness to overturn previous rulings based on the right to privacy, including cases enshrining the right to birth control and gay marriage.
Welch said barriers to abortion disproportionately affect Black, Hispanic and low-income patients, especially when patients would have to travel farther for a surgical abortion or medication abortion.
PPIL and partner agencies such as the Chicago Abortion Fund have been ramping up logistical and financial support for patients from other states who need help paying for abortions, child care, travel, lodging and related costs, she said.
The nonprofit launched a service in April in which patients can have the abortion medicine mailed to them at an Illinois address after a video visit with a clinician. Patients already had been able to go through in-person visits and receive the medicine in-person at abortion clinics.
About 60 abortion-rights supporters turned out at a May 3 rally protesting the draft decision on Roe outside Springfield's federal courthouse. They carried signs that said, "Women's Rights are Human Rights," and "I will not go quietly back to the 1950s."
Rally participants said they are calling on citizens to become more politically active in electing pro-choice lawmakers at the local, state and federal level and supporting pro-choice judges.
Rural Athens resident Peggy Patty, 70, held up a sign that said she knew young women who had illegal abortions when she was in college 50 years ago.
Patty said she is appalled that the government could again restrict a woman's reproductive choices and that some abortion opponents want to deny abortions to victims of rape or incest.
"I am shocked that it's come to this," she said. "Having a child is an incredibly personal choice. It should be between a woman and her doctor."
The notion that states should be left to decide whether abortion is legal is "so very dicey," Patty said. "This is called the United States of America, and people move all the time."
Abbey Edwards, 22, a Springfield office worker, said pro-choice supporters aren't opposed to children.
"I was a preschool teacher for four years," she said. "I love kids more than everything in this life."
But Edwards said abortion "need to be safe, and it needs to be accessible, and it needs to be a choice."
Glenarm resident Frank Tureskis, 80, prayed in the rain May 5 outside Planned Parenthood's Springfield health center while holding rosary beads and standing next to a sign that said, "Is this building a human slaughterhouse?"
Tureskis, a retired phone company engineer, said he regularly prays outside Planned Parenthood on days when surgical abortions are scheduled.
"I'm trying to bring awareness to what is happening in our own community," he said.
Tureskis said the draft opinion overturning Roe was "definitely encouraging."
He said he would like to see the legality of abortion decided in the states, though he would support a national abortion ban in most circumstances. "I'd be in favor of anything that stops abortion, because it takes a human life," he said.
Dean Olsen is a senior staff writer for Illinois Times. He can be reached at dolsen@illinoistimes.com or 217-679-7810.