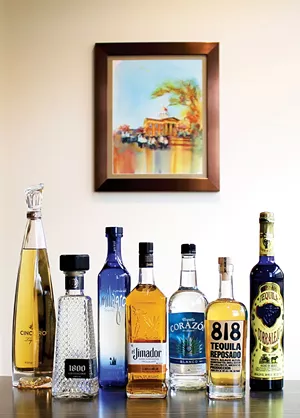 Tequila and I have had a somewhat complicated history. In fact, there was a time when even the very thought of having any made me ill. Since then, however, I've discovered that there's a lot more to tequila than margaritas, lemons and salt. And that there are many, many kinds of tequila out there beyond the Jose Cuervo that we're all familiar with. So, I was particularly pleased that I was asked by
Illinois Times
to participate in a tequila tasting.
My fellow testers included a professional who generally doesn't drink but who possessed a fine nose and sense of taste, a food industry professional with vast knowledge of tequila, and another IT freelancer who was no stranger to the culinary arts.
While we waited for everything to be set up, we learned that most tequilas come from the Mexican state of Jalisco and that tequila is distilled from the agave plant. And, much like with French wines, the tequila industry sets strict standards for what can legally take the name tequila – for example, at least 51% of the fermentable sugars must come from the blue agave plant.
Before starting, it was suggested that we focus on the following categories: nose (aroma), initial taste, body, finish, smoothness and price. In general, we tried to follow the guidance.
Two of the eight varieties we tested were felt to be better for casual drinking or mixing margaritas. All reviewers found the Milagro to be sharp with limited flavor notes other than that of distilled alcohol. I commented that it smacked one in the head as tequila that was meant to fire up a margarita machine, and another quipped that it was likely Jose Cuervo's cousin. Likewise, the panel found Corralejo to be better-suited for mixed drinks rather than sipping, thanks to its distinctive tequila smell and strong alcohol punch at the end.
Another two tequilas in the group are owned and produced by celebrities – Michael Jordan's Cincoro brand and Kendall Jenner's 818.
Despite the fact that I was pulling for MJ, everyone found Cincoro to be sweet with no bite and a strong taste of vanilla. It surprised us in that it tasted the least like tequila despite being made from 100% agave. Basically, unlike MJ, it had very little heft to it.
818 had a very strong vanilla nose to it. I found it to have an aroma of perfume. Others found it overpowering and one even commented that it was, like Kendall herself, "just too much."
Of the remaining four, all tasters found them to be more complex and interesting varieties. El Jimador is named after the worker who cuts the agave plants. We initially struggled to identify its nose until someone figured out that it was nutmeg. We all liked the fruity aroma and the spicey hit provided by the nutmeg, yet it went down smooth, although I detected a very small note of bitterness at the end.


The 1800 Cristilano is a new type of tequila, which is essentially extra-distilled through charcoal for a particularly smooth and clear drink that still manages to preserve the floral notes associated with fine sipping tequila. I likened it to a "gateway" tequila that would be helpful in introducing the liquor to those generally unfamiliar with the spirit. Everyone liked its smoothness and floral notes, with one taster appreciating the initial fiery taste that became "buttery" and "mellow" on the back end.
Another favorite, the Corazon, managed to maintain the standard tequila aroma we all know while maintaining a smoothness that made it a good sipping spirit. Compared to the Cristilano, we all knew we were drinking tequilla. This was a "blanco" tequila – meaning that it's generally not aged. Because of that, we all found it to be agave forward, with notes of pepper and citrus that gave it a spicy, yet smooth, finish.
Our last tequila sample was the Clase Azul. It was a late entrant, having been brought in by our food industry professional at the last moment. This brand came packaged in a striking ceramic bottle with a metal stopper that doubles as a shot glass and a bell. Each bottle is hand-crafted by a Mexican company staffed predominately with women, with each worker receiving fair wages in addition to two meals per day, transportation, day care services and tuition for school. Drink this tequila and you can feel good about yourself as well.
Clase Azul is a reposado, meaning it's rested for up to 12 months in oak barrels. Everyone loved the sweet agave odor with its herbal notes, but we also detected hints of cinnamon, caramel, nutmeg and vanilla. There was a depth and complexity present. As good as it was for sipping, we all thought that it would elevate a margarita into something special.