Rows and rows of blooming cherry trees are a happy sign of spring, but if you can't make it to Japan or even Washington, D.C., to take in the stunning sight, don't despair. Three spots within a few hours of Springfield can provide petal magic.
The University of Illinois Urbana-Champaign, the Missouri Botanical Garden in St. Louis and Jackson Park on Chicago's south side all offer substantial plantings of Japanese cherry trees. Peak blossom time ranges from March to May, depending on the location and weather.
UIUC
Japan House on campus hosts three varieties of cherry trees, donated by a prominent Japanese tea school headmaster. Each spring thousands of visitors flock to see and walk under the 50 blooming trees, says Diana Lao, Japan House's education associate.
The donation by Dr. Genshitsu Sen came after he attended the house's tenth anniversary in 2008. He suggested cherry trees would enhance the tranquil setting and sent his gardener to help create the Sen Cherry Tree Allee. Some 35 of the trees are along the walkway, with others scattered throughout the grounds.
Most of the trees are Yoshino cherry, which is the same variety common in D.C. The others are Sargent and weeping cherry trees.
"They've come a long way since their planting and are quite large now," says Lao. But Illinois' unpredictable winters can be rough on the trees, including one year when they did not bloom. The next year, however, blooms abounded.
Diane Anderson, horticulturist at the university's arboretum, agrees the non-native trees struggle in the Midwestern climate. "They're not in great condition and are not long-lived, but we do have plans to start replacing them."
In the meantime, visitors can check the Japan House website for peak blooming, which usually happens in late March and throughout April. "When they are blooming, there are people all over the place," says Anderson. "They are beautiful and Japan House does a fantastic job of publicizing them."
For more information and to check blossom progress, go to japanhouse.illinois.edu.
Missouri Botanical Garden
The Missouri Botanical Garden in St. Louis claims to have the best cherry blossom display in the Midwest with more than 150 trees of 20 different species, cultivars and hybrids. Ben Chu, horticultural supervisor for the Japanese and south gardens, says cherry blossoms can last five to six weeks there, starting in March.
The biggest concentration is in the Japanese garden, where the first planting began in 1976. Typically, cherry trees live 20-30 years in the St. Louis area, so some trees are third generation, he explains.
Of the garden's 50 Yoshino cherries, 20 of them can trace lineage to the D.C. trees, according to the garden's website. Other varieties include weeping Higan, double-flowered Kanzan and cherry plum.
The garden hosts special viewing hours during peak bloom, which is considered to be when 70% of the flowers are open. That can start as early as March 23 and last as late as April 17.
Chu says crowds can be heavy that time of year and the trees' placement in the garden makes them popular. "With the Yoshinos on the hillside, you get this massive display of the trees that really draws people."
This interest mirrors what happens in Japan, Chu says. "The people there follow blooms closely and there is a lot of excitement around cherry blossoms."
For information and this year's schedule, go to missouribotanicalgarden.org.

click to enlarge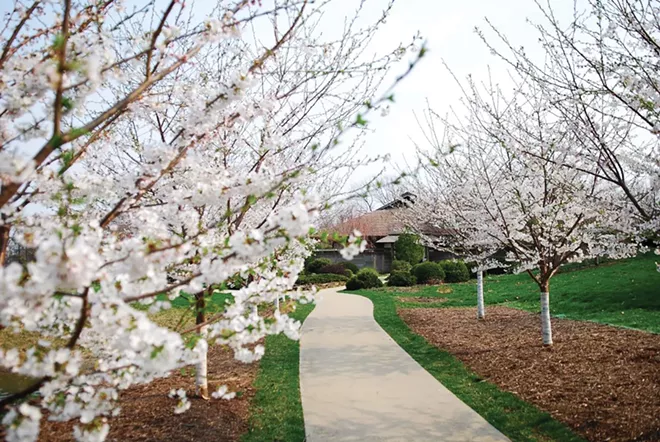 Jackson Park
Chicago's south-side Jackson Park offers a cherry blossom paradise with 160 trees, the largest collection in the Chicago area. Many of the trees are on the park's Wooded Island in its Japanese garden. Also called the Garden of the Phoenix or the Osaka Garden, the site honors Chicago's long-standing relationship with its sister city, Osaka, Japan.
Newer trees line the park's Columbia Basin, behind the Museum of Science and Industry. The white to deep pink blossoms are usually at their peak the first two weeks of May and last six to 10 days.
For more information, go to chicagoparkdistrict.com/cherry-blossoms.
Washington, D.C./Japan
In case you feel like traveling to the nation's capital to take in the stunning sight of cherry trees by the Tidal Basin, you should know the annual National Cherry Blossom Festival is March 20 until April 17 this year. And if you are lucky enough to see and smell the cherry blossoms in Japan, you can be part of an ancient tradition known as hanami, where people celebrate new beginnings and enjoy the beauty of the flowers.
By visiting Urbana, St. Louis or Chicago, you can celebrate hanami much closer to home as well.
Mary Bohlen is a Springfield travel writer who looks forward to all kinds of spring blossoms.