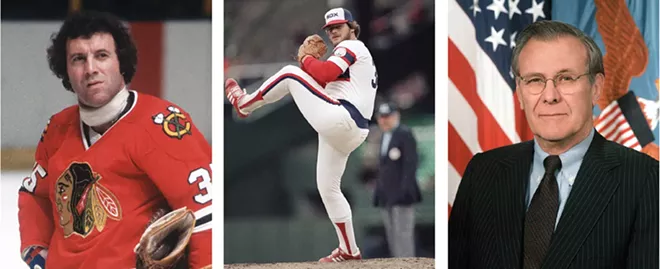 We welcome letters. Please include your full name, address and telephone number. We edit all letters. Send them to editor@illinoistimes.com.

—-
A FEW YOU MISSED
I see your year-end "Remembering" issue took its cue from pandemic precautions and stayed close to home (Dec. 30, 2021). I'll try to fill in a few notable Illinois omissions, especially one whose lifework pretty much mirrored your paper's mission.
As for stories about local folks who left us in 2021, it was heartening to read time and again how lifting others up shines as their legacy.
As for shortcomings, two come to mind from sports. Longtime NHL Blackhawk Tony Esposito died last year. So did Cy Young-winning pitcher Lamarr Hoyt, who had his best years with the White Sox.
There are also two from politics, a pair of opposites. Illinois native Donald Rumsfeld, U.S. secretary of defense under two presidents, died in early summer. Sixties radical Rennie Davis, famed for his Illinois time around 1968 protests and the Chicago Seven trial, died in February.
But to me, the real blunder was skipping over the August death of Decatur native James Loewen, author of Lies My Teacher Told Me: Everything Your American History Textbook Got Wrong, a multiple-award-winning look at how our students learn their nation's story.
One of my favorite lessons from Loewen involved his own Woodrow Wilson Junior High School just an hour east of Springfield. He railed against the esteem accorded his school's namesake while his racism, such as resegregating much of the federal government while president, went mostly unexamined for decades.
Just like everyone, I hope 2022 brings an end to the virus that keeps us down and affords your paper a wider view of the world around us.
Douglas Kamholz
Springfield
—-

TRACK STAR
In your piece about the recently deceased Chuck Flamini it was mentioned that he was a track coach, but it wasn't mentioned that he was a track star in his own right at Eastern Illinois University where he was a record-setting sprinter in the 100-yard (now 100-meter) dash ("A teacher at heart," Dec. 30).
Mike Shepherd
Springfield
—-

MISSING KRES
Kres Lipscomb was a great man who was there for my family no matter what. He was always happy to see you and always had a smile on his face. He will be dearly missed.
Sarah Berkley
Via illinoistimes.com
—-

AMAZING WOMAN
Great stories. Sadly, I knew several of those profiled. Peggy Ryder was an amazing woman. I know her from the Dana-Thomas House and was saddened to see her ill last summer, even sadder when I saw her obituary not long after.
Melinda Hall
Via Facebook.com/illinoistimes
—-

NO ALTERNATIVE
As the former city traffic engineer, there is no viable alternative to left turn lanes on both Lawrence Avenue and MacArthur Boulevard ("Heavy traffic," Dec. 23). Changing the sight lines for the left-turning traffic is necessary to allow the drivers to see the approaching through traffic to safely turn. Currently, that sight is blocked if there is a vehicle in each of the opposing left turn lanes. Having two through lanes will provide the capacity needed and may reduce the late red-light running that now occurs.
However, there may be some changes that could be made to reduce some of the complaints. The curb lanes could remain 11 feet wide, but the middle lanes could be reduced to 10 feet each or all lanes reduced to 10 feet. A minor shift in one or both of the centerlines may be helpful.
I studied the collision data each of the 14 years that I was city traffic engineer, and the proposed turn lanes are the only improvement that will address the collision problem. Two lanes each direction are necessary to provide the capacity needed.
Tyre W. Rees
Springfield