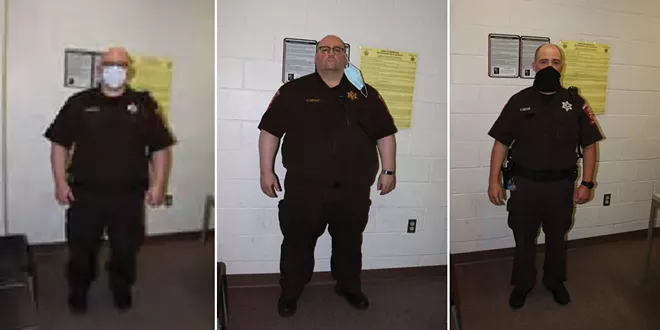 One inmate told state police that Jaimeson Cody said "I can't" when Sangamon County jail guards ordered him to put his hands behind his back. Two others told investigators that Cody said, "I can't breathe" as Sangamon County jailers struggled to put him in handcuffs, then a restraint chair last April 27.
Cody, 39, never made it to the chair. After getting handcuffs on, guards reported that they paused to regain their composure, then noticed Cody was turning blue, according to records recently released by state police and the county coroner that provide the most details to date of the April 27 tragedy. He was pronounced dead soon after arrival at Springfield Memorial Hospital. Jailers went to Cody's cell after noticing blood on his clothing, apparently from a self-inflicted injury. One guard said that he'd been sweating and talking about SWAT teams and getting shot in the head.
The coroner declared it a homicide. No charges have been filed. Cody died from asphyxiation caused by restraint, according to the coroner's office. One of the inmates who reported hearing Cody say "I can't breathe" figured as much when state police interviewed him less than seven hours after the tragedy.
"The first time the inmate said he couldn't breathe was quite vocally and the second time he said he couldn't breathe was under quite duress," a state investigator wrote in a report summarizing the interview. "(The prisoner) believed the inmate died because of the way he was restrained in such a manner his airway was cut off. He believes he either suffered cardiac arrest or was suffocated."
Inmates' names are redacted in reports obtained under the state Freedom of Information Act. Three guards, including Sgt. Earl Grigsby and correctional officers Kyle Meyer and Scott Meyer, battled Cody at the entrance of his cell – a surveillance camera didn't activate, and so the altercation wasn't captured on video. In his statement, Scott Meyer wrote that he put his full weight on Cody's back while the inmate was prone; Grigsby said he put his body over Cody's legs. Guards shocked Cody with a Taser five times during the struggle. No one was disciplined.
All three jailers refused interviews with state investigators, saying that they would stick with written statements unless ordered by Sheriff Jack Campbell to answer questions. Campbell, via electronic message, said that he can't force guards to cooperate with outside investigators.
Mark Wykoff, a Springfield criminal defense lawyer not involved in the case, says that remaining silent is smart. "As a general rule, it's best to keep your mouth shut," Wykoff said. "If you're going to have words to share, probably the first time you should do it would be on the (witness) stand." A nurse who stood by during the struggle told investigators that he couldn't recall Cody saying anything other than he didn't need any help.
State police had several questions for guards who wouldn't talk, according to files. How long did you lay on Cody? Did you have your weight on him after he was handcuffed? Did he say anything during the encounter? Did you see anyone put their weight on Cody? How long did the altercation last? How long did you pause to regain composure after Cody was cuffed?
With the release of records, at least some questions have been answered for Cindy Cody, the deceased inmate's stepmother.
"Who's responsible for providing us with the names of the individuals responsible for our son's death?" she asked during an August county board meeting. "We want answers. We want information. We want transparency." A request for documents she filed in October with the sheriff's office was denied on grounds that providing the records would be unduly burdensome, Campbell explained in an electronic message.
More than a month later, when a journalist requested records from state police and the coroner's office, the state's attorney's office mailed files to Cody's stepmother, including documents from the sheriff's office, that included the names of jailers involved in the altercation that she had demanded last summer.
"All of a sudden, your FOIA (Freedom of Information Act response) came to me – it had your name on it as the requester," Cindy Cody told a reporter last week. "It had everything in it I had been trying to get."
Cody said she couldn't make it through the entire file, which included photographs of blood and the corridor where her son lost his life.
"I read some of it, and it sickened me when they interviewed inmates and two people told them 'I can't breathe,'" Cindy Cody said. "And they still sat on him. It broke my heart."
Bruce Rushton is a freelance journalist.