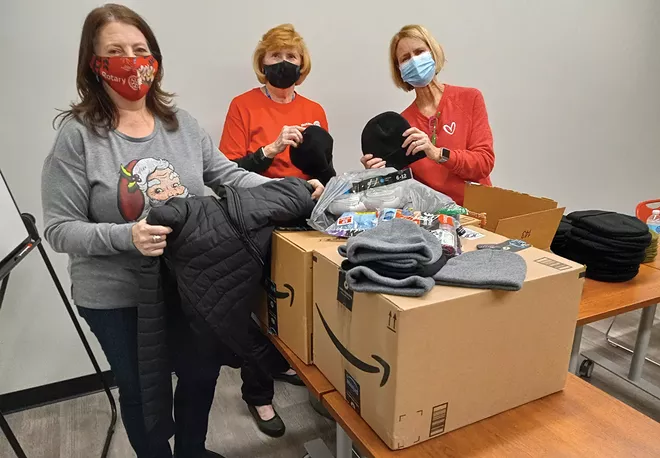 'Tis the season to count one's blessings and help others who are less fortunate. Four local Rotary Clubs are collaborating to help the homeless by providing new coats, socks, sleeping bags, underwear and personal care items. They are partnering with the Salvation Army and hosting an event at the warming shelter at 211 N. First St. to distribute the items and also provide a meal.
The Downtown, Sunrise, Midtown and South Rotary Clubs joined forces and applied for funding from Rotary District 6460 for a helping the homeless initiative. Collectively they received grants totaling $9,400. In addition, the clubs are using their own funds to cover the cost of providing approximately 50 meals at the distribution event at the warming center.
Rotarians shopped for new coats, socks, hats, gloves, underwear, sweatshirts, sleeping bags and personal care items and also collected gently used coats for distribution to the homeless. Approximately 200 care packages were assembled, including soap, shampoo, toothbrushes, toothpaste, other toiletries, socks, gloves and packaged food. In addition to distributing these items to the homeless through the Salvation Army, care packages are being given to the Springfield Police Department to distribute to homeless individuals.
Serve to Change Lives is this year's Rotary International theme. "Our hope is that this project does change the lives of those we help by providing some clothing and personal items as we head into the coldest time of the year. We are also reminding them that there is a local community here who cares about them and wants to help," said Tate Hartman, Rotary assistant district governor.