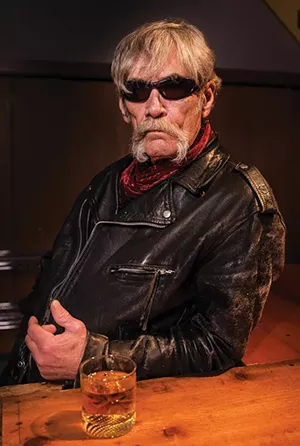 As the holidays come closer, we all know how much music is a part of the celebration from Rudolph to Bethlehem, Santa to jingle bells and herald angels to your two front teeth. Songs about the "most wonderful time of the year" are ubiquitous, ever-present and undeniable. So get out there and enjoy it all and be safe while doing so, please.
It's so very nice to see all the good work from the Springfield Area Arts Council and the Community Foundation for the Land of Lincoln come to fruition as more Back to the Music gigs are popping up all over the place. Many shows have already been hosted, while even more are lining up to perform at locations in our community, both regular venues and other spots not known for live music. This Thursday, Dec. 9, Jack White plays holiday music at It's All About Wine (he's also there on Dec. 17 with both gigs going from 6 to 8 p.m.), while the Samba Llamas cha-cha-cha at Roots Latin Grill (6 to 8 p.m.). A couple of folk groups captained by William Furry are up next when Thistle and Thyme seasons up Edwards Place (6 to 7 p.m.) on Thursday and Wild Columbine sweetens up Books on the Square (1 to 2 p.m.) on Saturday, while on Sunday, Emily Wheeler rolls into the DeWolf Bed & Breakfast in Jacksonville (1 to 2 p.m.). Keep your eyes and ears peeled for more of these wonderful gifts coming your way, and say a little thanks for the help musical artists are receiving this season after a long drought of live music opportunities.
More holiday happenings come this Thursday when Fun DMC hosts a Christmas at The Curve fundraiser event from 6 to 10 p.m. for Toys for Tots at the always-in-season Curve Inn. Joining in to help put the fun into fundraiser are mighty music-makers JackAsh and Unchained. Please bring a toy to donate or drop in some cool cash to aid this fine organization in helping to bring toys to kids who otherwise might not be getting those Christmas morning gifts. Thursday presents us with yet another hip happening going down when Brandon Santini's Big Time Blues Trio, featuring Robert "Lefty Preacher" Sampson and Ron James, perform their inaugural gig with an evening show at Whiskey Jack's on the corner of Fifth and Monroe.
Friday is also bursting at the seams with live entertainment on all levels. Check out these solo acts with Josie Lowder at Anchors Away, Joel Honey at Harvest Market Farmhouse Brews, Gabe Marshall at Brewski's and Avery Kern at Slaughterhouse Brewing in Auburn. For band action, how about Smells Like Nirvana at Danenbergers, Brushville at Motorheads, 8Up at the Main Gate, 1 in the Gun at the Stadium and Brandy Kristin & the Revival at Weebles. As far as Saturday goes, it looks like a blow out of bigger proportions than on Friday, so I ain't even going there, but you sure can by checking out our music listings, then picking and choosing for yourself from the wide variety of bands and such playing all over this old town.
Here's a hot tip for Sunday when outlaw country music legend Billy Don Burns, joined by the one-and-only Tom McElvain, takes to the intimate stage in Riverton's Backroom Lounge for a Sunday Sermon show at 3 p.m. Call 217-629-9493 to reserve a seat, and don't wait around, 'cause this one will be a full house.
Take care and enjoy the seasonal fare.