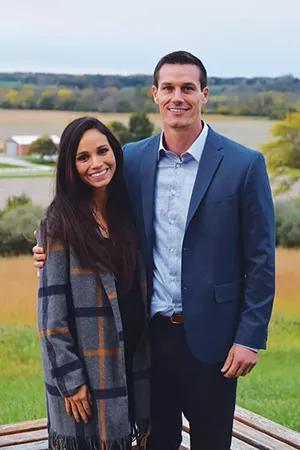 He's handsome, articulate and driven. His pretty wife and four adorable children appear to have come right out of central casting.
When Jesse Sullivan launched his campaign in September, he already had raised $11 million, several times more than all of his Republican opponents combined.
In fact, not that long ago – before billionaires and near-billionaires started funding their own campaigns for the state's highest office – that would be about half of what a successful gubernatorial campaign cost.
For example, in 2010, Pat Quinn spent $23 million to capture the Governor's Mansion. By comparison, Gov. JB Pritzker spent $172 million of his own money to capture the office in 2018.
"Starting out a campaign with $11 million is impressive, but he's going to have to raise a whole lot more than that if he's going to take on Pritzker," former governor George Ryan said.
Although Sullivan calls himself a conservative, he also speaks of compromise and consensus – much as Jim Edgar and James R. Thompson did during their terms in office.
For example, he identifies as pro-life, but admits he knows that most people in the legislature don't agree with him on the issue. He added he is hopeful he can work with Democratic lawmakers to find ways to reduce the number of abortions, a goal shared by many on both sides of the ongoing national debate.
With answers like these, some Republicans say he has already failed the ideological litmus test.
"I think we have some Republicans afraid to take on the cultural wars that should be taken on," former state Rep. Jeanne Ives, R-Wheaton, said. "Illinois stands as an extreme state in what is arguably still a very Midwestern culture. Schools, certainly, rise to the top as an area to be examined. Democrats have pushed comprehensive sex-ed bills, LGBTQ curriculum and mandated culturally responsive teaching."
She said she is skeptical of any Republican afraid to take on these issues.
"You're probably going to get a conservative that actually wins the Republican nomination for governor. You're not going to get one of the more moderate candidates. Even though all four identify as conservative, when you look into their policy positions, there are obviously some that have more moderate positions," Ives said.
State Sen. Darren Bailey, R-Xenia, also is seeking the GOP nod for governor.
In a stage whisper with the tone of a preacher talking about Sodom and Gomorrah, Bailey says of Sullivan's campaign donations, "His money is coming from San Francisco."
Sullivan said he worked as a venture capitalist in Silicon Valley and developed relationships with successful people who want to support him. He added he is confident he can continue to raise money to be competitive if he is the Republican nominee.
But that's a big "if."
Former state treasurer Dan Rutherford, a moderate Republican, said the Illinois GOP has changed and is no longer as tolerant of those willing to seek consensus and compromise with Democrats.
"I expect Gary Rabine will be the nominee. He's conservative, has access to donors and lives in the suburbs," he said. If not Rabine, Darren Bailey will likely receive the party nod, he said.
Neither man is capable of winning a general election against Pritzker because they are too far to the right to appeal to independent and Democratic crossover voters, Rutherford added.
Oddly enough, Sullivan's well-burnished resume with master's degrees from Oxford and Stanford universities may prove to be an obstacle for some GOP voters, said Jim Nowlan, a retired University of Illinois political science professor and a former Republican state lawmaker.
"There is an anti-elitist element in the Republican Party," he said. "We see that in some Trump supporters. There is also a deep political division between college graduates and high school graduates. Those degrees of (Sullivan's) are not going to particularly impress high school graduates downstate. In fact, they may view them with suspicion. But in the suburbs, where there is a much higher percentage of college graduates, they will be viewed as a positive."
Sullivan is also quick to point to his small-town and working-class credentials.
He grew up in Petersburg, where his father was a public-school teacher and raised a large family. He added his wife, Monique, is Hispanic and will be able to help him campaign among the state's growing Latino communities. She also was on staff with Barack Obama's first presidential campaign, which may help him attract those who usually vote Democratic.
Still, influential Republican voices remain skeptical.
"He's never held public office before and he has no record of helping Republican candidates in Illinois," former state Rep. Ives said.
Although Ives is a conservative, she concedes Illinois Republican voters are more moderate. However, she doesn't think that means a moderate would be the best gubernatorial nominee.
"I would say across the board, Illinois Republicans tend to be moderate. We are not Alabama, Mississippi, South Dakota Republicans. ... (Some Republicans think) we can't talk about cultural issues. We can't talk about abortion. We can't talk about guys not being in the girls' bathroom. We can't talk about public sector unions and stuff like that. That is the wrong position, because Illinois is an outlier in all those areas," she said. -Scott Reeder