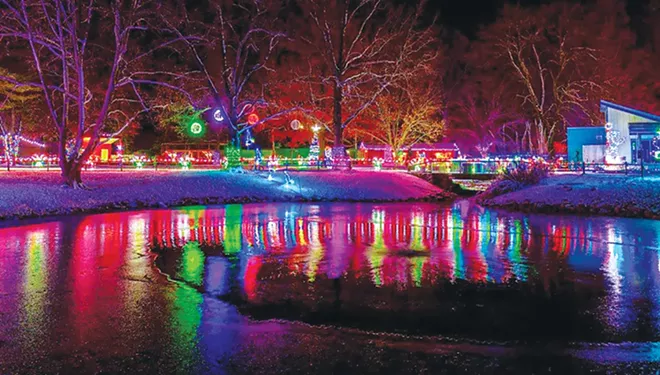 You may not be able to catch the twinkle in Santa's eyes, but your eyes can see lots of twinkles at holiday light displays in central Illinois. A variety of places offer delight to driving or walking visitors with the bonus of being a safe activity during the pandemic.
COVID-19 concerns and the cancellation of many indoor traditions in 2020 led to a big jump in attendance at outdoor displays. Rollo Saucier, chair of Light up the Park in Chatham, said the display drew 5,400 cars in 2019.
"Last year with COVID we had 13,000," he said, with each car carrying an average of three people. "So we were close to 40,000 people." Saucier expects even more this year.
Bill Bly, coordinator of the Shelbyville Festival of Lights, agrees this year could be big, because last year attendance jumped to 10,000 cars after years of averaging 6,000-6,500. "Most people are surprised the little town of Shelbyville has such a big display and they want to come back," he said, calling his hometown's show the "brightest in central Illinois."
Mark your calendars to load up the car and head to one or several light shows in the area.
Springfield
The Henson Robinson Zoo near Lake Springfield will celebrate its 25th year of Winterland Holiday Zoo Lights with walk-through displays, ice carvings, a hot cocoa bar, visits from Santa, Christmas karaoke and performances by music and dance groups.
The event runs 5-9 p.m. Nov. 26-28, Dec. 3-5, 10-12, 17-23 and 26-30. Last admission is at 8 p.m. The cost is $7 for ages 13 and up, $5 for children ages 3-12 and free for children 2 and under. Visitors may be able to spot a few animals, but most are hunkered down for the winter.
Chatham
Saucier said the Friends of the Park are sponsoring the ninth annual drive-through light festival every Thursday through Sunday from Nov. 26 to Dec. 26 from 6-9 p.m. The park in the southern part of town will feature hundreds of thousands of lights on more than 50 displays. Suggested donation is $5 per vehicle with the proceeds going to park improvements.
"It has become a tradition," Saucier said. "We are getting more people from farther and farther away."
New displays this year include an elf jumping over a candlestick and a dancing Christmas tree, Saucier said. "The new biggie is a 14-foot-tall rocking horse." A 120-foot-long and 14-foot-tall tunnel is popular and uses 144 strings of lights.
The event depends on hundreds of volunteers and takes a full month to set up and another to take it down, plus it requires the lights to be tested before installation. A big job is installing lights on 75 trees to give the park an even more festive feel, he said.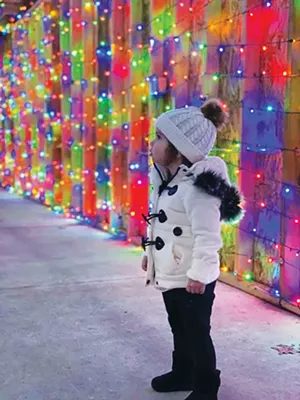 Shelbyville
Those who head to this town 60 miles southeast of Springfield can view the Festival of Lights at Forest Park from Nov. 19 to Jan. 1. Hours are 5 to 10 p.m. Fridays and Saturdays and 5-9 p.m. Sundays through Thursdays. Donations of any amount are accepted and vehicles can go through again without extra cost. All proceeds go to maintaining the lights.
Bly, in his 17th year as coordinator, said he thinks East Peoria's holiday light festival is the largest in central Illinois but Shelbyville has the brightest because the supporting structures are painted the same color as the bulbs. This year a dragon, a riverboat and a sleigh join 500 individual displays. Some of the 60 largest ones are animated, adding to the fun.
The town has been hosting its light festival for 27 years after acquiring many displays from the former Eagle Creek Resort, which showed them for 10 years.
East Peoria
The city claims its Festival of Lights is one of the largest lighted nighttime festivals in the Midwest, and visitors would be hard-pressed to disagree. Highlights include a parade of lighted floats on Nov. 20, a drive-through park filled with three-dimensional displays, an enchanted forest and other aspects of a winter wonderland.
The festival runs Nov. 25 to Jan. 2 from 5-9 p.m. most Sundays through Thursdays, 5-11 p.m. Fridays and Saturdays and 5-9 p.m. Dec. 24 through Jan. 2. Admission is $10 per passenger vehicle. The event draws 25,000 vehicles each year.
Popular lighted attractions include a Clydesdale horse team and wagon, a triceratops, Puff the Magic Dragon and a space area with Star Wars fighters and a space shuttle. Organizers say the electric bill for the 3 million lights used can reach $5,000.
Monticello
Allerton Park near Monticello sponsors Holiday Glow, a one-mile illuminated walk through formal gardens and woodlands and a holiday showcase in the Allerton mansion starting Dec. 4.
Hours are 5-9 p.m. Dec. 4-23, Dec. 27-30, Jan. 7-8 and Jan. 14-15. Admission is $10 per vehicle and limited, so visitors need to buy tickets in advance; they are on sale now. Masks are required for the mansion, and food trucks and a cash bar will be on the grounds. This is the sixth year for the popular festival.
Belleville
The Way of Lights at the Shrine of Our Lady of the Snows has been an annual tradition for many families, beginning in 1970. The Missionary Oblates of Mary Immaculate host the event from Nov. 19 through Dec. 31, with only the outdoor light displays open on holidays.
In addition to a drive-through light display focusing on the religious aspect of Christmas, the event includes camel, pony and donkey rides; a petting zoo; professionally decorated Christmas trees; a wreath auction; a Lego display and refreshments. Tuesdays offer discounts for families for rides and refreshments. Admission to the drive-through part is by donation.
The light display runs 5-9 p.m. daily while the visitor center, where the additional activities take place, is open 10 a.m. to 9 p.m. Live performances by area bands, choirs, dance groups and puppeteers add more fun.
Other displays
A number of other cities sponsor notable holiday light displays including Alton, Aurora, Brookfield (Zoo), Chicago (Museum of Science and Industry and Lincoln Park), Effingham, Lisle (Morton Arboretum) and St. Louis (Missouri Botanical Garden, Zoo, Anheuser-Busch Brewery).
Mary Bohlen is a Springfield-based travel writer who enjoys light displays of all kinds.