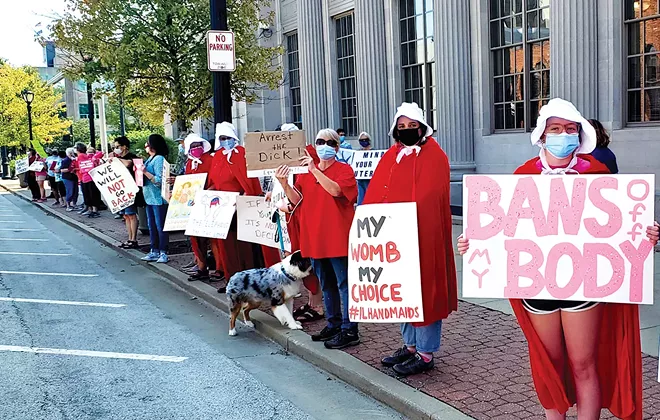 Kodi Smith, a 22-year-old paramedic student from Taylorville, joined a protest outside the federal courthouse in Springfield on Sept. 10. The demonstrators were speaking out against a major win for anti-abortion advocates – the ban in Texas that makes it next to impossible for those seeking abortions to do so legally in the state. "I believe every woman should have the right to choose what she does with her body. And that should be no one else's choice or business," said Smith.
The ban in Texas, which makes abortion illegal as early as six weeks into pregnancy, makes the issue a civil one, not criminal. Individual citizens can serve as plaintiffs and stand to win at least $10,000 per lawsuit filed against those who help someone obtain abortion, including providers. Opponents of the law refer to it as a bounty system, due to the incentive for private citizens to turn each other in for monetary gain.
"It's a bit obscure," said Jason Pierceson – political science professor at University of Illinois Springfield – about the Texas measure. He said it was designed with the purpose to evade court challenges.
Earlier this month, the majority-conservative Supreme Court refused to block the Texas law. And a Mississippi case before the court challenges Roe v. Wade, the 1973 law that protects the right to abortion without excessive government interference.
"If Hillary Clinton had won the 2016 election and been able to appoint three Supreme Court justices, it would not even be a question as to whether or not these laws were unconstitutional. They would be deemed unconstitutional," said Pierceson.
Pierceson added the current abortion battle is leading the courts into unusual territory. "Justice Breyer called the Supreme Court decision on the Texas law a very, very, very large mistake. That is almost unheard of, for a sitting Supreme Court justice to be that critical of his colleagues publicly."
Meanwhile, Illinois remains a place in the Midwest where abortion is accessible. In 2019, the governor signed the Reproductive Health Act. It was crafted to thwart the Supreme Court potentially overturning Roe v. Wade. "It certainly means that for the foreseeable future, abortion rights will be strongly protected in Illinois because of that law," said Pierceson.
In Granite City, the Hope Clinic for Women is prepared to help an influx of clients. "About 60% or more of the patients that we see are currently coming from other states outside of Illinois," said Alison Dreith, deputy director of the clinic. The clinic is on the border of Missouri, where there is only a single abortion clinic in the entire state. Dreith said abortion funds are helping Texas women travel to other states for care.
"We were seeing patients traveling to us from Texas at the beginning of the COVID-19 pandemic," said Dreith. That's because the Texas governor all but halted abortions, citing a need to preserve medical equipment as the reason.
"We started this journey around 2019, preparing for a bad Supreme Court outcome," said Dreith. She said the clinic has increased its staff in anticipation of a growing need for care. The clinic was built for around 10,000 patients per year, and currently is only seeing about half of that, she said. "'We're really lucky to be in this state that is taking women's health and autonomy seriously," said Dreith. She added her heart is broken for the patients and providers in Texas "and the bounties that are on their heads now."
Smith, the paramedic student, said she volunteers as an escort at an abortion clinic in Springfield. There, she said, patients often face extreme rhetoric when entering the building. Anti-abortion protestors "get very aggressive. They address you directly and tell you you're going to hell. They're very antagonizing," Smith said.
For those who oppose a person's right to have an abortion, the Texas ban is a major victory. They hope the law in Texas will lead more states to follow suit. But even those in the so-called Right to Life movement admit such a law is far from feasible in Illinois, due largely to its political makeup.
Brigid Leahy, senior director of public policy for Planned Parenthood of Illinois, led the rally in Springfield last week. From a megaphone she chanted, "No bans, no bounties."
"This kind of vigilante enforcement is very dangerous," Leahy told Illinois Times. Some providers in Illinois are already seeing people travel from Texas to seek access to care, she said. But not all people seeking abortion will have the same ability to travel. The law is especially harmful to those from already marginalized communities.
Leahy said work to bolster abortion access in Illinois is ongoing. A measure before the state legislature would make it so minors who want abortions but lack approval from an adult family member no longer have to go before judges in court to seek permission. Efforts to repeal the Parental Notice of Abortion Act are supported by the governor. Leahy said given the latest wins for those who seek to limit access to abortion, it is increasingly important not just that abortion is legal in Illinois, "but that it is also accessible and is accessible to everyone."
Contact Rachel Otwell at rotwell@illinoistimes.com.

This article has been updated to correct the date of the protest.