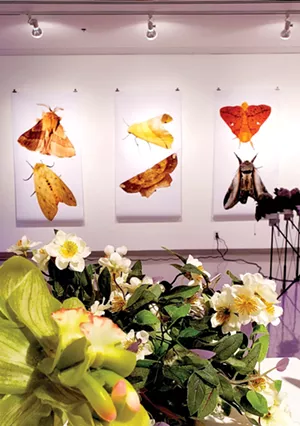 There's something strange growing at the University of Illinois Springfield Visual Arts Gallery. Fittingly, the gallery is attached to the Health and Sciences Building, because the current exhibit looks as though some wild experiments made their way into the art space. Only, these plants dance and sing. They are robotic. In fact, one resembles some sort of animal, with a little tail that wags if you touch it just so.
On the walls are huge photographs of moths. There's even a moth tent with a light, used to attract the specimens. The show is called "180,000+" – the number of blooming plant species that are pollinated, plus a few extra created by PlantBot Genetics. That's the parody of an agriculture firm birthed by artists and married couple Wendy DesChene and Jeff Schmuki. The project riffs on the big business of biotech and food production and monoculture's harmful impact on the environment. The interactive exhibit invites viewers to get up close and personal with the artwork in a way that might provoke new thoughts about the fields of crops that surround the gallery.
Schmuki, who teaches art at Georgia Southern University, and DesChene, an art professor at Auburn University in Alabama, are interested in enhancing environmental literacy. Much of their work is done to disrupt public spaces in a way that invites in people who might not otherwise engage with conceptual art. "We started as a street project. So our very first project was a robotic plant that we could drive around different cities," said DesChene. The project brought in curious people from all walks of life.
And instead of preaching to viewers about impending doom, onlookers are invited to play and to laugh, and from there, to maybe dig a little deeper and ask more questions. In the show at UIS, the audience must push buttons to engage the robotic plants. "Without the public, our work would not exist," said Schmuki.
The moths on the wall represent species native to the area and are gorgeous in close detail. Schmuki and DesChene said the insects are unsung heroes of pollination and are beautiful in their own right, even though butterflies get more praise by comparison.
To the couple, art and activism belong together. And keeping things playful helps activate people who might not have been called to learn more about the intersection of technology and agriculture otherwise. In addition to raising serious questions and concerns about issues such as the decline of pollinating insects, there is hope, said Schmuki. Movement toward a better world can be as simple as tossing a handful of seeds onto an overly cultivated, boring lawn. "There are things you can do to help the pollinators, such as plant native wildflowers."
The exhibit "180,000+" is open now and will continue through Thursday, Sept. 16. On Thursday, Sept. 9, the gallery will host a reception from 5:30-8 p.m. Allison Lacher, art instructor and director of the UIS Visual Arts Gallery, said the exhibit has already stirred up attention on campus, and the scientists in the building are especially appreciative. "It really promotes social engagement and individual action that promotes sustainability," said Lacher. "And it's a fun show at a time where we might really need to have a fun show."
Schmuki and DesChene recently gave a lecture for UIS that was recorded. To view that, and for directions to the UIS Visual Arts Gallery and more information on the exhibit, visit uis.edu/visualarts/gallery. You can find out more about PlantBot Genetics at monsantra.com.
Contact Rachel Otwell at rotwell@illinoistimes.com.