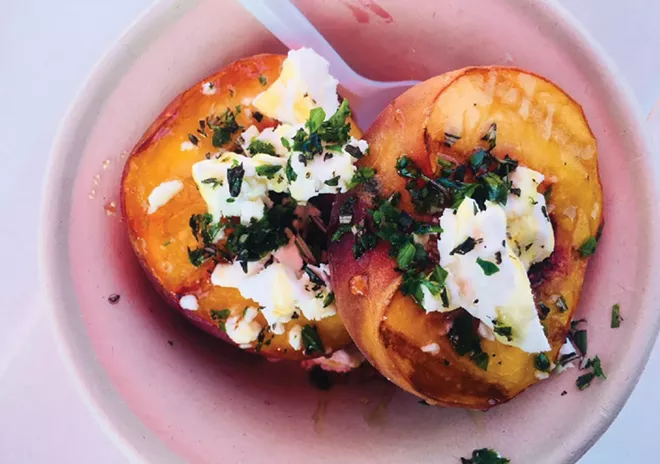 I share a long butcher block work station at Minneapolis' Spoon and Stable restaurant with Alexandra Motz, executive pastry chef. One of the first people to befriend me when I started my new job, Alex's appearance is quite striking to say the least. With tattooed arms, stretched ear lobes, a nose ring and hair dyed the colors of the rainbow, she is uniquely beautiful. Chef Alex is outgoing, strong and generous, and every day I look forward to seeing her. In our conversations working together, we discovered that we had a shared history. From the time she was a toddler until the age of 16, she came to Springfield with her mother, sculptor Demetra Saloutos, to exhibit at the Springfield Old Capitol Art Fair.
Chef Alex is herself an artist. On her Instagram page, she describes herself as a "sweets maker//paint schmearer." Her paintings, like her pastry creations, are whimsical, colorful and eclectic. She says she became a pastry chef because of the artistry. "I find my creativity through colors, especially in spring and summer with the variety of fruits and vegetables available." Every day I watch with curiosity and fascination as she moves from one task to the next, creating components for her desserts, which are assembled to order during dinner service in the open dining room kitchen. Little squiggles of chocolate dusted with cocoa powder and wild rice puffed in hot oil will become part of her dessert entitled "Chocolate Ganache Tart with Cherries, Wild Rice Dragée and Salty Caramel Ice Cream." She makes ice cream out of beeswax to pair with powder-puff pink rosé strawberries for her Honey and Cream Cake. She pairs cinnamon-spiced Horchata Panna Cotta with angel food cake dusted with poppy seeds, cubes of honey dew melon, lemon granita and pink oxalis flowers. Each dish is a miniature edible sculpture.
I just watch her working out of the corner of my eye as I roll out my baguettes, and wonder where she comes up with her crazy, delicious ideas. "I've always been an advocate for educating, inspiring and sharing. We learn from trial and error as artists, but we don't give up." She's not afraid to take chances. "Shame and embarrassment is quite a powerful learning tool."
When I asked Chef Alex if she would contribute a recipe for my Illinois Times column, I emphasized that it needed to be approachable for home cooks. What she ended up offering surprised me with its simplicity: Grilled Peaches. She told me: "This was the most popular food item at the 2018 Minnesota State Fair." The Minnesota State Fair is a big deal. It's the most heavily attended state fair in the country, setting a record of over 2 million visitors. Alex developed this recipe for her friends, Sharon and Kevin Hannigan, who own a business called the Produce Exchange and have a food concession at the fair. The dish consisted of herbed goat cheese, drizzled with honey, on top of a grilled Sweet Dream Peach. It was so wildly popular that the Hannigans, who started out with 40 pounds of goat cheese, ended up scrambling and having to scour the Twin Cities to buy up all the goat cheese they could get their hands on... "about a few hundred pounds."
This is a great use for peaches that aren't quite ripe enough. The grill has the ability to elevate peaches to a stunning dessert with nothing more than heat. The high heat from the grill coaxes out their juiciness and caramelizes the natural sugars found in the fruit.
Grilled Peaches with Herbed Goat Cheese and a Honey Drizzle
According to Chef Alex, Sweet Dream Peaches are the best on the market! They are low acid, so they're sweeter than most peaches. "It is melt-in-your-mouth juicy!" If you can't find Sweet Dream Peaches near you, that's OK. Sweet peaches or sweet nectarines are good alternatives.
Ingredients:
4 Sweet Dream peaches
Goat cheese
Fresh parsley
Fresh rosemary
Fresh chives
Honey
Sunflower oil
Equipment needed:
Grill
Tongs
Preparation:
Cut peaches in half and remove the pit.
Chop herbs finely and toss in with goat cheese. Set aside.
Get your grill hot.
Brush your grill grates with sunflower oil.
Put the peaches face down on the grill. Grates should be hot. This will create excellent grill marks on the peaches. Peaches should come off easily once charred thoroughly. If they do not, that means they need more time to cook. Should take about 5-8 minutes. Flip peaches over and cook on the back side for another 2-3 minutes.
Take off the heat and serve in a bowl. Add a scoop of herbed goat cheese to the top. Drizzle with honey. Serve hot.
To see Alexandra Motz's paintings and pastry creations, check out alexandramotz.com or her instagram page: https://www.instagram.com/alexandramotz/?hl=en.