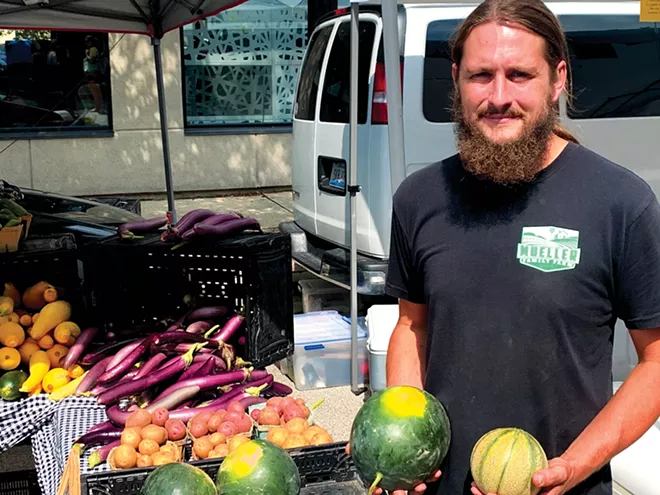 Juicy, delicious melons are finally making their appearance at local farmstands and farmers markets and these days a range of unique and interesting varieties are available beyond the standard cantaloupe and watermelon. While growing up on my great-grandfather's 20-acre produce farm in Springfield we grew thousands of tomatoes each year and picked hundreds of bushels of green beans and cucumbers. Papa certainly had a green thumb, but growing tasty melons always eluded him. No matter how rich or well tended our soil was, the melons we grew just never had great flavor. Melons grow best near the banks of a river, Papa always said.
Last week I was walking through the the Old Capitol Farmers Market when a heady citrus and white lily aroma pulled me to Mueller Family Farm's tent, piled neatly with carrots and tomatoes and just a few small, deeply lobed muskmelons stacked off to the side. They were Charentais melons, a French heirloom variety prized for its sweet flesh and heavenly scent. Next to it was another variety called Sensation that had a textured rind and a sweet perfume. Michael Meyer, who grows produce on his family's farm in Bluffs, Illinois, said that the season is just getting started. "Growing melons is something I'm particularly passionate about. We'll have several more varieties available in the next few weeks, including Sugar Baby watermelons and Sugar Cube cantaloupes." Located west of Jacksonville near the banks of the Illinois River, the sandy soils in this region are known for growing some of the best melons around. "Melons don't like to get their feet wet," Meyer explained, "so having good drainage as well as rich soil is really important."
Melons are members of the cucurbit family, making them cousins to cucumbers and squash. Generally melons can be divided into two main categories: watermelons and muskmelons. Watermelons are easy to identify for most folks, but muskmelons are divided into three distinct and often confused categories. True cantaloupes (cantalupensis), such as the Charentais melon mentioned previously, are popular in Europe and differ from what is often sold as cantaloupe in the United States. They are small in size, often an ideal serving for two people and deeply lobed. Netted melons from the family reticulatus have rinds that are covered with a net-like or 'reticulated' tissue and include what most Americans think of as cantaloupe. Tight, even netting on the rind and a deep musky aroma are good indicators of ripeness. Some of the mostly nutrient-dense varieties are in this group. Varieties to try include Ananas and Galia. Finally, winter melons (inodorus) have harder rinds and better shelf life. They are slower to ripen than the other two types of muskmelons and include Canary and Honeydew varieties.
Melon goes fast in my house during the summer. Often it seems the containers of cut melon are eaten just as soon as I can prep them. Coming in hot and tired from working in the yard or riding bikes, few things are as immediately nourishing and hydrating as a bowl of ice-cold melon. Indeed, a cup of cantaloupe has only about 50 calories but contains nearly 100 percent of the daily recommended value of both vitamin A and C, and well as a potassium, folate and fiber. Red watermelons are rich in lycopene, an antioxidant associated with reduced risk of cancer and heart disease. And with 90 percent water content, melon is a hydrating alternative to artificial sports drinks.
Delicious as it is just on its own, melon also has a place in fresh summer recipes both savory and sweet. Play up the floral sweetness of honeydew with finely sliced mint and fresh ginger. Firm wedges of cantaloupe wrapped in thinly sliced prosciutto or ham is a classic preparation, perfect for an impromptu summer spread. And practically any grilled protein, from pork tenderloin to chicken to grilled salmon, will pair well with spicy jalapeño and melon salsa. On sweltering evenings, this chilled melon soup, inspired by a recipe from the Elsah Landing Restaurant Cookbook, makes an ideal supper.
Chilled Melon Soup
1 ripe cantaloupe
1 Tablespoon lemon juice
¼ cup minced sweet onion
½ cup peeled, seeded and diced cucumber (plus some extra diced cucumber for garnish, if desired)
1 cup plain full fat yogurt
4 large ripe tomatoes, cored and roughly chopped
Salt and pepper to taste
Optional but delicious garnishes include finely minced herbs like chives, basil, cilantro, dill or tarragon, cooked seafood like crab or shrimp, or crispy bits of fried bacon.
Cut open the cantaloupe and remove the seeds. Scoop out 2 cups of flesh, making sure the measuring cup is tightly packed. Be sure to collect as much juice juice as possible. Combine the cantaloupe and any reserved juice, lemon juice, onion, cucumber, yogurt and tomatoes in a blender and blend until very smooth. Pour through a fine meshed sieve if desired, then season to taste with salt and pepper.
Watermelon and Jalapeño Salsa
2 cups cubed watermelon (1/2-inch dice)
Zest and juice of one lime
¼ cup finely minced red onion
2 tablespoons chopped cilantro
1 jalapeño (finely diced – remove the seeds to temper the heat)
Salt and pepper to taste
Combine all ingredients and chill well. Serve with chips or as a topping for grilled protein or tostones.