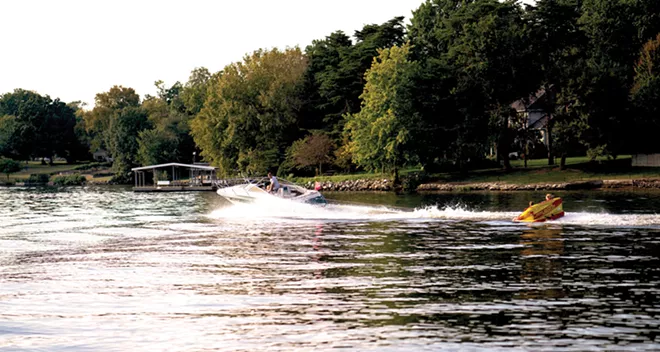 Heading out to Lake Springfield with friends and family to enjoy an event at one of the many clubs or venturing out on your own just to explore can add to summer fun. The clubs are back with chicken fries, fish fries and parties. Lake Springfield Marina is open for rentals; there are picnic areas, ball diamonds, playgrounds, a zoo, a golf course, wooded trails, fishing tournaments and boating spots.
Rock the Dock on Friday, July 2, from 6-10:30 p.m. offers music by Gracia Harrison, food vendors and cold drinks, followed by fireworks over the lake.
On July 3, the Sangamo Surf Club hosts its Independence Party, which includes entertainment by two bands, Short Notice (4-6 p.m.) and Drew Cooper (6-10 p.m.). Hamburgers and hotdogs will be available for purchase.
To appreciate the amazing man-made lake, now 85 years since its construction, read Lake Springfield in Illinois – Public Works and Community Design in the Mid-Twentieth Century, recently published by Robert Mazrim and Curtis Mann. The book is full of pictures and details about what it took to dam a creek to build the lake in the 1930s, along with constructing bridges for access to areas across the water.
The lake clubs
The clubs, located on various bays, all with spectacular views of the lake, will be hosting events. Rumble around the Lake started up in May, and more clubs are ready to roll. Many motorcyclists (and others) rumble into the clubs, a joint effort by club leaders to attract people who often don't come out to the lake. A recent event at the Ski and Boat Club drew a large crowd to hear the band BüK and eat brats.
On successive Wednesday nights from 6-9 p.m., enjoy bands, food and good times. July 7 - TRN Club, July 14 - Aqua Sports Club, July 21 - Elks Lodge, July 28 - Firefighters Postal Lake Club, and rounding out the season on Aug. 4, the Blue Ridge Club. As dates get closer, visit the Council of Lake Springfield Clubs on Facebook: www.facebook.com/LakeSpfldClubs/.
Upcoming club parties in July:
Prop Club – Mid-summer Blast (July 10)
Lake Press Club – Summerfest (July 17)
Ski and Boat Club – Summer Bash with Live Wire (July 24)
Prop Club – Lake Party (Aug. 14)
Blue Ridge Club – Party on our Patio (Aug. 21)
KC Lake Club – End of Summer Tiki Bash (Aug. 28)
Aqua Sports Club – Party on the Patio (Aug. 28)
Three-day softball tournaments will be held at Anchor Boat Club (July 16-18) and Ski and Boat Club (Aug. 27-29).
Other ideas for fun
Rent a pontoon boat, ski boat, fishing boat or even a party barge at Lake Springfield Marina (217-483-3625).
The Henson Robinson Zoo is a perfect outing for the family. See the animals and feed the goats and fish. On Aug. 27, the zoo will host Movie in the Park at dusk, showing "Raya and the Last Dragon."
Across from the zoo are three parks that border each other. Pull into Lake Park on the edge of East Lake Drive to read the historical plaque about the Edwards Trace, an early trail used by herds of bison, and later soldiers in the War of 1812. Take a picnic to Center Park, Beach Park or Lake Park, which all offer shelters and picnic tables, some with views across the shimmering lake. There are several playgrounds and ball diamonds.
Drive or walk across the nearby Lindsay Bridge, at the edge of Beach Park, which was built during the lake construction. The cantilevered arch bridge is unique; notice the design in the arches and the tall lanterns on each side of the bridge.
Every Thursday in July and August a bass fishing tournament is held at Lindsay Bridge Boat launch from 5 p.m. to dusk. The cost is $20 to enter and it's open to the public. Sign up at the launch prior to 5 p.m.
North and south of the zoo on East Lake Shore Drive are two places to get some exercise. At Lincoln Memorial Garden, take a walk through the woods and wind down a trail for beautiful views. Or take in a game of golf at Lincoln Greens Golf Course that sits along the shore of the lake.
For those looking for more intense exercise, enter the Stoneman Sprint Triathlon on July 31 – swim 500 yards, bike 12 miles and run 3 miles. Sign up at Triharderpromotions.com.
Many opportunities await you at the lake!
Cinda Ackerman Klickna is a frequent contributor to Illinois Times.