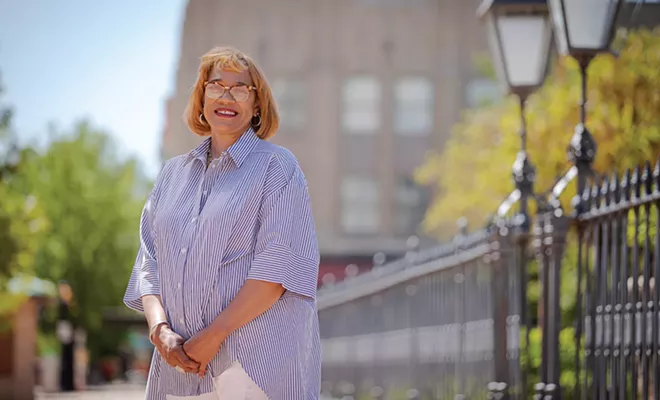 Being the mother of an NBA player is exciting, but that's not this '60s baby's only claim to fame.
Linda Joyce Fields was born the sixth of eight children in Kansas City, Missouri. She grew up in a Black middle-class neighborhood. While the majority of families were working, two-parent households, these four brothers and three sisters (one sister died at birth) had a single mom keeping a roof over their heads.
As a child, Linda was quite the tomboy. Her comfy T-shirts, shorts, Chuck Taylor sneakers and short Afro would make for one life-changing experience. When Linda was around 10, the police were looking for a boy who had robbed a store and Linda fit the description. After a big scene, she proved she was indeed a girl and they had the wrong "guy." The actual robber ended up being the boy next door.
Mom would have no more of this type of mistaken identity. Linda was immediately enrolled in etiquette classes where she had to trade in her Chucks and short Afro for Buster Browns and braids.
A few years later, drugs and other factors drastically changed their neighborhood. This prompted Linda's mother to flee with her youngest three children for a safer home and better opportunities. Springfield, Illinois, would be their landing pad.
With a new school, new friends and a new stepfather, 15-year-old Linda was introduced to a whole new world in Springfield. "I'd never gone to school with that many white people in my entire life. Our school in KC had Blacks and other people of color – but very few whites."
Linda hated school but she had sports. Unfortunately, the move came too late in the year. So the new Southeast High School Spartan would have to wait for junior year to show her skills on the court. And that she did.
Soon her stepfather was gone and the oldest sibling moved back to KC, negatively affecting the living situation. Linda wanted to be her own person, not what her KC background said she would be, and certainly not what her new surroundings expected of her.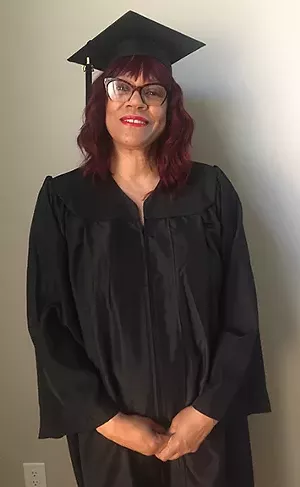 Watching her mother grind and hustle, Linda learned to work hard to be her own woman. And at the ages of 20 and 21 she gave birth to Frank Jr. and Andre, respectively. Life had changed forever.
"This was an exciting time. I was married. I was employed with benefits. And I had two young boys. It was wonderful but scary, because I took the title of 'Mom' very seriously."
As a Black woman, she understood the responsibilities of raising Black sons. Linda worried that she wouldn't do it right. Two years later, her uncertainties intensified when she became a single mother. Now it wasn't just doing it right, it was doing it alone.
No stranger to hardships and struggles, Linda ignored her doubts and fears to persevere, because this time it wasn't just about her. Her life was now about these two blessings she had brought into the world. She added a part-time job to the mix. Since her mother and two sisters had a licensed day care, her boys would be well cared for while she worked to make a nice home for her sons and herself.
A single mom for the next 12 years, Linda worked both jobs as the Iguodala boys grew and developed their individual skills. "Both boys were naturally athletic. It was around fifth grade that we realized they were excellent basketball players. Funny thing is, in some ways, Frank was actually a better player than Andre."
Though she detested school as a youth, Linda stressed education. "As they became young men, I thought of the legacy I would leave." So in 1997 she enrolled at Lincoln Land Community College seeking an associate of arts degree in business.
"I needed to protect my sons and set an example. That was the sole reason I went to college. I wanted to raise the bar for them. I needed them to go to college and I knew I couldn't afford to send them. But I knew that basketball could put them in a position to pay for their own education." So they stayed focused on the student-athlete goal.
Just as she had prayed would happen, both sons received college scholarships. "Finances were tight. I remember one year I couldn't afford to get Andre home from Arizona for Christmas. Karen Frye (Channing Frye's mom who passed in 2016) took him into her home and treated him like her own. She even bought him gifts to open up on Christmas morning."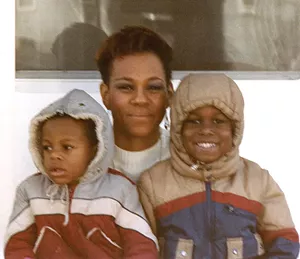 In 1999 Linda added the titles Mrs. and stepmom when she married Leonard Shanklin, whom she met at work and describes as funny, smart and amazing.
"Draft Night 2004 – all my fears suddenly left. I knew then I'd done well and they'd be OK. God had used all I'd been through and sacrificed to prepare me for this moment."
Lack, hardships and fear vanished. Frank Jr. was graduating from college and Andre was headed to the NBA, later to become 2015's NBA Finals MVP.
In 2007, Linda retired from the Springfield Housing Authority after 23 years. She was ready for the next level, which she dubbed, "Linda 2.0." She had a new attitude, a new perspective and lived with no fear. She went back to college and, in 2019, 22 years from the day she started at Lincoln Land, earned her bachelor's degree in psychology.
Unashamedly, she admits she is finishing life better than she began it. Although she was in the hospital twice and battled COVID from October 2020-February 2021, she's recovered and feeling almost 100%.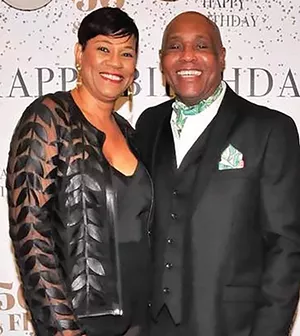 Her oldest, Frank Jr., is doing well and living in Pennsylvania. Andre is playing in Miami. She and Leonard are happily in love and still do date nights. Their grandchildren and extended family are healthy and blessed.
On any given day you will find this retiree doing more than ever: working out, attending meetings, answering calls, returning emails, giving interviews, handling board duties and managing business responsibilities – as well as being a loving and supportive wife, mother, nana, sister and daughter.
"If it weren't for COVID, we'd still be traveling three weeks out of the month during basketball season."
A couple of years ago, Linda shot a reality show pilot with some of the NBA moms. "I hate that it wasn't picked up. But I was horrible in it."
She may not be a TV star, but to her friends, family and community, she shines brighter than the sun.

—-
Favorites
• Number: 7
• Time of day: 7:30-8 a.m., for meditation
• Song: What's Going On, by Marvin Gaye
• Movie: Soul Food
• Book: The Sixth Man by Andre Iguodala
• Season: Winter
• Holiday: Christmas
• Sport: Basketball
• Scripture: Ephesians 6:10-20
• Word: Resilient

—-
Businesses:
FAB Enterprise, LLC (Consulting firm Linda runs with her husband)
Boards: *Current
• *The Boys and Girls Clubs of Central Illinois
• *Community Foundation for the Land of Lincoln advisory board
• District 186 Foundation
• YMCA
• Crime Stoppers
Organizations:
Mothers of Professional Basketball Players, Inc. 2005-present
Investing in the human soul through charitable works and fundraising efforts
Positions held:
• Assistant secretary
• Central Regional director
• National secretary (currently)
Andre Iguodala Youth Foundation executive director, 2007-present
Promotes and sponsors community events, scholarships, college transition and more, including disaster and holiday Food and Turkey giveaways.
Dr. Pamela Woodson of Springfield is an entrepreneur, author, freelance writer and former professor at Benedictine University at Springfield. She is the owner and lead consultant of Pamela Speaks Training and Consulting.