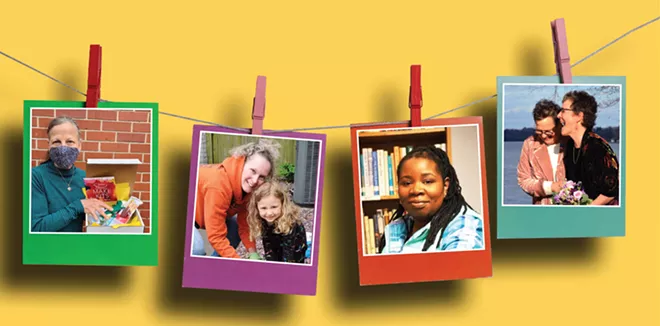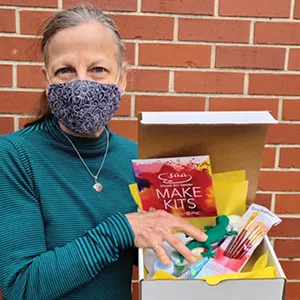 Art adapts to COVID
Art is a hands-on, in-person activity. The good news is that everyone at the Springfield Art Association is creative and energetic. We jumped into problem-solving mode and have generated a range of products and services that we can safely offer to keep us alive through the pandemic. Since SAA is more than 100 years old, this is technically our second pandemic; however, it appears that the first one took almost no toll on either the activities or finances of the organization. This time, we had to be more proactive.
Starting during the stay-at-home order, we offered suggestions for at-home activities. The project suggestions evolved into a product line called Make Kits, a stand-alone, ready-to-go project in a box with all the necessary materials, art historical background and instructional video. The kits are designed to work for a broad range of ages and abilities and are extremely affordable.
We went virtual with exhibitions, a murder mystery performance and expanded our Art Outreach video offerings. However, in June we chose to open our studios with scaled-down, masked, socially distanced, highly sanitized summer art camps for students ages 4 to 18. We are very pleased to report that we safely hosted 650 students last summer. This gave us the tools to keep our studios operational for all ages, in all media, throughout the year, while supplementing our activities electronically.
Historic Edwards Place launched its own products, with seasonal tea boxes replacing in-person Victorian teas, with the help of Whimsy Tea Company. A murder mystery board game based on Edwards Place was made to replace the fall murder mystery dinner theater productions.
Despite the restrictions caused by COVID, we are open, there are exhibitions in our galleries, classes are running, tours of Edwards Place are being offered, new products and videos are being produced and art is being made, all in a safe, modified fashion.
Betsy Dollar
executive director Springfield Art Association

—-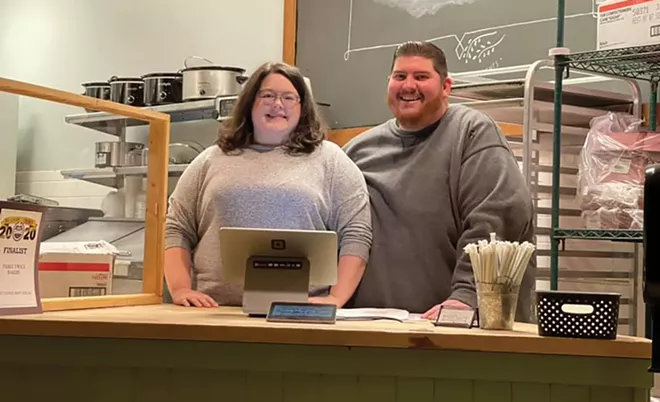 VERY GRATEFUL
When the COVID-19 pandemic hit in March 2020, I was working in a health care facility, and my wife, Cana, was pastor of a church. In June 2020, my wife's church was forced to close its doors due to lack of funds, and I was laid off from the health care facility just 12 days later. I also own a wedding DJ company called First Class Weddings + Events that saw most of our weddings canceled for the year.
My wife and I struggled all of 2020, having to vacate our home and stay with my mother for a few months while we got back to some sort of normalcy. Did I mention we had just gotten married in October 2019? It was a crazy way to start a marriage!
Cana is now serving a church temporarily, and I found myself working at one of the top car dealerships in Springfield. I had never done something like that before, but needing to keep my lights on meant trying new things.
Then in February 2021, we were approached by our good friends Tim and Emily Lewis, owners of Three Twigs Bakery, about an opportunity to open our own coffee and sandwich shop in their building since they were going to be moving to a much larger space. After much prayer and discussion with them and a few other friends and family members, we decided to go all in and open Grateful Coffee Co., 1370 Toronto Road, in Springfield.
We couldn't have done this without the overwhelming help and support of our closest friends and family members during the toughest year of our lives, and we wanted to pay homage to them in the name of our business. We are nothing but grateful.
Brandon Austin
Owner, Grateful Coffee Co.

—-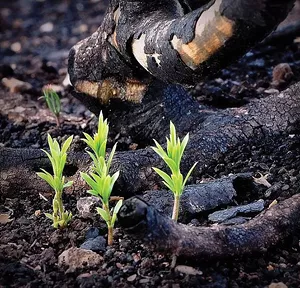 New beginnings
On Feb. 2, the hard news came that Chiara Center was closing for good. This meant that my time as the program director was also coming to an end. Although other circumstances were at play, a year of physical closure caused by the pandemic did change our identity forever. The core of our existence was offering a sacred and beloved space where people would come to reflect and seek retreat. Like many other faith groups who had to reckon with the "how" of being a community, we sought to infuse a spirituality of place into the now ubiquitous Zoom gathering.
As he neared his own death, Francis of Assisi composed his swan song called the Canticle of the Creatures. It contained a verse where he welcomed "Sister Death" who would serve as a compassionate guide for all when making that final journey. Franciscan spirituality acknowledges that we must expect, endure and, in fact, embrace the many smaller deaths that arise in this life in preparation for our final letting go into the sacred next. It is the intense heat of a forest fire that melts the resins of a sequoia seed hull to bring forth the promise of new life and so, within days when the fire of the news of closure came, an entirely unexpected seed idea emerged from the ground of my imagination.
After some reflection, I've given myself permission to take a new direction by participating in Innovate Springfield's Co.Starter cohort to hone a business concept where I hope to produce videos that create a legacy gift of one's life story for family and friends.
Dan Frachey
Rochester

—-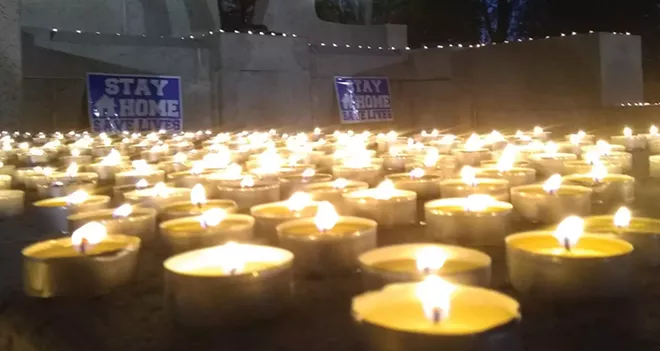 The human response
On March 13, 2020, I left work with the vague understanding that I wouldn't be back for a while. I told the kids they wouldn't be in school the next week. I canceled my Amtrak ticket, since my classes in Chicago had moved online. Personal matters settled, I checked Facebook for a broader view. Essential workers were desperately seeking child care, elderly people were afraid to go to the store and folks were running out of gas looking for hand sanitizer. A friend invited me to help with a mutual aid project, the Springfield Families Helping Families Facebook page, and so began the year whose end we're marking now.
I've seen relentless generosity and deadly apathy. I've watched people drop everything to care for their neighbors, and I've watched others refuse to wear a simple piece of cloth to save their neighbors' lives. I've learned about the barriers to well-being – food, shelter, health, belonging – that always existed in our community; COVID just turned a spotlight on them and gathered more people into the ranks of the struggling. I've celebrated local triumphs. And I've worked among countless individuals of goodwill imperfectly achieving a fraction of what should have been available from the beginning through more organized efforts.
I've felt immense gratitude for what has sustained me, sadness for all we've lost and anger that so many never had what they needed in the first place. Humans have always lived with plagues and poverty, one step ahead of death. The question is and always will be: How do we respond?
Katharine Eastvold
Springfield

—-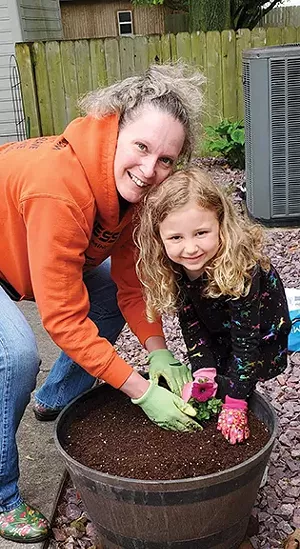 Leaving health care for remote learning
After 24 years in the laboratory, in January 2020 I started a new position in the IT side of health care. I was excited and jumped right in with a passion to learn new skills. Things suddenly changed by the middle of March due to the pandemic, and we were instructed to start working from home. By mid-April, I found myself furloughed, unsure of what the future would hold.
After struggling to work remotely while caring for my 5-year-old daughter, I considered the furlough the best option for our family. During these months, I spent a lot of time pondering and feeling uneasy. Yet, I also viewed that season as an opportunity to spend more time with our daughter as we made memories doing various activities including gardening, picnics, learning and play.
As August approached, I knew our family was going to have to make some difficult decisions. Although my place of employment offered me my position back by mid-August, I now knew that our daughter was going to be starting kindergarten in full remote learning. To give her the opportunity to start school off right, we decided it was best for me to leave my employment to assist with her education. She has done extremely well in school, which for me validates that we made the right decision. Furthermore, I am now diving into new personal endeavors as I plan for our future.
While this past year has been a time of change and struggle, I've focused on new opportunities.
Marsha Funneman
New Berlin

—-
Better than we were
I was at the funeral home in March 2020 when my work team was told to work from home because of the governor's suggestion to stay home as much as possible as the pandemic was coming. My grandma had passed away the day before, my kids were at home for what we thought was a week and I had been working night and day with our communications team at HSHS.
I didn't have much time to mourn the passing of my grandma in the traditional way. We didn't have her funeral for five months. My team was working so hard to keep supporting our health care heroes on the front lines. Also, my kids' "one week" away from school was turning into one year.
Things were depressing, but we had to get creative. I've never taken so many walks. My mom came over to help more. Lots of Zoom. We played hide-and-seek all over our neighborhood. Carry-out. We figured out Halloween and the boys' birthdays.
We had a lot of time to reflect, when we'd usually be running from one thing to another.
My husband and I decided that I could take a leap, start my own business and focus on helping others. I would share my experience in communications, government relations and serving as an elected official to help our community come out of this pandemic better than we were.
We're not sure yet what "better than we were" will look like, but I believe it will happen.
Sara Wojcicki Jimenez
Owner, KIND Consulting, LLC

—-
Everything will be OK
Ironically, the Springfield Convention & Visitors Bureau team motto entering 2020 was "Hang On." Fresh from sending Fritz Klein, a.k.a. Mr. Lincoln, to New York City's Times Square, we were planning a new Abe adventure. Route 66 Living Legends, the World's Largest Penny, three national conventions, a new website and a mobile visitors' center were slated to be rolled out last year, in addition to discussions about a sports complex and a Mother Road plan. We expected to set tourism records, and it was a record year – but unfortunately, in the opposite direction.
Despite historic low citywide hotel occupancy and travel expenditures, the SCVB sales team still booked 60,000 room nights during the pandemic for future years. Tourism partners stepped up, too. Local hotels illuminated symbols of community spirit and literally a message of HOPE from empty guest rooms. Restaurants donated thousands of meals. Attractions, once reopened, offered free admissions. Organizers vouched events will return. Micropantries with food and household items sprung up all over town. Donations flowed into community COVID relief funds. Some of Springfield's best moments have been captured during the pandemic – let's keep the momentum going in 2021 and beyond.
On a personal level, my wife lost her job after 18 years, and our kids transitioned to remote learning after starting in a new school district. Like our community, we came together and we are stronger for it.
Springfield artist Dave Heinzel is right, "Everything will be OK."
Scott Dahl
Director, Springfield Convention & Visitors Bureau

—-
Welcome to Illinois
We had planned on spending my best friend's birthday shopping for second-hand living room furniture, then having a nice meal and some birthday cake and ice cream. That didn't happen, but at least we have a great story we will tell our grandchildren.
Remember when I thought about postponing starting a new job in a new state because of a pandemic, and you told me, "If you don't go now, you probably will never go?" Our third person got sick, and I said, "Chrissy, there is no way the two of us are going to be able to get there, unpack and be ready for me to preach by Sunday," and you said, "I'll drive, and you prepare for your sermon."
When we got to our new home in Springfield, one of the beds broke, the washer and dryer didn't work and my fur baby got sick. It rained, then snowed, and the whole city went on lockdown. The internet wouldn't work, and we accidentally cut the cord to the only TV we had packed. The only living room furniture we had was one rocking chair, so we had to take turns sitting in it.
Remember when I preached on my first Sunday at my new church to an almost-empty sanctuary, but you were there? You were there with me, for me. After I was done, I drove us home in tears. Before we came into the house, you said, "If you are sad because it didn't feel right, we can pack up and go back home, but if you are sad because it wasn't what we planned, then we cry while we prepare for next Sunday."
A year later, you are back home. I am still here in Springfield preparing for next Sunday.
Rev. Soniyyah "Sonna" B. Key
Pastor, Parkway Christian Church (Disciples of Christ)

—-
UNIQUE AND YET THE SAME
It was a dire year, full of wonders. In February, Carol was hospitalized with a "mysterious flu." March 13 brought the shutdown, and we settled in to visit family and friends by phone, Zoom and at a distance, hugging with a touch of elbows or the truly distant embrace of the air.
Early in the pandemic, Jill's dad died of cancer. COVID enforced the isolations so intolerable to patients and families of this time. Nonetheless, Bill Grove's family managed a celebration of life at a country cemetery followed by a tailgate picnic, both distant and connected.
Despite all this, despite grief and isolation and the constant hum of COVID anxiety, joy has persisted. Jill retired from District 186, just in time to miss virtual school. A drive-by party sufficed as her farewell party after 33 years in public education.
Small outdoor gatherings permitted us to break silence and share stories. Masked meetings with contractors and carpenters resulted in a house for Carol's dad. More masked encounters with painters, plumbers and electricians completed a house restoration for Jill's mom. We took tiny trips to unoccupied inns in isolated towns. And we felt a little bit free boating with friends, masked and distant, but on the water.
And finally, we got married – masked and outdoors with a small gathering on a warm and windy November day. Love wins!
The year of COVID is unique and like every other: loss, change, celebration and love.
Jill Grove and Carol Corgan
Springfield