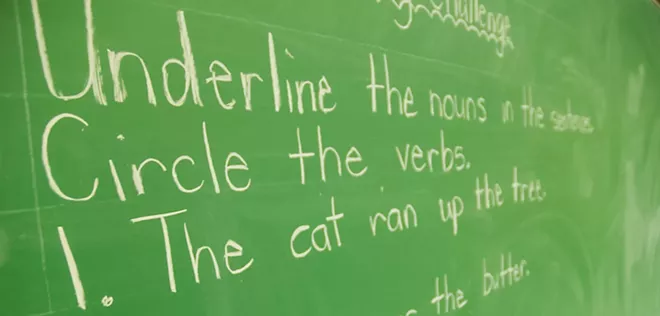 We welcome letters. Please include your full name, address and telephone number. We edit all letters. Send them to letters@illinoistimes.com.
—-
FAILURE TO TEACH
I do not know if she intended this, but Cinda Klickna's recent column on the importance of teaching grammar raised far more questions than it answered ("Phonics needs grammar on its team," March 11).
Ms. Klickna began her column by admitting that she didn't learn the parts of speech until she was in the eighth grade. Is she serious? What possible purpose could it have served District 186 to wait until the eighth grade to teach something so simple? She then said that the students in her high school junior advanced English class did not know grammar, or even the parts of speech. If they did not know these things, how did they get into high school in the first place, much less an advanced English class?
While I admire the clever methods she developed to teach grammar, the lessons should have been unnecessary. These should have been taught and consistently reinforced in elementary school.
My children attend St. Agnes School, and grammar is covered beginning in kindergarten. They can give examples of a noun, verb or adjective without even thinking about it. Unfortunately, I cannot say the same thing for the kids in my neighborhood who attend Springfield public schools. These children range in age from kindergarten through sixth grade. Not one of them can tell you what a noun is, and asking them to give examples of verbs or adjectives is like asking them to speak Mandarin.
Springfield has the worst of both worlds. We have a public school system that intentionally fails to teach elementary concepts such as grammar and phonics, and at the same time, we pay an obscene amount in taxes to prop up this failed system. If District 186 refuses to teach grammar, what else does it refuse to teach?
Robert Huck
Springfield
—-

FIGHT CUTS TO FIRE DEPARTMENT
Fire department spending per capita doesn't tell the whole story ("Sound the alarm: Fiscal sanity hits the fire department," March 4). What is the budget when it's compared to other cities that are the same size? Springfield has continued to grow while the levels of protection and services have been continually slashed. Look at the police and public works departments to see how cuts affect your service.
The last time we had growth in the SFD was around 1990, and we were primarily a fire-fighting organization. Since then, two independent studies were done which showed Springfield was understaffed and under-protected. Two to four additional firehouses were suggested to cover a city our size. The Maximus study in 2011, another independent study done by the city, showed that the fire department's management levels were right in line with where they should be.
We then added things like hazmat, tech rescue, dive and more to provide even greater service for our city. Just recently, we began to upgrade our medical services provided. All these have been added to a department that hasn't grown. That's more calls, more value and more efficiency. The people of Springfield are getting more for their dollar than in previous years.
The department workload has more than doubled while the size has remained the same.
It's an expensive insurance policy. No one is saying we need a firehouse on every corner. No one is saying that cuts will cause the city to burn to the ground. But to say cutting services won't impact the safety of firefighters and the public we serve is absolutely wrong. Had someone reached out to the fire department at all to actually find out about firefighting, your story would have had some validity.
Nick Zummo
Via Facebook.com/illinoistimes
—-

CORREX
A story from our March 11 issue about a forum for Ball-Chatham school board candidates incorrectly stated that Laura Calderon was running unopposed. Read the updated story at: tinyurl.com/yvuvp452.